Top 10 Best Banks in Singapore
It's no surprise that banking plays an important role in everyone's life, especially in countries like Singapore. With so many banking options available, it's hard to decide which is the best suited for your financial needs. To make things easier, we have created a list of the top 10 banks in Singapore that offer excellent services for their customers. From small business owners to freelancers, and everyday citizens, these banks have something for everyone.
---
#1 – DBS Bank
Introduction:
DBS Foundation is Singapore's first foundation dedicated to growing innovative social enterprises / businesses for impact. In 2014, DBS Foundation was launched with SGD 50 million fund, in conjunction with Singapore's 50th birthday, to mark the bank's commitment to championing social entrepreneurship in Asia.
With the pandemic upending livelihoods and casting a spotlight on a wide range of social and environmental issues, the bank announced in Feb 2022 an additional SGD 100 million commitment to further DBS Foundation's efforts to improving lives in Asia and creating impact beyond banking, as well as support other philanthropic and crisis relief measures by the bank.
The additional funds will deepen DBS Foundation's work with social enterprises through its "Business for Impact" chapter, as well as create a new "Community Impact" chapter through which to bolster the bank's contributions to the community via giving and volunteerism efforts.
In recognition of its efforts to nurture social enterprises in Singapore and the region, DBS was named the inaugural winner of the "Social Enterprise Champion of the Year (Corporation)" award at the President's Challenge Social Enterprise Awards (PCSEA) 2019.
Type of Services:
Local / Overseas Transfers
Bank and Earn Programme
Fixed Deposits
Cards and Unsecured Loans
Location:
2 Orchard Link #02-07/08 Scape Building, Singapore 237978
Contact: 1800 111 1111
Website: Website Link Here
---
#2 – Standard Chartered Singapore
Introduction:
Standard Chartered Bank in Singapore is part of a leading international banking group, with a presence in 59 of the world's most dynamic markets for more than 160 years and serving clients in a further 83. Their purpose is to drive commerce and prosperity through our unique diversity, and their heritage and values are expressed in their brand promise, here for good.
The Bank has a history of 163 years in Singapore, where they opened our first branch in 1859. In October 1999, they were among the first international banks to receive a Qualifying Full Bank (QFB) licence, an endorsement of the Group's long-standing commitment to our business in the country.
Singapore is home to the majority of their global business leadership, their technology operations, as well as SC Ventures, their innovation hub. In 2013, the Bank transferred their Singapore Retail and SME businesses to a locally-incorporated subsidiary, Standard Chartered Bank (Singapore) Limited ("SCBSL"). And in May 2019, they fully consolidated their business operations in Singapore through the transfer of our Commercial Banking, Corporate & Institutional Banking and Private Banking businesses to SCBSL. SCBSL is one of the highest-rated banks globally: A1/Stable by Moody's Investor Services, A/Stable by Standard & Poor's and A/Stable by Fitch Ratings. In August 2020, they were the first and only bank to be awarded the Significantly Rooted Foreign Bank ("SRFB") status by the Monetary Authority of Singapore. In December 2020, they were granted enhanced SRFB privileges, in recognition of the significantly higher degree of rootedness exceeding the SRFB baseline criteria.
Type of Services:
Personal Loans
Online Banking
Card Payment Plans
Location:
Marina Bay Financial Centre (Tower 1, 8 Marina Blvd, #01 – 01, 018981
Contact: 6747 7000
Website: Website Link Here
---
---
#3 – UOB Singapore
Introduction:
UOB is rated as one of the world's top banks, ranked 'Aa1' by Moody's Investors Service and 'AA-' by both S&P Global and Fitch Ratings. With a global network of 500 branches and offices across 19 countries in Asia Pacific, Europe and North America.
In Asia, they operate through their head office in Singapore and banking subsidiaries in China, Indonesia, Malaysia, Thailand and Vietnam, as well as branches and offices throughout the region.
Type of Services:
Personal Loan
Fixed Deposit
Credit/Debit Cards
Location:
10 Paya Lebar Road 02-11/12 Paya Lebar Quarter, 409057
Contact: 18002222121
Website: Website Link Here
---
---
#4 – OCBC Bank
Introduction:
OCBC Bank is the longest established Singapore bank, formed in 1932 from the merger of three local banks, the oldest of which was founded in 1912. It is now the second largest financial services group in Southeast Asia by assets and one of the world's most highly-rated banks, with Aa1 by Moody's and AA- by both Fitch and S&P. Recognised for its financial strength and stability, OCBC Bank is consistently ranked among the World's Top 50 Safest Banks by Global Finance and has been named Best Managed Bank in Singapore by The Asian Banker.
OCBC Bank and its subsidiaries offer a broad array of commercial banking, specialist financial and wealth management services, ranging from consumer, corporate, investment, private and transaction banking to treasury, insurance, asset management and stockbroking services.
OCBC Bank's key markets are Singapore, Malaysia, Indonesia and Greater China. It has more than 420 branches and representative offices in 19 countries and regions. These include over 190 branches and offices in Indonesia under subsidiary Bank OCBC NISP, and over 60 branches and offices in Mainland China, Hong Kong SAR and Macau SAR under OCBC Wing Hang.
OCBC Bank's private banking services are provided by its wholly-owned subsidiary Bank of Singapore, which operates on a unique open-architecture product platform to source for the best-in-class products to meet its clients' goals.
OCBC Bank's insurance subsidiary, Great Eastern Holdings, is the oldest and most established life insurance group in Singapore and Malaysia. Its asset management subsidiary, Lion Global Investors, is one of the largest private sector asset management companies in Southeast Asia.
Type of Services:
Banking for individuals
Banking for businesses
Location:
65 Chulia St, OCBC Centre, Singapore 049513
Contact: 1800 363 3333
Website: Website Link Here
---
#5 – Bank of Singapore
Introduction:
Bank of Singapore is a wholly owned subsidiary of OCBC Bank, Southeast Asia's second largest bank. Headquartered in Singapore, Bank of Singapore operates from a strong and open economy. We are one of the fastest growing private banks in Asia, offering a structured and consistent approach – an open architecture product platform with robust research capabilities to deliver a total risk-based solution customised to each client's needs. As we are strategically positioned to serve our clients across the globe with our network of offices, they also enjoy access to our parent company's full suite of investment and commercial banking solutions such as financing, insurance and brokerage services.
Type of Services:
Credit solutions
Alternative investments
Asset creation and preservation
Wealth planning
Location:
63 Market St, #22-00, Singapore 048942
Contact: 65598000
Website: Website Link Here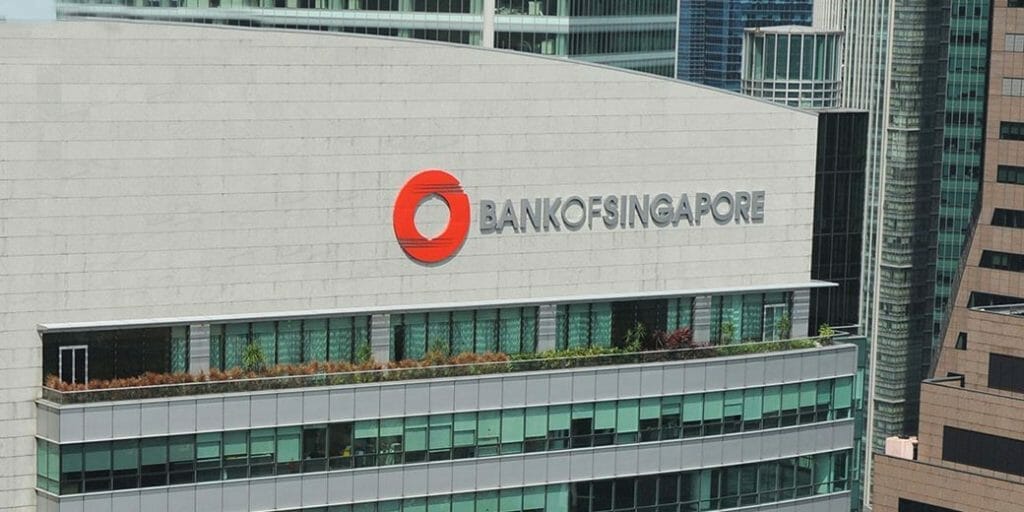 ---
#6 – Citibank Singapore
Introduction:
Citi has been in Singapore since 1902 and is represented in nearly every asset class. Citi Singapore is the largest foreign banking employer in Singapore, and it is home to strategically important hubs, Innovation Labs and the Asia Pacific Citi Service Centre (CSC).
They have businesses with client-focused capabilities, such as the Global Subsidiaries Group (Asia), Citi Private Bank (Global), and International Personal Bank (Global); product focused innovation hubs, such as Global Consumer Bank, the ASEAN Investment Banking Hub, Markets Hub, and the Treasury and Trade Services (TTS) Hub; Innovation Labs, such as the Citi Innovation Lab (TTS) and the Consumer Innovation Lab; and the Asia Pacific Citi Service Centre (CSC) at Changi Business Park.
Type of Services:
Overseas Fund Transfer
Time Deposits
Local Currency Accounts
Location:
80 Marine Parade Road Parkway Parade #01-02, 80 Marine Parade Rd, #01 – K21, 449269
Contact: 62255225
Website: Website Link Here
---
_

Read Also:

Top 10 Best Hair Removal Services in Central Singapore

_
---
#7 – Maybank Singapore
Introduction:
Maybank is among Asia's leading banking groups and is South East Asia's fourth largest bank by assets. Maybank Group has an international network of over 2,600 branches in 18 countries including all 10 ASEAN countries, with more than 42,000 employees serving customers worldwide.
Maybank offers an extensive range of products and services for individuals, businesses and corporations, including consumer and corporate banking, investment banking, Islamic banking, stock broking, insurance and takaful and asset management. With Maybank's global business footprint, clients have access to vast opportunities across ASEAN and beyond.
Singapore is one of Maybank Group's largest overseas operations. Since the opening of our first branch at South Bridge Road in 1960, we have established a significant presence in the retail, wholesale and global banking markets. Maybank was identified as one of the domestic systemically important banks (D-SIBs) in 2015.
Type of Services:
Deposit
Card
Loan
Investment
Insurance
Location:
2 Battery Rd, Maybank Tower, Singapore 049907
Contact: 18006292265
Website: Website Link Here
---
#8 – SBI Singapore
Introduction:
State Bank of India has been playing a major role in fulfilling the global aspirations of Indian corporations through its 227 foreign offices in 30 countries across the world. Their Singapore operations were set up in 1977 with an offshore banking license, equipping them with over three decades of experience in commercial and wholesale banking.
SBI Singapore achieved another milestone during the year 2008 with the grant of Full Bank status with QFB privileges. SBI Singapore now has 5 retail branches, 19 SBI ATMs and over 200 ATMs via the shared island wide ATM5 network. SBI has a suite of retail banking products which complement its existing corporate banking products thus enabling us to service both individual and corporate customers.
They have a wide range of Corporate and Retail Products and our instant transfer facility for INR remittances is highly popular. This facility enables money transfers to more than 22,000 Branches of the State Bank group in India. They also connect to offer remittance facility to more than 80,000 RTGS enabled branches of other banks in India. SBI Singapore is now a member of FAST payment network facilitating instantaneous SGD fund transfer among the participating member Banks.
In the Retail area, they have Savings Accounts, Current Accounts and Term Deposits. On the retail loans front, they offer mortgage loans comprising Compounded SORA linked and Fixed rate products. These products come to you with attractive interest rates and personalized service.
In Commercial and wholesale banking, their areas of operation include ASEAN, South East Asia and South Asia. A centralized syndication and participation team is active in coordinating and marketing syndication deals. Singapore, being the hub of the syndication activities of the Bank, covers the Asia Pacific region. The loan syndication desk has an extensive focus on transactions originating in the region. As mandated lead arrangers and participants, we have been forging relationships with most major banks in the area.
SBI Singapore leverages on its extensive international network of branches to offer a wide range of Import/Export Trade Finance Services, in both Singapore Dollar and foreign currencies to facilitate the business needs of customers.
Type of Services:
Personal Banking
Corporate Banking
Internet Banking / ERemit
Location:
80 Robinson Road, #27-01
Singapore 068898
Contact: 6228 1116
Website: Website Link Here
---
#9 – J.P. Morgan Singapore
Introduction:
Established in 1964, the Singapore office is today a full-service, fully-integrated provider of corporate and investment banking, commercial banking, asset management and private banking. Local corporations and institutions, multinationals, government and private clients rely on us for a full suite of market leading products and services across industry sectors and asset classes.
They have operated in Asia Pacific since 1872, and today are present across 17 markets in the region. Clients rely on their global strength, local expertise and leadership across our lines of business.
In Asia Pacific, they are committed to helping promote economic growth and economic inclusion through their key philanthropic initiatives in the areas of workforce readiness, small business development and financial capability. Their investments aim to increase the number of quality jobs created for the underserved individuals and communities, helping small businesses become more sustainable, as well as assisting marginalized people in gaining access to affordable financial products so that they can become more financially secure. This shared commitment to the community drives their Foundation's giving and employee engagement and volunteering activities across the region.
J.P. Morgan is a global leader in financial services, offering solutions to the world's most important corporations, governments and institutions in more than 100 countries. As announced in 2020, JPMorgan Chase will deploy $2 billion in philanthropic capital around the world by 2025. They also lead volunteer service activities for employees in local communities by utilizing our many resources, including those that stem from access to capital, economies of scale, global reach and expertise.
Type of Services:
Asset Management
Commercial Banking
Institutional Asset Management
Investment Banking
Location:
[email protected] City, Changi Business Park Central 1, 486036
Contact: 68822888
Website: Website Link Here
---
#10 – CIMB Singapore
Introduction:
At CIMB Group, we believe that ASEAN will only truly prosper when it embraces diversity and CIMB has always welcomed differences in thought, opinion, culture and language. From all corners of ASEAN, they draw on their people, knowledge and insights to serve and connect their customers.
They are ASEAN, ASEAN is their home and they know ASEAN best. The ASEAN region affords them economies of scale to deliver world class products and services to their customers. They are committed to realizing the potential of ASEAN and to bringing the best of ASEAN for everyone to…forward together.
Type of Services:
Investments
Credit Card
Savings Account
Location:
30 Raffles Pl, #03-03, Singapore 048622
Contact: 63337777
Website: Website Link Here
---
Have a Place to Recommend?
Your contribution is valuable to us! Are there any outstanding businesses that you believe should be added to our list? If so, please send your recommendations to us at [email protected]. Tropika Club will review your suggestions and update the list accordingly. Thank you for your help in making our list of businesses as comprehensive and accurate as possible.
---
Meanwhile, Check out Tropika Club's Ecosystem of Websites

Tropika Club Magazine – Tropika Club Magazine is a Singapore-based publication that features articles on a wide range of topics with a focus on local businesses and content for the region. The magazine emphasizes supporting local businesses through its #SupportLocal initiative, which includes coverage of everything from neighborhood hawker stalls to aesthetic clinics in town. In addition to highlighting local businesses, Tropika Club Magazine also covers a variety of local content, including beauty, lifestyle, places, eats, and what's on in Singapore and the Asia Pacific region.
Tropika Club Deals – Tropika Club Deals is a leading online deals and voucher shopping site in Singapore, offering amazing discounts on beauty, wellness, and fitness products and services. It's the perfect platform for customers who want to discover the best deals without having to commit to a specific appointment date and time. These deals are available at major beauty stores, facial salons, hair salons, and other brands in Singapore, with no minimum spend required. Choose from guaranteed discounted deals in the categories of hairstyling, hair removal, facial & aesthetics, body slimming, brows & lashes, nails & makeup, massage & spa or fitness & wellness. Tropika Club Deals is also ideal for customers who want to buy vouchers as gifts or to use for the future. So whether you're looking to save money on your next haircut or want to treat yourself to a relaxing massage, Tropika Club Deals has got you covered with the best voucher and coupon deals in Singapore!