Top 10 Best Eats at Hong Lim Food Centre
Hong Lim Market & Food Center is a stone's throw away from Chinatown Complex and People's Place Center, and its surrounding eateries serve a diverse assortment of cuisines and budgets. But the lines at Hong Lim Market & Food Center's renowned hawkers haven't dwindled, and that means we can expect these lines get longer with time. From Michelin-awarded eateries to trendy eateries, there is a wide variety of dining options, with one meal just never being enough by Michelin-quality. In accordance with the number of guests the cuisine is intended to feed, waiting for lunch can be highly hectic.
---
#1 – Tai Wah Pork Noodle
Introduction:
Tai Wah minced pork noodles came from humble beginnings with a tale of survival of a southern Chinese young man driven by poverty, wars, and hunger to migrate to Nanyang ( South East Asia).
Type of Services:
Minced Pork Noodle
Signature Tai Wah Pork Noodles
Location: multiple locations
Contact: +65 85238881
Website: http://taiwahnoodles.com/
---
#2 – Famous Sungei Road Trishaw Laksa
Introduction:
Since 2016, the stall has received the Michelin Bib Gourmand award every year consecutively. Not only that, but it has also earned numerous recognitions from local and international publications alike. All of which was evident from the impressive display of articles all over the stall.
The owner, Mr Soo, runs the stall with his wife. They come to the stall every morning around 7am to start preparing the ingredients. It's a daily routine that has been taking place since they started the business 23 years ago.


Type of Services:
Mee Rebus
Juice Mee Siam
Asia Delight Laksa
Location:Blk 531A Upper Cross Street, Hong Lim Market & Food Centre #02-66
Contact: +65 97508326
Website:https://guide.michelin.com/sg/en/article/features/behind-the-bib-famous-sungei-road-trishaw-laksa
---
---
#3 – Outram Park Fried Kway Teow Mee
Introduction:
The history of the stall stretches back to 1939, when Ng's father first began hawking char kway teow by the street in Tanjong Pagar before moving into a hawker centre in Outram Park in 1973. There was no recipe to follow and no explicit instructions from his father. Ng learnt the trade by watching and practising. Ng says that there's no secret to his fried noodles and over the years, he's taught his recipe and technique to anyone who wants to learn. "My char kway teow doesn't taste like my father's and yours will never taste exactly like mine. It's like learning to write, you can watch and learn, but your handwriting will never be exactly the same as your teacher's."
Type of Services:
Location:
Blk 531A, Upper Cross Street
#02-17 Hong Lim Market & Food Centre
Contact: –
Website: https://guide.michelin.com/sg/en/article/dining-out/behind-the-bib-outram-park-fried-kway-teow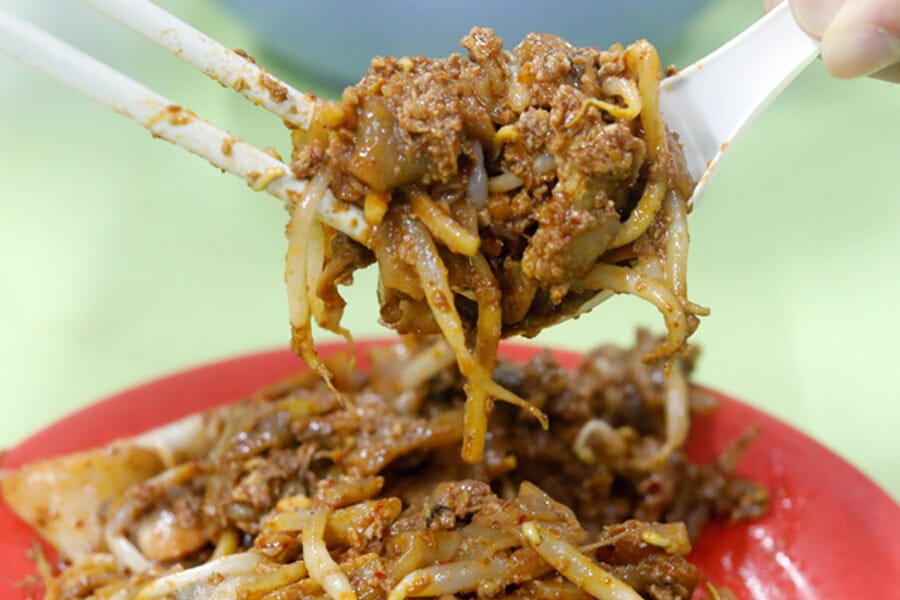 ---
---
#4 – Ma Bo Lor Mee
Introduction:
The original stall was founded in 2013 at Hong Lim Food Center by Li Xia and her husband. It was here that Li Xia's friend brought some of her home-cooked fried rice and lor mee to a party, and Li Xia's husband was so impressed with the food that he strongly urged Li Xia to start a new business with her. The luscious sauce provided one of the best overall flavors for the dish, and it had the appropriate balance between tenderness and viscosity. The thick noodles were generously smothered in gravy that was long, dark, and smooth. The gravy itself was thick and delicious, just the way we like our lor mee gravy to be.
Type of Services:
Ma Bo Lor Mee
Lor Mee
Ma Bo Lor Mee:Chicken Cutlet Lor Mee
Ma Bo Lor Mee:Fried Fish
Location: Multiple Locations
Contact: –
---
#5 – Heng Kee Curry Chicken Bee Hoon Mee
Introduction:
Heng Kee was founded by Ah Huat's grandfather over 60 years ago along the Singapore River at English Street & Boat Quay Street. The sidewalk stall moved across the street with the opening of the hawker center over 40 years ago. Ah Huat worked with his dad for nearly two decades, taking over the stall five years ago after his father passed away. Poached chicken is neatly laid out on plates. But don't be misled by the platter's appealing appearance because the meat is tender and tasty. Using nearly 50 years old curry recipe, the gravy is thick and robust, with large spongy tofu puffs moving through the pot of soup. It is not like Indian or Malay curry.
Type of Services:
Curry Chicken Bee Hoon Mee
Location:531A Upper Cross Street, #01-58, Hong Lim Food Centre Singapore, Singapore 051531
Contact: +65 65351077
Website: https://www.facebook.com/raytay6767/
---
#6 – Belly Lucky Noodles
Introduction:
By Mr Luo's orders, the ingredients you see here at Belly Lucky Noodles are totally handmade. (Well, except the noodles.) Luo decided to open a noodle stall since he felt that even though there are many such stalls around, only a few of them can get all the ingredients right. The prawns in the dumplings were fresh and helped give a subtle sweetness. The water chestnut gave the dumplings a nice crunch, and you can taste the well marinated pork and mushrooms for dessert. What I thought was particularly remarkable was the Miso soup base! While dining at a Chinese Restaurant in Tokyo, Mr Luo loved their dumplings in Miso soup, and decided to recreate it.
Type of Services:
Char Siew & Dumpling Noodles
Wonton Noodles
Dumpling soup
Location: Blk 531A Upper Cross Street, Hong Lim Market & Food Centre, #02-25, Singapore 051531
Contact: +65 9711 1456
---
Read Also:

Top 10 Best Lor Mee in Singapore
---
#7 – Dong Fang Hong Sotong Ball Seafood Soup
Introduction:
Dong Fang Hong is run by three sisters — Donna, Joanne, and Colleen (right). The stall was founded by their father. Colleen is now in her seventies, began working at the stall when she was 14 years old. Every day, the sisters start work at the stall at 3 am. They prepare soup and flour and prepare the squid, fish, and pork balls. They create meat dumplings or her kiao. Featuring a complex mix of seafood and meat products, the taste was rated above average with a smooth texture, but not entirely addictive. Sotong balls were obviously the best component of the food with bits of tender squid meat mixed into the paste. As expected, fish soup such as this was Lightly flavoured soup. It felt substantially better than the traditional and richer seafood soup.
Type of Services:
Sotong Ball Seafood Soup

Ee Mian
Mi Tai Mak
Bee Hoon
Mee Sua
Location: 531A Upper Cross Street #01-47 Hong Lim Market & Food Centre, Singapore 051531.
Contact: –
---
#8 – Ji Ji Wanton Noodle Specialist
Introduction:
Madam Lai Yau Kiew founded Ji Ji Wanton Noodle Specialist in 1965. Both her daughter Kristen and Jill Clujchi have continued her family's legacy and time-honored recipe, though Kristen is now the sole owner. What makes them unique is their use of a machine that cooks and tosses the noodles! Fascinated by the long hours spent working, Ms. Choong has had repetitive stress injury (RSI) on her wrist. This resulted in the addition of the machine to help lessen the workload, enabling her to preserve her family's legacy! Also, because they have a unique type of noodle produced for their stall, it gives the noodle even more distinctiveness. The char siew is tender and well marinated, with its perfect ratio of fat to lean. As for the mushrooms, they're almost identical to those in bak chor mee. The star of the dish are definitely Ji Ji's fried wantons, which are packed with plenty of pork filling.
Type of Services:
Ji Ji Signature Char Siew Wanton Noodle
Chicken Cutlet Noodle
Dumpling Noodle
Braised Soy Sauce Chicken Noodle
Location: Blk 531A Upper Cross Street #02-48/49/50 Hong Lim Food Centre, Singapore, Singapore
Contact: +65 6532 2886
---
#9 – Cantonese Delights
Introduction:
Numerous web users have declared that the fried chicken cutlet at this spot is heavenly, as it's served with perfectly cooked egg noodles and drenched in delicious curry. A noted taste is definitely all that you'll be able to ask for. In the light of moving to a different highlight, the Chinese curry is renowned to be thick, rich in taste, and flavoured with coconut. It has a subtle coconut taste, thanks to its incorporation of coconut milk. It's so good, the taste of the bowl is worth every calorie. Order yourself a large bowl of bouncy yet firm noodles, fried chicken cutlet, and take a spoonful of the curry.
Type of Services:
Wanton Noodle
Chicken Feet Noodle
Chicken Cutlet Noodle
Dumpling Noodle
Location: Hong Lim Market and Food Centre #02-03, 531A Upper Cross St, Singapore 051531
Contact: –
Website: https://www.facebook.com/pages/Cantonese%20Delights/107737637442273/
---
#10 – Granny's Pancake
Introduction:
While we're all from a small island country, Singaporeans can bond over our local dishes, which includes pancakes. Among the well known native snacks, the nationally acknowledged favorite is our local rendition of pancakes, known as Min Jiang Kueh. This local delicacy is often sold in hawker centers and comes with 3 flavours: peanut, red bean, and coconut. Of the numerous hawker centers selling this treat, Granny's Pancake may be the most reputable, for their peanut butter flavour! The stall is still old-fashioned as it never did expand into malls instead of remaining in promo centres. While It's not exactly a hidden treasure, it's a distinguished gem for all hashing out. The pancakes are tasty in their simplicity, with consistency being the most important aspect across all branches.
Type of Services:
Peanut Butter
Red Bean
Coconut
Peanut
Location: 531A Upper Cross Street #02-39 Hong Lim Market & Food Centre
Singapore 051531
Contact: –
Website: https://www.facebook.com/pages/Grannys-Pancake/218277658301851
---
Have a Place to Recommend?
Your contribution is valuable to us! Are there any outstanding businesses that you believe should be added to our list? If so, please send your recommendations to us at [email protected]. Tropika Club will review your suggestions and update the list accordingly. Thank you for your help in making our list of businesses as comprehensive and accurate as possible.
---
Meanwhile, Check out Tropika Club's Ecosystem of Websites

Tropika Club Magazine – Tropika Club Magazine is a Singapore-based publication that features articles on a wide range of topics with a focus on local businesses and content for the region. The magazine emphasizes supporting local businesses through its #SupportLocal initiative, which includes coverage of everything from neighborhood hawker stalls to aesthetic clinics in town. In addition to highlighting local businesses, Tropika Club Magazine also covers a variety of local content, including beauty, lifestyle, places, eats, and what's on in Singapore and the Asia Pacific region.
Tropika Club Deals – Tropika Club Deals is a leading online deals and voucher shopping site in Singapore, offering amazing discounts on beauty, wellness, and fitness products and services. It's the perfect platform for customers who want to discover the best deals without having to commit to a specific appointment date and time. These deals are available at major beauty stores, facial salons, hair salons, and other brands in Singapore, with no minimum spend required. Choose from guaranteed discounted deals in the categories of hairstyling, hair removal, facial & aesthetics, body slimming, brows & lashes, nails & makeup, massage & spa or fitness & wellness. Tropika Club Deals is also ideal for customers who want to buy vouchers as gifts or to use for the future. So whether you're looking to save money on your next haircut or want to treat yourself to a relaxing massage, Tropika Club Deals has got you covered with the best voucher and coupon deals in Singapore!