Top 6 Best Eats at Shunfu Mart Food Centre
Located along Shunfu Road, Shunfu Mart Food Centre is located northeast of Shunfu Estate, and has been serving local residents for over 20 years. Just a short walking distance from Marymount station, this food stop is hard to miss with its red and yellow grill that spans across its storefront. Although it's not a big hawker centre, there are still some popular eats, and we have rounded up 6 of the stalls you should try at least once.
---
#1 – Leong Hainanese Chicken Rice
Introduction: I had heard about them, but I didn't expect this standard. The chicken alone, by several criteria, has a case for the top tier in Singapore. First of all, there's a lot of fat jelly. Secondly, the flesh and the skin were both extremely succulent. It was crystal chicken! So with that said, obviously there are people who don't like such chicken, and I accept it. Once you depart from the bird, the debate weakens. The rice was surprisingly generous but basic, and so was the soup. (Thiam Peng Tan from Burple)
Menu Items:
Chicken Rice (Price $3.50)
Chicken Drumstick Rice (Price $4)
Chicken Tail Rice (Price $4)
Chicken Wing Rice (Price $4)
Location: 320 Shunfu Road #02-22 Shunfu Mart Singapore 570320
Contact: +65 83196173
Website: https://www.burpple.com/leong-hainanese-chicken-riceHere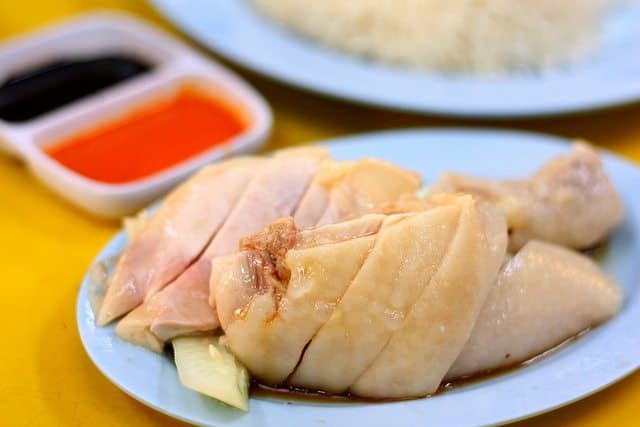 ---
#2 – Heng Heng Bao Bing (Poh Piah)
Introduction: Cheap good and fresh popiah are hard to find these days. If you are looking for a quick fix, Heng Heng popiah is the place to go. Because of the considerable parts, the Popiah maintains its particular taste when you attempt to lift the whole thing. Inside, the sweet, crunchy blend of bang kuang, turnip, beansprouts, and shredded carrots is blanketed with fragrant sweet sauce.

Menu Items:
Location: 320 Shunfu Rd, #02-05 Shun Fu hawker centre, Singapore 570320
Contact: –
Website:https://www.burpple.com/f/aitR6kD9
---
---
#3 – Lai Heng Fried Kuay Teow & Cooked Food
Introduction: There is good reason for this line of products. Their Fried Kway Teow ($3, $4, $5 depending on whether one's portion size is small or large) is a wok hei delight of flat noodles that are covered in dark soy sauce and fried egg. First, it may be 'soupier' with gravy compared to dry versions. So, if you don't like your noodles soggy, this might not be for you.
Menu Items:
Fried Kway Teow (Price $3/$4/$5)
Location: 320 Shunfu Road #02-20 Shunfu Mart Singapore 570320
Contact: –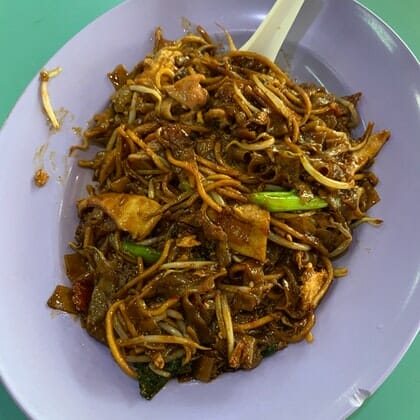 ---
Read Also:
---
#4 – Mei Zhen Hakka Delicacies
Introduction: Mei Zhen's yam abacus is full of flavour and has a pleasant chew to it. Mixed with the shallots, hae bi and mushrooms, an explosion of umami is guaranteed in every bite. Additionally, the black fungus and onions gives the dish an aromatic fragrance. For those who love their spice, do ask for more chilli as it elevates the flavour of the dish! There are three prices for the yam abacus which are $4, $6.80, and $8.80. For those who may find it a bit pricey, do note that this dish is very time consuming and labour intensive. It requires a special handmade dough to make it and the proportions of the ingredients are crucial to achieving the desired texture. The yam must be mashed and steamed, and then kneaded with rice flour. Additionally, a time-consuming process is then needed to form just enough gluten to give the dough its signature bite. Sounds like a lot of work doesn't it? That's because you're right! (Singaporefoodie.com)

Menu Items:
Yam Porridge (Price $2/$3)
Chee Cheong Fun (Price $4/$5)
Yam Cake (Price $3/$6)
Glutinous Rice (Price $3/$6)
Location: 320 Shunfu Rd, Singapore 570320
Contact: +65 9799 0397
Website: https://www.facebook.com/profile.php?id=100062870178994
---
#5 – Wak Limah stall
Introduction: Wak Limah's lady boss says she has been in the food service business for more than 50 years, and the stall has been in various other places before that. They open early to serve the early-morning crowd, but they typically open before 4 am. So if you're looking for a place to go early in the morning, this is a good place to check out. The stall sells typical Malay dishes such as Mee Rebus, Mee Soto , Soto Ayam , Mee Siam , Nasi Lemak and Lontong.
Menu Items:
Gado Gado (Price $2.5)
Nasi Lemak(Price $3.2)
Mee Siam (Price $3.2)
Mee Rebus (Price $3.2)
Mee Soto (Price $3.5)
Lontong (Price $3.5)
Location:
320 Shunfu Road
#02-15 Shunfu Mart
Singapore 570320
Contact: +65 90041800
---
---
#6 – Chocolat N' Spice
Introduction:
The home made business sells muffins that come in tastes from ordinary flavors such as chocolate chip and blueberry to more specialized flavors like orange peel raisin and banana walnut. The bestsellers are the Chocolate Chip Muffin and Blueberry Muffin with a thick and dense texture that is rich with flavour when you bite into them.
Menu Items:
Chocolate (Price $1.7)
Orange Peel Raisin Muffin (Price $1.7)
Banana Walnut Muffin (Price $1.7)
Blueberry Muffin(Price $2)
Brownie(Price$2.2)
Pandan Chiffon(Price$19)
Location: Multiple locations
Contact: +65 93830413
Website: https://chocnspice.com/
---
Have a Place to Recommend?
We need your help! Do you know any other noteworthy beauty clinics or salons that deserves to be added to this list? If so, do write to us via our email at [email protected]. Tropika Club will do a review of your recommendations and update the list accordingly.
---
Meanwhile, check out Tropika Club's Ecosystem of Websites
Tropika Club Magazine – Tropika Club Magazine crafts articles on all things Singapore, but with a greater emphasis on local businesses based on our #SupportLocalSG initiative. We check out and feature local businesses of all categories, ranging from your neighbourhood hawker stalls to the aesthetic clinics in town. We also cover local content ranging from beauty, lifestyle, places, eats and what's on in SIngapore. Our Top 10 rankings include local food and service establishments based in different regions in Singapore.
Tropika Club Deals – Search for the best voucher and coupon deals. Tropika Club Deals is ideal for customers who want to discover the best deals without having to commit to a specific appointment date and time. Choose from guaranteed discounted deals in the categories of hairstyling, hair removal, facial & aesthetics, body slimming, brows & lashes, nails & makeup, massage & spa or fitness & wellness. Customers can also buy vouchers as gifts or to use for the future.