Top 10 Best Party Balloon Suppliers in Singapore

If you're looking for the best party balloon suppliers in Singapore, you've come to the right place. In this article, we'll be discussing the top 10 best party balloon suppliers in Singapore. So whether you're looking for balloons for a birthday party, a corporate event, or any other special occasion, be sure to check out these 10 amazing party balloon suppliers!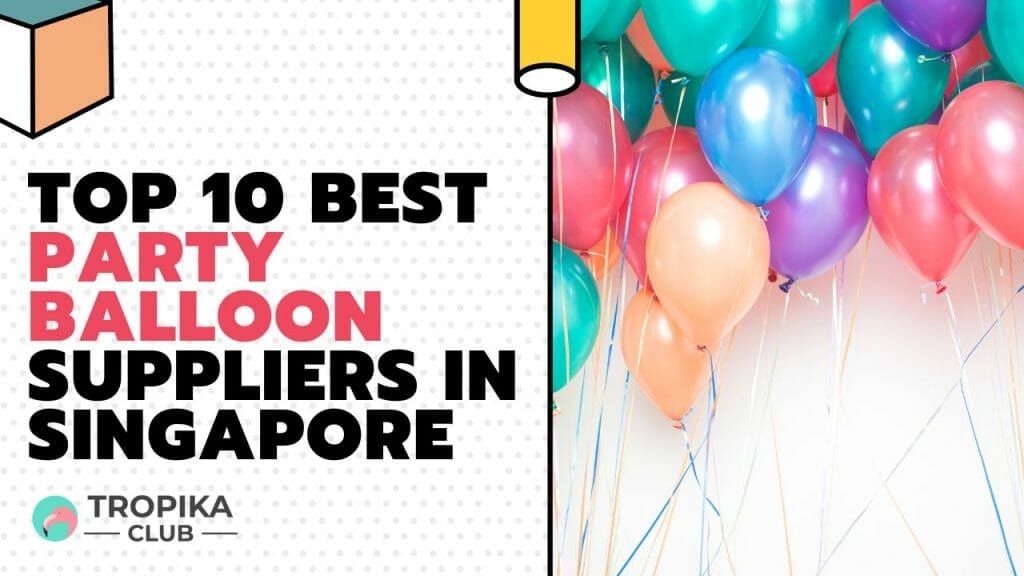 ---
#1 – Misty Daydream
Introduction:
Established in Aug 2016. MistyDaydream is a Modern & Stylish Party Decoration.
In MistyDaydream, They are an E-commerce store that specialised in party decoration supplies, helium balloons, and more personalized items. They emphasize our product and attitude to be a top-quality class standard and they ensure that they will bring in more variety of items to boost their customer creativity for their events.
They believe in connecting with their customers who has the ideals of decorating themselves by using their product, their friendly team will be always here to assist their customer needs.
Note that They do not accept walk-in purchases, Have a pleasure event with them.
Type of Services:
Bespoke Balloons
Gifts & Event Set-ups
Customize your own Balloons, Toppers, Sash, Bridal Robe, Mugs, Bottles, Preserved Flower, Wishing Well
Dessert Table
Wedding
Occasions
Location: 3 Ang Mo Kio st 62, Link @ Amk #08-25 Singapore 569139
Contact: 8222 7491
Website: Website Link Here
---
#2 – Balloon Matters
Introduction:
They specialize in customized helium ballon, balloon surprise boxes, and bespoke balloon decorations with door-to-door delivery in Singapore! They love making a statement at parties, weddings, and baby showers and are perfect for shop windows and corporate events!
Type of Services:
Customized Balloon
Surprise Box
Balloon Styling
Party Decor
Location: 28 Sin Ming Lane #05-133 Midview City Singapore 573972
Contact: 9775 2465 ( Whatapps only for urgent matters)
Email Address: [email protected]
Website: Website Link Here
---
---
#3 – The Balloon Thing
Introduction:
At The Balloon Thing, They support balloon entrance arch, balloon columns, balloon backdrops, balloon photo booth, helium balloons and party supplies.
They specialise in providing customised balloon decorations for childrens' birthday parties, 21st birthday parties, baby showers, weddings and corporate events.
They are dedicated to create fondest memories for your children and memorable event for your guest.
Type of Services:
Balloon Decoration
Balloon Sculpting
Kids Party Packages
21st Birthday Balloon Packages
Carnival Food Stalls
Customised Printed Bubble Balloons
Location:1014 Geylang East Ave 3, #02-214, Singapore 389729
Contact: 9127 7332
Email Address: [email protected]
Website: Website Link Here
---
---
#4 – Andy Balloons
Introduction:
Andy Balloons Pte Ltd prides itself in delivering quality products and service excellence. Being the pioneering owners of Bez Balloons Pte Ltd, They have amassed years of experience and expertise in the events industry to be your go-to party/event planners.
Best known for their services in balloon decorations and services, They have completed several projects in product launches, openings and company functions.
Their diverse clientele includes many government statutory boards and ministries, financial institutions, multinational corporations and small mid-size enterprises, event companies, florists, magicians and various independent business owners.
Type of Services:
Party Balloons
Party Packages
Flower Arrangements
Project Gallery
Ballon Decor
Giant Advertising Balloons
Location: 1 Kaki Bukit Road 1 #04-47, Singapore 415934
Contact: 6908 4485
Website: Website Link Here
---
Introduction:
[email protected] was created with much passion for party planning, love for all kinds of balloons, pretty little things and decorating them. They especially love customizing items from personalized balloons to party supplies to decoration, making it personal and unique for your event.​ They always love to hear about the ideas their clients have and They also offer to plan alongside to cater to their preferences. At the same time, we will give some ideas and tips about party planning, decorating and design
Type of Services:
Themed Balloons
Customization
Party Supplies
Location: Blk 57 Geylang Bahru #02-3475 Singapore 330057 ( By Appointment only)
Contact: 97276472
Website: Website Link Here
---
#6 – Jocelyn Balloons
Introduction:
Significant events like the baby expo and technological gadget shows are their specialty. The balloon sculptors are well-versed in the technique of twisting quickly while still producing high-quality works of art. You will have many opportunities for conversation, humor, and good times! They've also done roadshows for banks and insurance firms, and our customers repeatedly return to them. When you shop with jocelynballoons.com, you know you're getting the best value possible.
Type of Services:
Balloon Sculpting
Birthday Parties
Wedding Decorations
Balloon Decoration
Packages
VIP Projects
Location: 180C Marsiling Rd, Singapore 733180
Contact: 9191 4112
Website: Website Link Here
---
_

Read Also:

Top 24 Best Party Supplies in Singapore

_
---
#7 – Starships Balloons
Introduction:
Starships Balloons was born out of the desire to connect with those that mean the most through perfectly arranged bundles of joy. Their kaleidoscopic selection of pure joy encapsulates their hopes and their dreams, elaborately crafted and paired to reflect the intricate complexities of life and all its vivid nuances and radiant emotions.
It is the pure glimpses of glee and exuberance they capture with each intricately designed arrangement that fill their hearts with literal joy and pride; it is the genuine surprise and delight of the starstruck child at heart that lifts their spirits and pushes them to stretch possibilities and fly higher to reach your wildest dreams.
Type of Services:
Occasion Balloons
Walking Animal Balloons
Letters & Numbers
Customised Balloons
Location: Multiple Outlets
Contact: 9144 2134
Website: Website Link Here
---
#8 – Bobochacha Balloon
Introduction:
They are a registered Singapore-based online balloon shop specializing in customizing beautiful balloons for any occasion! Ranging from balloons deco to party accessories They only carry quality ones which They would use for their own party!
Type of Services:
Customized Balloons
Balloons Bouquet
Party Balloons
Flower Balloons
Occasions
Themed Balloons
Gifts and Party Accessories
Location: 33 Ubi Avenue 3, #02-42 Vertex Singapore 408868 (Tower A)
Contact: 90171105 (Whatsapp Only)
Website: Website Link Here
---
#9 -Hello Joi
Introduction:
Hello Joi is a one-stop events company that offers styling services, and decorative products to complete your celebrations. A brand that takes on the management and creative lead for different types of events. They are always passionate about adding life to your Parties, Corporate Grand Opening, Wedding, and Wedding Proposals in Singapore.
Beyond their professional dessert table styling services, wedding proposals set up in Singapore, and more. They carry a line of products that includes their popular customized balloons that comes with reliable birthday balloon delivery in Singapore for hassle-free party decoration.
Each and every occasion is thoughtfully designed to create that picture-perfect moment. While their range of services and products evolves and grows constantly, the heart of the brand will always remain – to spread joy, inspire gratitude, and spark wonder.
They believe in staying true to themselves and being honest, this means making the best choices for you. You can count on their quality, efficiency and professionalism.
It is their dream to lend you a helping hand for every occasion, every time. Every moment should be well-lived, celebrated, and deeply appreciated!
Type of Services:
Wedding Proposals
Dessert Table
customized Balloons
Wedding Styling
Location: 21 Woodlands Close, #09-22 Primz Bizhub, Singapore 737854
Contact: 9671 4868
Website: Website Link Here
---
#10 – That Balloons
Introduction:
That Balloons offers the best organic balloon garland decor in Singapore! With over 50 colors to choose from, customizable sizes,s and an experienced team of local balloon artists, your party decor can never go wrong! They have provided their balloon decoration services to more than 1000 parties and events over the last few years!
From small-scale birthday parties to large-scale decor setups, They are known for keeping their price reasonable, yet going the extra mile to create a memorable balloon decor design for their clients.
Type of Services:
Balloon Shop
Balloon Sculpting
Advertising Balloons
Balloon Decorations
Balloon Landscape
Giant Balloon Pit
Balloon Workshop
Location: 304 Bukit Batok Street 31, Singapore 650304
Contact: 8157 7331
Website: Website Link Here
---
Have a Place to Recommend?
Your contribution is valuable to us! Are there any outstanding businesses that you believe should be added to our list? If so, please send your recommendations to us at [email protected]. Tropika Club will review your suggestions and update the list accordingly. Thank you for your help in making our list of businesses as comprehensive and accurate as possible.
---
Meanwhile, Check out Tropika Club's Ecosystem of Websites

Tropika Club Magazine – Tropika Club Magazine is a Singapore-based publication that features articles on a wide range of topics with a focus on local businesses and content for the region. The magazine emphasizes supporting local businesses through its #SupportLocal initiative, which includes coverage of everything from neighborhood hawker stalls to aesthetic clinics in town. In addition to highlighting local businesses, Tropika Club Magazine also covers a variety of local content, including beauty, lifestyle, places, eats, and what's on in Singapore and the Asia Pacific region.
Tropika Club Deals – Tropika Club Deals is a leading online deals and voucher shopping site in Singapore, offering amazing discounts on beauty, wellness, and fitness products and services. It's the perfect platform for customers who want to discover the best deals without having to commit to a specific appointment date and time. These deals are available at major beauty stores, facial salons, hair salons, and other brands in Singapore, with no minimum spend required. Choose from guaranteed discounted deals in the categories of hairstyling, hair removal, facial & aesthetics, body slimming, brows & lashes, nails & makeup, massage & spa or fitness & wellness. Tropika Club Deals is also ideal for customers who want to buy vouchers as gifts or to use for the future. So whether you're looking to save money on your next haircut or want to treat yourself to a relaxing massage, Tropika Club Deals has got you covered with the best voucher and coupon deals in Singapore!