Top 10 Michelin Endorsed Innovative Restaurants in Singapore
If you're a foodie in Singapore, you're in for a treat. These are the top 10 Michelin-endorsed innovative restaurants that are sure to tantalize your taste buds. From molecular gastronomy to progressive French cuisine, these restaurants are at the forefront of culinary innovation. So if you're looking for an unforgettable dining experience, look no further than these top 10 Michelin-endorsed restaurants.
---
#1 – Cloudstreet
Introduction: Helmed by Chef Rishi Naleendra, Cloudstreet is an amalgamation of thoughtful, expressive food, artisanal, progressive wines and warm, immaculate service.
They built the restaurant from scratch to inspire luxury and comfort the moment you arrive and hope that stepping into their restaurant is akin to stepping into your best friend's home. At the heart of Cloudstreet is a chef's counter designed specifically to encourage intimate interactions between you and them. their food menu is ever-changing depending on seasonality of ingredients and showcases their take on contemporary dining. Look for their wine menu that features over 350 labels that pay homage to some greats as well as the small, independent winemakers from around the world.
Just as clouds spark imagination, they are excited to present you an experience that reflects the innovation of their kitchen alongside unprecedented hospitality.
Welcome to Cloudstreet.
Menu Items:
Grilled Oyster, Betel Leaf, Coconut
A5 Beef Tartare, Tororo Kombu
Confit Potato, Smoked Herring
Bergamot Meringue, Beetroot
Location: 84 AMOY STREET SINGAPORE 069903
Contact: +65 6513 7868
Website: Website Link Here
---
#2 – Esora
Introduction: Set in a heritage shophouse on Mohamed Sultan Road, Esora is a kappo-style fine dining restaurant helmed by Head Chef Takeshi Araki and Chef de Cuisine Noboru Shimohigashi. It is a place that epitomises an affinity with nature & attention to detail, to create a heartfelt dining experience that resonates beyond the dining table.
Menu Items:
9 Course – $278
7 Course – $218
Location: 15 Mohamed Sultan Road Singapore 238964
Contact: +65 8533 7528
Website: Website Link Here
---
---
#3 – Thevar
Introduction: Excite your palate with a modern Indian twist.
Thevar is a modern Indian restaurant and bar along the vibrant Keong Saik Street by Chef Mano Thevar and showcases creative combinations of traditional Indian flavours.
The chef's menu features here will reflect Chef Mano's culinary training and travels.
Menu Items:
Heirloom Tomato Chaat
Prawn Balchao Pao
Crispy Pork Sambal Aioli
Irish Oyster Rassam Granita
Hokkaido Scallop – Sothi
Chettinad Duck Roti
Hibiscus Spiced Gujiya
Location: 9 Keong Saik Road, Singapore 089117
Contact: +65 9750 8275
Website: Website Link Here
---
_

Read Also:

Top 25 Best Michelin Starred Restaurants in Singapore

_ _ 
---
#4 – Ibid
Introduction: ibid. /ɪbɪd/ Abbreviation for Latin word ibidem meaning 'in the same place' or 'in the same source', often used in academic referencing. Restaurant Ibid is the creation of lawyer-turned-chef and MasterChef Asia winner Woo Wai Leong.
At Restaurant Ibid, the style of cuisine served is formed from the cumulative experiences of the young, dynamic, and ambitious individuals within the team. The cuisine is heavily influenced by the various food cultures of Asia guided by both traditional and modern styles of cookery.
The restaurant is located in a traditional shophouse in the Boat Quay conservation area and is both designed and furnished in a modern, minimalist style.
They host all their guests in a single seating so as to foster an atmosphere of community and fun for the whole dining room. A majority of their room is dedicated to a contoured counter to allow for groups of guest to dine and interact with their friendly service crew.
In September 2019, Restaurant Ibid was listed in the Michelin Guide Singapore 2019, making it one of the few restaurants in the world run by a MasterChef alumni to be included in the guide.
Menu Items:
Amela Tomato
A5 Wagyu
Yoghurt Sorbet
Mignardise
Location: 18 North Canal Road Singapore 048830
Contact: +65 9151 8698
Website: Website Link Here
---
#5 – 28 Wilkie
Introduction: 28 Wilkie is a one-Michelin-starred Modern European restaurant headed by Chef de cuisine,Seth Lai. Located on the ground floor of a 1930s conservation building, the elegant restaurant showcases Chef Seth's accomplished take on seasonal produce, in particular premium ingredients from Japan.
Established in 2017, 28Wilkie is the first The House of Louis XIII outside of France, and one of two Dom Pérignon Society in Singapore. Also within 28Wilkie is a stylish caviar bar, created in partnership with Singapore-founded Caviar Colony.
Menu Items:
Charles de Cazenove Vieille France L'Originalle Brutt
Cristal Brutt
Krug Grande Cuvee Brutt (edition 168th)
Location: 28 Wilkie Rd, #01-01 Singapore 228051
Contact: +65 9776 2828
Website: Website Link Here
---
---
#6 – Labyrinth
Introduction: Labyrinth by Chef LG Han, is a new expression of Singapore cuisine.
As an avenue that boasts the produce Singapore has to offer, Labyrinth is engaged in a deeper conversation with local farmers, fishermen and fishery ports. It is an exploration of age-old recipes, and an expression of local flavours and food memories. Chef LG Han unveils a contemporary dining experience that pays tribute to Singapore and his late grandparents, evoking a multitude of memories and emotions.
A symbiosis of the farms – on soil and in water – and the kitchen, Labyrinth takes diners on an exploration through the pairing of flavours and profiles of local produce inspired by chef's memories of growing up in Singapore; challenging the myths and pre-conceived notions of Singapore.
Menu Items:
Rojak/12 types of local herbs from egg
Crispy Roast Chicken Rice
Char Kway Teow
Chili Crab 8.0
SG Bak Kut Teh
Location: 8 Raffles Avenue #02-23 Singapore 039802
Contact: +65 6223-4098
Website: Website Link Here
---
#7 – Preludio
Introduction: Preludio is a contemporary dining concept from Chef Fernando Arévalo who constantly seeks to push boundaries.
Beginning as a novel concept by moving with time through different iterations called Chapters, Preludio is now shining the spotlight to focus on its unique brand of Author's Cuisine.
Menu Items:
Complete Experience (11 Course)- $258
Abridged Experience (9 Course)- $208
Location:182 Cecil Street, Frasers Tower #03-01/02, Singapore 069547
Contact: +65 6904 5686
Website: Website Link Here
---
#8 – Table65
Introduction: A fine culinary experience from celebrity chefs with redefined dishes & exquisite desserts. Awarded with 1 Michelin star, table65 presents European fine dining in a casual setting.
Menu Items:
Langoustine
Fluffy egg Soufflé
Turbot
Kagoshima Wagyu A4
Location: 26 Sentosa Gateway, #01-104 & 105 Hotel Michael, 098138
Contact: +65 6577 7939
Website: Website Link Here
---
#9 – Euphoria
Introduction: Restaurant Euphoria is the showcase for Gastro-Botanica, the cuisine invented by the celebrated chef Jason Tan. The name 'Euphoria' and the Chinese character '忆' in the logo convey the promise of delight, wonderment, and enduring memory awaiting the diner. With Restaurant Euphoria, Chef Jason introduces Gastro-Botanica 2.0, the elevated iteration of his original cuisine that showcases carefully sourced and prepared premium vegetables, meats and seafood, where prominence and elaboration are given to botanical elements of vegetables, tubers, herbs, spices, and fruits. Version 2.0 introduces botanical essences to create base sauces known as Gastro-Botanica Essences – La Symphonie de Légumes. In doing so, Chef Jason radically departs from the foundational 'mother sauces' of French haute cuisine, thus blazing the trail for further innovation. Euphoria features completely new 2.0 creations, along with Chef Jason's signature dish of the Cévennes onion in four ways called 'My Favourite Vegetable'. Located in vibrant Tras Street, the restaurant recreates a lush garden within its heritage shophouse interior, setting the stage for a gastronomic journey with a ground-breaking chef at the peak of his craft.
Menu Items:
6 Course Menu – $248
8 Course Menu – $278
Location: 76 tras street Singapore 079015
Contact: NA
Website: Website Link Here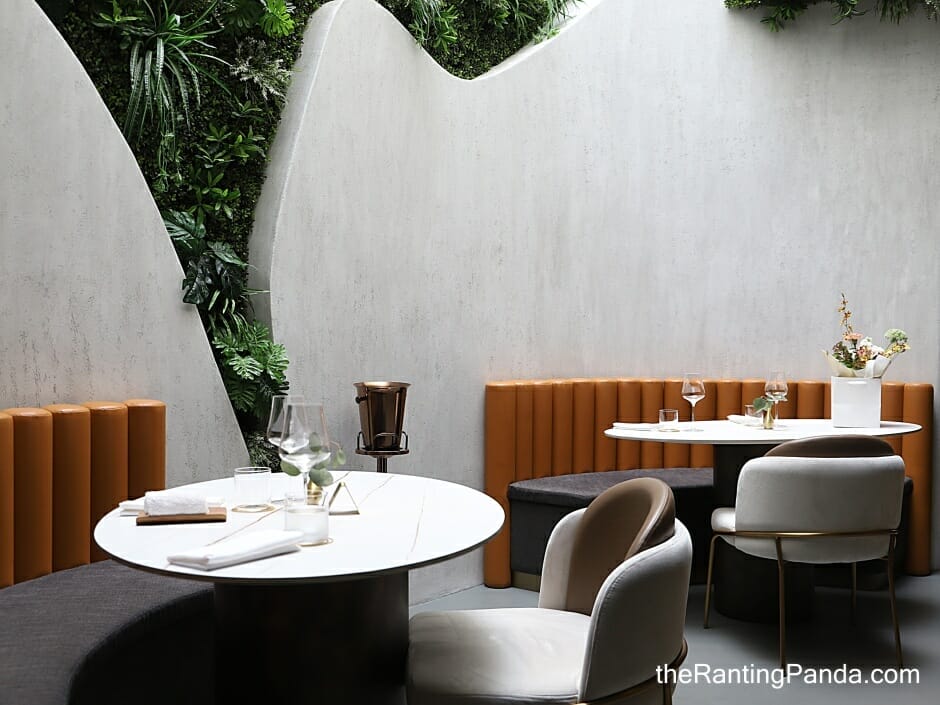 ---
#10 – Bam!
Introduction: BAM! is Singapore's first gastro establishment to pay tribute to
'Modern Shudo' – the contemporary way of sake enjoyment – and this revolutionary way of eating and drinking is taking flight in culinary corners around the world.
Spanning across two shop house units at 38-40 Tras Street, BAM! encloses a warmly-lit dining room, a floor-to-ceiling sake cellar with an extensive labels of both sake and wine, a discreet private dining space and a relaxed open kitchen where dining becomes a spectator sport.
Executive Chef Pepe Moncayo's holds high regards to the colours, flavours and textures that imbue his heavenly indulgences with a touch of theatre and presents a cuisine that transcends culinary boundaries. Driven by the favoured ingredients of the season, each dish is carefully constructed to excite, surprise and pleasure across the senses.
Bam!'s omakase style dining is an ever-evolving experience with exquisite culinary creations and certified sake sommeliers to guide you through your entire meal from one pour to the next.
Menu Items:
5 Course – $178
7 Course – $208
Location: 38-40 Tras Street Singapore 078977
Contact: +65 6226 0500
Website: Website Link Here
---
Have a Place to Recommend?
We need your help! Do you know any other noteworthy beauty clinics or salons that deserves to be added to this list? If so, do write to us via our email at [email protected]. Tropika Club will do a review of your recommendations and update the list accordingly.
---
Meanwhile, check out Tropika Club's Ecosystem of Websites

Tropika Club Magazine – Tropika Club Magazine crafts articles on all things Singapore, but with a greater emphasis on local businesses based on our #SupportLocalSG initiative. We check out and feature local businesses of all categories, ranging from your neighbourhood hawker stalls to the aesthetic clinics in town. We also cover local content ranging from beauty, lifestyle, places, eats and what's on in SIngapore. Our Top 10 rankings include local food and service establishments based in different regions in Singapore.
Tropika Club Deals – Search for the best voucher and coupon deals. Tropika Club Deals is ideal for customers who want to discover the best deals without having to commit to a specific appointment date and time. Choose from guaranteed discounted deals in the categories of hairstyling, hair removal, facial & aesthetics, body slimming, brows & lashes, nails & makeup, massage & spa or fitness & wellness. Customers can also buy vouchers as gifts or to use for the future.