Top 10 Student Food Deals in Singapore
Looking for a cheap meal as a student in Singapore? Look no further! This listicle will provide you with the top 10 student food deals in Singapore, so you can enjoy a delicious and affordable meal without breaking the bank. Whether you're looking for breakfast, lunch, or dinner, we've got you covered. So what are you waiting for? Read on to find out more!
---
#1 – Seoul Garden
Introduction:
Serving Korean-styled cuisine in a buffet-styled format at very affordable prices. The idea of Seoul Garden is to grow the brand in tandem with the customers – from student years to working adults to starting a family.
Seoul Garden has been Halal-certified to meet the growing needs of the Muslim market, but still retains those Korean-styled flavours that made us a household name.
Student Offer: : $17.90 weekday lunch buffet
Menu Items:
GRILL

Spicy Bulgogi Chicken
Champong-Kalbi Chicken
Red Miso Chicken
STEAMBOAT

Chicken & Prawn Dumpling
Ring Roll
Cheese Tofu
Prawn
Location: Multiple Outlets
Contact: Multiple Contacts
Website: Website Link Here
---
#2 – Guzman Y Gomez
Introduction:
Guzman y Gomez Ltd is an Australian multinational casual-dining and fast food restaurant chain. It specialises in Mexican cuisine with dishes such as burritos, nachos, tacos, quesadillas and other Mexican-inspired items, including drinks.
Student Offer: :$9.90 Student Combo Meal
Menu Items:
Mini Chicken Burrito or Bowl with Soft Drink and Small Fries
Location: Multiple Location
Website: Website Link Here
---
---
#3 – Domino's Pizza
Introduction:
The international fast food pizza delivery corporation, Domino's Pizza, is a renowned and popular choice amongst people for relishing their favorite fast food, the Pizza. Today, this huge franchise has a profound global impact and has more than 10,000 corporate and franchised stores in 70 countries.
Student Offer: :$3.90 Student Pizza
Menu Items:
Dominos also offers a $3.90 personal pizza student deal (add S$2 for a soft drink and a side).
Location: Multiple Location
Contact: +65 6222 6333
Website: Website Link Here
---
_

Read Also:

The Amazing Powers of Hyaluronic Acid for Your Skin

_ _ 
---
#4 – Pizza Hut
Introduction:
Pizza Hut operates in 84 countries and territories throughout the world under the name "Pizza Hut" and features a variety of pizzas with different toppings as well as pasta, salads, sandwiches and other food items and beverages. The distinctive décor features a bright red roof.
The legacy of Pizza Hut began in 1958, when two college students from Wichita, Kansas, were approached by a family friend with the idea of opening a pizza parlor. Although the concept was relatively new to many Americans at that time, the brothers quickly saw the potential of this new enterprise.
Student Offer: :$5.90 Student Meal
Menu Items:
Any Main with free flow drink
Location: Multiple Location
Contact: +62-35-35-35
Website: Website Link Here
---
#5 – Menbaka Fire Ramen
Introduction:
Masamichi Miyazawa, who spent his youth learning the intricacies of ramen making in kitchen across Japan. Master Masa-san wanted to create a different ramen from the various ramen restaurants offered in Japan. He later introduced Menbaka's signature "Fire Ramen" to the menu creating the one and only fiery umami flavour (Wok-Hei: Charred flavour). Becoming the first-ever ramen-ya in the world to do so. The Singapore outpost of Menbaka Fire Ramen, opened in November 2020 at Cineleisure Orchard, marks the brand's first and only international outlet.
Student Offer: :$10.90 Student Meal
Menu Items:
Signature Shoyu Fire Ramen, a side dish platter (Ajitama, chashu and corn), and lemon cucumber-infused water to cool off.
Location: 8 Grange Road, #05-03 Cineleisure Orchard, Singapore 239695
Contact: +65 8218 9236
Website: Website Link Here
---
---
#6 – COLLIN'S
Introduction:
Established in 2012, COLLIN'S® embodies Chef Collin's passion and humble mission to provide premium-quality yet affordable Western cuisine for the masses.
Every creation at COLLIN'S® is a testament of the brand's attention to details, from thoughtful selection of ingredients to ensure the dish is balanced and elevated to a higher level.
Tantalise your taste buds and redefine your dining experience at COLLIN'S® today.
Student Offer: :50% OFF Mains for Students
Menu Items:
Signature Grilled Chicken Chop (Price $7.50)
Lamb Chop & Iberico Sausage (Price $9)
Spaghetti Pescatore Rosso (Price $8.50)
Midnight Nutella (Price $8)
Location: Multiple Location
Contact: Multiple Contacts
Website: Website Link Here
---
#7 – Yakiniku Like
Introduction:
From Japan Opens Its First Outlet in Singapore: A Solo Dining Yakiniku Restaurant to Enjoy Top-quality Meats at Unbeatable Prices!
Student Offer: :$6.80 student meal
Menu Items:
Karubi Set 100g (Price $6.80)
Pork & Chicken Set 100g (Price $6.80)
Location: Multiple Location
Contact: +65 6974 9956
Website: Website Link Here
---
#8 – Texas Chicken
Introduction:
At Texas Chicken™ , they deliver authentic traditions, bold tastes and straightforward, consistent food you can trust. After all, they're more than chicken. They're the rugged territory forged by sun and terrain. The crisp, satisfying bite of a meal earned through hard work. The feeling of community that comes through shared moments and simple pleasures.
Student Offer: :$5.40 Mega Crunch Deal
Menu Items:
A Mega Crunch comes with a main (Tender Wrap, 2pcs Tenders, 1pc Chicken, Classic Burger or 1pc Chicken Wing), mashed potatoes and a free-flow drink.
Location: Multiple Location
Contact: Multiple Contacts
Website: Website Link Here
---
#9 – Suki-Ya
Introduction:
This "House of Hot Pot" is designed to offer heart-warming dining experiences at equally affordable prices. Diners enjoy unlimited, top-quality chilled beef and pork in paper-thin slices and farmed chicken that are oh-so-delicious in their own right. Another highlight of Suki-Ya is its vegetable bar featuring a wide variety of fresh vegetables to round up the meal with a healthy touch. Along with sumptuous soups and broths, dining at Suki-Ya is bound to perk up everyone's taste buds!
Student Offer: :$17.90 After School Shabu-Shabu buffet (Add on $3 on Friday)
Menu Items:
Chilled beef and pork
Vegetables
Location: Multiple Location
Valid for all outlets except Bukit Panjang Plaza & Suki-Ya Kin.
Contact: Multiple Contacts
Website: Website Link Here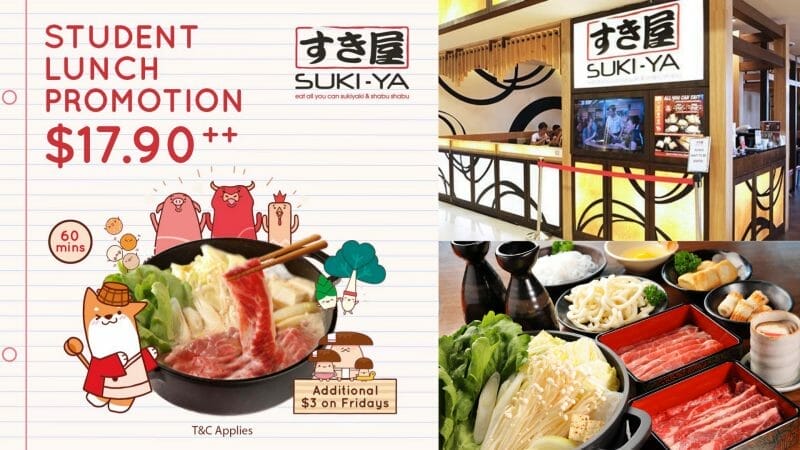 ---
#10 – Fish & Co.
Introduction:
Fish & Co. is a casual-dining family-friendly seafood chain restaurant specialising in serving westernised fresh seafood delicacies in a pan.
Student Offer: :$9.90 Student Meals
Menu Items:
A main (Signature Best Fish & Chips, Singapore Fish & Chips, Chicken and Mushroom Cream Pasta, Fried Cajun Chicken with Rice, or Grilled Peri-peri Chicken with Rice) and free-flow soft drinks. Add on S$3.50 to get a Specialty Drink, Soup of the day or 3pcs drumlets.
Location: Multiple Location
Contact: Multiple Contacts
Website: Website Link Here
---
Have a Place to Recommend?
We need your help! Do you know any other noteworthy beauty clinics or salons that deserves to be added to this list? If so, do write to us via our email at [email protected]. Tropika Club will do a review of your recommendations and update the list accordingly.
---
Meanwhile, check out Tropika Club's Ecosystem of Websites

Tropika Club Magazine – Tropika Club Magazine crafts articles on all things Singapore, but with a greater emphasis on local businesses based on our #SupportLocalSG initiative. We check out and feature local businesses of all categories, ranging from your neighbourhood hawker stalls to the aesthetic clinics in town. We also cover local content ranging from beauty, lifestyle, places, eats and what's on in SIngapore. Our Top 10 rankings include local food and service establishments based in different regions in Singapore.
Tropika Club Deals – Search for the best voucher and coupon deals. Tropika Club Deals is ideal for customers who want to discover the best deals without having to commit to a specific appointment date and time. Choose from guaranteed discounted deals in the categories of hairstyling, hair removal, facial & aesthetics, body slimming, brows & lashes, nails & makeup, massage & spa or fitness & wellness. Customers can also buy vouchers as gifts or to use for the future.