Top 10 Things to See and Do at Orchard Road, Singapore
Orchard Road is one of the most famous shopping streets in Singapore. It's a pedestrian-only street that starts from the financial district and goes all the way down to Bugis area. The street is lined with luxury stores, high-end restaurants, and boutiques. If you're a fan of exploring new places, then you'll love visiting Orchard Road in Singapore. Here are 10 amazing things to do while in the area.
---
#1 – The National Library
Introduction:
Our libraries and archives promote reading, learning, information literacy and an interest in Singapore's history and heritage. We reach more than 6 in 10 residents in Singapore through our services, programmes and spaces.
Vision
Readers for Life, Learning Communities, Knowledgeable Nation
Mission
We make knowledge come alive, spark imagination and create possibilities
About
The National Library Board (NLB) nurtures Readers for Life, Learning Communities and a Knowledgeable Nation by promoting reading, learning and history through our network of 28 libraries across Singapore, the National Library and the National Archives of Singapore.
Location:
277 Orchard Road orchardgateway #03-12 / #04-11 Singapore 238858
Opening Hours:
Opening Hours:
Mon – Sun: 11:00 AM – 09:00 PM
Closed at 5.00pm on eves of Christmas, New Year and Chinese New Year. Closed on Public Holidays.
Bookdrop : Subject to mall opening hours
Reservation Lockers : Subject to mall opening hours
Price of Admission: Users can register free of cost
Level: Level #03-12 / #04-11
Website: Website Link Here
---
#2 – ION Orchard
Introduction:
ON Orchard (pronounced as I-On), formerly known as the Orchard Turn Development or Orchard Turn Site, is a shopping mall in Singapore, next to Orchard MRT station. It is the retail component of an integrated retail and residential development by Orchard Turn Developments Pte Ltd, a joint venture between CapitaLand and Sun Hung Kai Properties. It started operating on 21 July 2009, occupying 335 food and retail outlets. In December 2016, Forbes recognized ION Orchard as one of the top shopping malls in Singapore.
About
Layered across the walls of ION Orchard, the Media Facade is a multi-sensory canvas media wall.
A 5,600 sq ft (520 m2) art and exhibition gallery is located on the fourth floor of the shopping mall. Called ION Art, it aims to combine art and commerce. An art and design programme is implemented to introduce new and multimedia art into the mall experience, promoting the best of Asian modern and contemporary art and design from established and emerging artists and designers. Under this programme, permanent and changing sculptures and media installations will be located throughout the mall with art exhibitions held throughout the year within the ION Art Gallery and other locations in the mall.
The development's observation deck, ION Sky, is located on the 55th and 56th floor of the building. With a height of 218 m above ground, it offers a panoramic view of the city. It will also have a 75,000 sq ft (7,000 m2) garden on its 9th floor, together with two club facilities on its 9th and 30th floors.
The mall has two subway entrances on Level 1 connecting to ION Orchard via Orchard. The first entrance, Exit E (facing Wheelock Place), was opened on the morning of 15 January 2008, the same day when the station's Exit C (facing Wisma Atria) was closed and slated to be demolished and subsequently completed later that year.Mounted on Exit E's wall were more than 90 metres of LED walls, that can be programmed with different colours and patterns on its light displays to create a certain mood, even for festive occasions. It can also be used for advertising or as an art gallery from time to time.
The mall has a linkway leading from Orchard MRT Station to Tangs Plaza. The stretch had undergone a widening project which was completed in November 2014. Other shops include Redeye, Metaphor, Owndays, Yankee Candle, VDL Cosmetics, Lovisa, 7-Eleven and Selectiv' by Sasa. These new tenants join ION Orchard's existing collection of fashion favourites such as Victoria's Secret, H&M, and Mango at ION Paterson Link, located at Basement 2 of the mall.
The mall has a walkway leading from Orchard Boulevard to Orchard MRT station. Called the Orchard Boulevard Entrance, the first LED-lit subway entrance was opened on 10 June 2008 at the MRT station, with the help of the Land Transport Authority and SMRT Corporation on the planning of the walkway. Synchronized with ION Orchard's facade and canopy, the walkway has LED panels to create a surround experience for commuters, and a fritted glass-and-steel canopy roof to allow natural light to filter through. The walkway will also have easy access to the basement and ground levels of the mall from the subway station's concourse level as well as the walkway connecting the subway station to Wheelock Place.
The mall also has a car park with approximately 500 parking spots (including handicap parking), between the fourth and the eighth floors. Over 100 media screens located both inside and outside the shopping mall, including those above restroom urinals, are managed by JCDecaux.
Location: 2 Orchard Turn, Singapore 238801
Opening Hours:
Monday: 10am–10pm
Tuesday: 10am–10pm
Wednesday: 10am–10pm
Thursday: 10am–10pm
Friday: 10am–10pm
Saturday: 10am–10pm
Sunday: 10am–10pm
Price of Admission: NIL
Level: 12 (8 retail and 4 car park)
Website: Website Link Here
---
---
#3 – Istana
Introduction:
Government House of Singapore was built between 1867 and 1869 on the instructions of Sir Harry Saint George Ord, Singapore's first colonial governor after the transfer from the East India Company to the Colonial Office. The architect was Major John Frederick Adolphus McNair. Within the same compound is Sri Temasek, one of several senior colonial officers' residences in the Government House previously assigned to the Colonial Secretary
About :
First floor
The Reception Hall is where the president introduces the Cabinet of Singapore to visiting dignitaries and foreign heads of state. As its name states, tea receptions are held here after a state dinner.In the Banquet Hall, guests dine with the President and are entertained. At the end of the hall is a trompe-l'œil painted with a backdrop of orchids. The room, formerly part of the kitchen and some workshops, is also used to display state gifts.The State Room is the seat and office of the President of Singapore. The hall is used for events such as the swearing-in of a newly elected Cabinet or President, or for presentations of awards. When it was the sitting room of Sir Shenton Thomas, he had a statue of Queen Victoria at one end of the room. The statue was later removed to make way for what is now the Presidential Chair and two state flags: the National Flag and the Presidential Standard. The statue of Queen Victoria now stands at the end of the Victoria Pond located south of the Istana Grounds.
Second floor
The Reception Room is a small parlour on the second floor leading to the East and West Sitting Rooms. It is where the President holds discussions with foreign dignitaries. The East Sitting Room features a collection of state gifts, including a set of chinaware made in France and presented to President Benjamin Henry Sheares which is displayed in a bulletproof glass case.The West Sitting Room is a parlour that has been the setting for many interviews with heads of state and Members of Parliament. The room is laid with original timber flooring from the 1930s. Displayed on the walls of the room are priceless replicas of Arab tapestry presented by the Sultan of Oman to President Ong Teng Cheong in the 1990s.The Sheares Room is a private dining hall named after Dr. Benjamin Sheares, the second President of Singapore. It is used by the President and his/her family or, in some cases, the Cabinet. Name cards indicating the sitting positions of each person are printed and gold-plated by Risis. Besides the unique boat-shaped dining table in the room, seven painted panels depicting the seven presidents and their respective Cabinet members hang on the right of the room.The Yusof Room is named for the first President of Singapore, Yusof bin Ishak; his bust sits at the end of this parlour. The room features a large Chinese-style panel painted with phoenixes and peonies.
Mezzanine floor
The U-shaped Grand Staircase leads to the second and third floors of the Istana. On the first landing stands the Guardian of the House on a raised display cabinet. The 35-centimetre (14 inch) statue is made of wood from India, ivory and mother of pearl. The Guardian was made by Indian labourers who constructed the Istana and was presented to Sir Shenton Thomas to commemorate his taking up of residence there. During the Second World War, the statue was placed in a storeroom. It was forgotten until 1995 when Istana guards were tasked to clear the storeroom, at which time it was found lying next to the British coat of arms which used to hang at the main entrance to the Istana.
Third floor
Despite the name of the President's Lounge, it also serves as the main balcony of the Istana which overlooks the ceremonial square and lawn on the ground floor. The room is styled like the White House's Blue Room, which also overlooks the White House lawn. Facing this lounge is the office of the President.
The Office of the President of Singapore, which is out of bounds to the public, has four main pieces of furniture: a maroon sofa for guests to rest on, the main office desk made out of wood, a cowhide office chair, and a wooden side desk.
Location: Orchard Rd, Singapore 238823
Opening Hours:
Monday: 8:30am–6pm
Tuesday: 8:30am–6pm
Wednesday: 8:30am–6pm
Thursday: 8:30am–6pm
Friday: 8:30am–6pm
Saturday and Sunday: Closed
Price of Admission: 
The Istana is typically open to the public on five days during the year. Visitors can look forward to special performances, tour selected rooms in the Main Building or go on guided nature walks on the grounds. Do check back for details on future IOHs. Only cashless payments via PayNow will be accepted.
Contact: +65 8720 6021
Website: Website Link Here
---
---
#4 – Fort Canning Park
Introduction:
The area became known as Central Park in 1972 when the land previously used by the British armed forces was combined with King George V Jubilee Park. The park was then renamed Fort Canning Park on 1 November 1981 by Lee Kuan Yew, and converted into a historical park.
The park overlooks Orchard Road and is set in the heart of the Civic and Cultural District of Singapore, and it now offers a variety of recreational activities as well as historical, educational, entertainment and cultural experiences, and is also used as a place for social events.[23] The park also serves as an important green lung for Singapore's downtown city area. The unique blend of historical relics, lush greenery and expansive lawns has made Fort Canning a hub of cultural and artistic activity. It has been a venue of choice for staging myriad outdoor events and activities like theatre carnivals such as Shakespeare in the Park by SRT, art festivals, starlight cinemas and Ballet Under the Stars performances.WOMAD, Singapore's largest music festival, was a regular feature of the park's calendar of events from 1998 to 2007. The Fort Canning Tunnel passes directly under the hill.
The entrance of Fort Canning Park on Hill Street
Fort Canning Park has been designated as the venue of the bicentennial showcase in 2019, an event which commemorates 200 years since the founding of Singapore. To restore the heritage of the area, three historical gardens will be recreated. They are the Royal Garden, the First Botanical Garden and Jubilee Park. Other enhancements to the park include a new heritage museum at the Fort Canning Centre, a reproduction of an ancient spring and improvements in accessibility.
Jubilee Park will be the most "kids friendly" park with a nature-themed playground and slides that follows the contours of the hill. Jubilee Park opened in Jun 2019.
About
Fort Canning Reservoir
Main article: Fort Canning Reservoir
Construction of the Fort Canning Service Reservoir started in 1927 and finished in 1929. It was built on top the hill on the site of a former barrack and parade ground of the demolished fort. Excavation for the reservoir in 1928 found a cache of Javanese-style gold jewellery dating to the mid-14th century. The reservoir is covered and access is restricted.
Van Kleef Aquarium
Main article: Van Kleef Aquarium
The Van Kleef Aquarium was first constructed in 1955 at the foot of Fort Canning Hill known as King George V Jubilee Park facing River Valley Road. The aquarium was the first of its kind in South-East Asia, and attracted over 150,000 visitors within three months of its opening, and had around 400,000 visitors annually by the 1970s. However, due to competition from newer attractions which led to declining visitors in the 1980s, it closed on 31 May 1991. A number of attempts were made to renew operation at the site but all were unsuccessful. It finally closed in 1996, and the building demolished in 1998.
National Theatre
Main article: National Theatre, Singapore
Known as the People's Theatre, the National Theatre was later built near the Van Kleef Aquarium on the western slope of the hill and closer to the Clemenceau Avenue road. The theatre was officially opened on 8 August 1963 and was once the venue for various international performances, universities' convocations and the National Day rallies, it was demolished in August 1986 to make way for the nearby construction part of Central Expressway along Clemenceau Avenue.
Location: River Valley Rd, Singapore 179037
Opening Hours: Monday to Sunday Open 24 hours
Price of Admission: Free
Contact: 1800 471 7300
Website: Website Link Here
---
#5 – Orchard Central Rooftop Garden
Introduction:
Orchard Central Mall is a winner of the Singapore Institute of Architects and National Parks Board's (SIA-NParks) Skyrise Greenery Awards in 2009. The award aims to promote skyrise greenery in Singapore and to recognize the greening efforts in high rise developments by owners/developers, architects, landscape architects/designers, and landscape contract managers.
Entries for the award were assessed by a jury comprising representatives from NParks, SIA, Design Council Singapore, National University of Singapore, Singapore Institute of Landscape Architects, and Urban Redevelopment Authority. The judges consider landscape factors that enhance Singapore's cityscape and environmental quality, as well as originality, creativity and sustainability of the landscape ideas.
To provide a modular green wall system to enable vertical greening of a series of 3 high walls totalling 160 m2 and a section of the corridor on the 11th storey and 2 separate lower walls on the 12th storey totalling 45 m2:
Anchoring pilasters were welded onto steel support beams installed onto the walls. Vertical Greening Modules (VGM), comprising a geotextile bag filled with soil-less lightweight planting media were pre-planted in a nursery environment to allow for plant establishment. The VGMs were then encased in metal support frames on-site and mounted onto the pilasters and an automated drip irrigation and fertilization system installed. This green wall system allows easy mounting and dismounting of individual VGMs for design change, maintenance or replacement, if necessary. The green walls complement and create conducive atmosphere for al fresco dining on the rooftop of the Mall.
To provide the landscape roof system including the sub-soil drainage for the landscape roof garden and planter boxes of Orchard Central Mall:
VersiCell sub-soil drainage cells were positioned over the prepared grounds and in planter boxes on the roof followed by a geotextile filter fabric layer and then the planting soil. A network of irrigation tubing is incorporated to facilitate easy delivery of water to the plants. The bottom cavity provided by the drainage cells facilitates the efficient drainage of water preventing water-logging and promoting healthy plant growth.
About:
Orchard Central Mall, situated at the junction of Orchard and Killiney Roads, is Singapore's tallest and first vertical pure-retail mall, overcoming land area limitations with 11 storeys above ground and 2 basement levels. It has a 160m facade featuring a faceted membrane which functions as a massive media wall, adding visual vibrancy to Orchard Road. The Mall features a unique cluster concept, with shops grouped into eight different clusters according to shoppers' specific needs. Super escalators at the facade take pedestrians right off the street into the various clusters. Orchard Central boasts multiple outdoor viewing areas with a commanding view of Orchard Road, including 3 outdoor "green" balconies appealing to alfresco food & beverage outlets. The air-conditioned shopping street discovery walk and the rooftop garden are both accessible to the public 24 hours a day.
After a satisfying meal or successful shopping conquest, visitors can also dine alfresco, sip coffee or have afternoon tea, above the hustle and bustle of Orchard Road at the rooftop garden designed by acclaimed Japanese interior designer, Takashi Sugimato of Super Potato Design. The garden features 3 large living walls and balcony rail on the 11th floor and 2 lower green walls on the 12th floor roof terrace. According to Ms Lena Quek of DLQ Design Pte Ltd, the firm responsible for the landscaping at Orchard Central mall, "the planted walls complement and create the atmosphere for alfresco dining as well as serve to substantially cool the areas immediately adjacent to the walls."
Location: 313@somerset
Opening Hours: Daily 10am-10pm
Price of Admission: Free
Address: Orchard Rd, Singapore 238895
Contact: (770) 772-7334
Website: Website Link Here
---
#6 – Emerald Hill Road
Introduction:
Before the time of Stamford Raffles and William Farquhar, Emerald Hill was believed to be fully covered in primary rainforest. However, around the early 1800s, many Chinese immigrants occupied the land with Gambier or pepper plantation to make a living of their own, exhausting the land to its ends. Thus, when William Cuppage finally owned the land legally, it had already become a barren field.
William Cuppage, a postal clerk who rose to become the acting Postmaster General in the 1840s, first leased Emerald Hill in 1837 and in 1845 secured a permanent grant for his nutmeg plantation, which failed in the 1860s because of disease.
Cuppage himself moved from his residence in Hill Street to Emerald Hill in the early 1850s and lived in the area till his death in 1872. Here he built two houses (Erin Lodge and Fern Cottage) where he lived. After his death, Cuppage's plantation was left to his daughters and in 1890 it was sold to one of his sons-in-law, the lawyer Edwin Koek.
Koek turned the area into an orchard and built another house on the estate, called Claregrove. Koek's orchard venture failed, however, and he went bankrupt. The property was then sold to Thomas E. Rowell in 1891.
By the turn of the twentieth century, the 13.2 hectare land and its three houses (Erin, Fern and Claregrove) were the property of Seah Boon Kang and Seah Boon Kiat. These three houses were subsequently demolished: Fern Cottage in 1906 made way for terrace houses; in 1924 Claregrove gave way to the Singapore Chinese Girls' School; Erin Lodge was replaced with more terrace houses.
In 1901, they subdivided the property into 38 plots, ten of which they kept while the remaining twenty-eight lots were sold to various people. One of the persons who bought three lots (Lots 6, 7, 8), was an influential Peranakan named Lim Boon Keng. The builders of houses at Emerald Hill Road were mostly Peranakans or Straits-born Chinese in general; at least fifty-nine out of 112 houses were built in total. The first house in the area was built in 1902. By 1918, 33% of houses have been built.
About:
Emerald Hill Road
Emerald Hill Road was laid out in 1901 and the current terrace houses alongside the road were built between 1901 and 1925.
Hullet Road
Hullet Road was built in 1914 and named after R.W. Hullet, principal of Raffles Institution from 1871 and later Director of Public Instruction on his departure from Singapore in 1906 after having stayed here for 35 years. His name is also commemorated in Raffles Institution in the form of a Hullet Scholarship awarded since 1908. The road was named after Hullet at the request of Dr Lim Boon Keng, who was Hullet's pupil.
Saunders Road
Saunders Road was named in 1927 after the British colonial officer, Charles James Saunders. Saunders held several official appointments. He was District Judge (1908), Registrar of Companies and Official Assignee (1915) and Secretary for Chinese Affairs, Straits Settlements (1922). He was also a member of the Legislative Council.
Peranakan Place
Situated at the mouth of Emerald Hill Road, Peranakan Place was established in 1985 as part of the Urban Redevelopment Authority's (URA) designation of Emerald Hill as a conservation area. The restoration of the original row of 6 two-storey shop-houses previously built in 1902 preserved the ornate and colourful Straits Chinese style of design and architecture.
The historic development, now containing several commercial businesses, sits at the junction between Emerald Hill Road and Orchard Road. It has since become an attraction for both locals and tourists.
Location: Orchard Road
Opening Hours: Monday to Sunday Open 24 hours
Price of Admission: Free
Contact: NIL
Website: Website Link Here
---
_

Read Also:

Top 10 Restaurants in ION Orchard

 
---
#7 – Former House of Tan Yeok Nee
Introduction: The mansion belonged to Chaozhou-born businessman Tan Yeok Nee who built it in 1885. It is the only survivor of the Four Mansions (四大厝) built in the late 19th century. Tan was born in 1827. To escape poverty in his village, he came to Nanyang where he traded textiles. Later, he planted pepper and spices in Johor and became a port owner. In addition, Tan established a joint venture with another Teochew tycoon, Tan Seng Bo, and Chang, a Hoklo (Hokkien) leader, in the then legal opium and liquor trades. Three years later, Tan Yeok Nee immigrated to Singapore, where he built this "House of Administration". He soon amassed a great fortune through his involvement with his trades and the ownership of lucrative property.
At the turn of the 20th century, when the Singapore-Johor Railway was being built, the house was acquired for use by the Tank Road Station master. In 1907, the government transferred Tan's house to the Anglican Church, which established St Mary's Home and School for Eurasian Girls for 20,000 Straits dollars.[1] After the Home was closed in 1932, it was renamed as the Temple House and was used as a boarding house.
About:
The House of Tan Yeok Nee occupies up to 2,000 square metres of elevated land along Clemenceau Avenue. The mansion has been carefully restored with great sensitivity to ensure that the original architecture and character of the house is kept intact. The walls, tiles, roof, pillars, carvings and pottery were restored to their original state of a century ago through painstaking research.
However, contemporary facilities and equipment have also been incorporated to adapt the building for modern-day usage. With the wide array of beautifully restored traditional Chinese decorative elements and the convenience of present-day state-of-the-art technology around the house, this combination of 'old' and 'new' provides a unique environment rich in history and culture.
The front and back portions of the house face east and west. Pillars on the front door are made of marble with colourful carvings of stories reflecting the lives of Tan Yeok Nee's ancestors in Chaozhou. The back of the house has a distinctive style exhibited by beams with special Teochew tiles, a main pillar decorated with gold-plated carvings, and a marble floor. Exquisite, colourful tiles reflect Chinese people characters and animals.
The House of Tan Yeok Nee is typical of Teochew-style residential buildings. The structure exhibits the harmony of Yin and Yang, shown at the top of the ceiling in gold, wood, water, fire, and earth – the five elements. Armed with traditional philosophical ideas, the designer coordinated the entire building's design to reflect the balance and harmony represented by the five elements. This unique design not only enriches the artistic value of the walls, but also represents the unity of prosperity, intelligence, longevity, health and happiness.
Location: Penang Road and Clemenceau Avenue
Opening Hours: Monday to Sunday Open 24 hours
Price of Admission: Free
Location & Address: 101 Penang Road, Singapore 238466
Contact: +65 6238 2193
Website: Website Link Here
---
#8 – Singapore Visitor Centre @orchardgateway
Introduction:
Drop by one of these centres in downtown Singapore to get more information about Singapore, purchase tickets to attractions and tours or pick up a souvenir.
About :
Tours are booked directly with the tour operators and you are encouraged to check directly with them. Singapore Tourism Board makes no representation or warranty regarding the goods or services provided by the tour operator, and shall not be liable for the same.
Location: Orchardgateway
Opening Hours:
Monday: 10am–7pm
Tuesday: 10am–7pm
Wednesday: 10am–7pm
Thursday: 10am–7pm
Friday: 10am–7pm
Saturday: 10am–7pm
Sunday: 10am–7pm
Price of Admission: Free for Consult
Address: 216 Orchard Road, orchardgateway@emerald, 238898
Contact: +65 6736 6622
Website: Website Link Here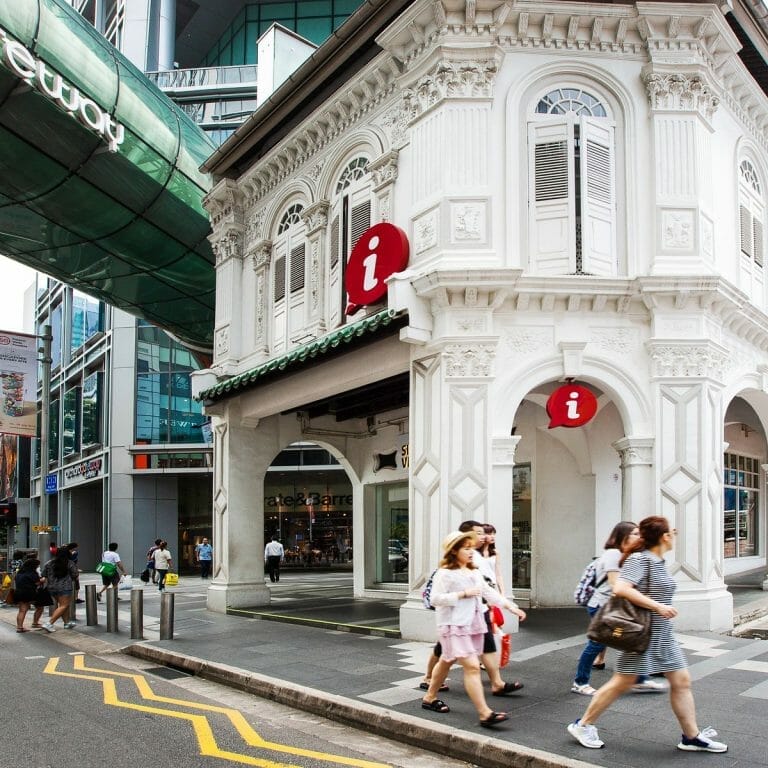 ---
#9 – The Bubble Tea Factory
Introduction:
It is an immersive bubble tea-themed exhibition happening for 2 months in Singapore. TBTF is extended by one month till 18 Jan 2020!
About
Each ticket admits one person into The Bubble Tea Factory.
Children above 3 years old require a ticket (proof of age required).
Your TBTF experience should take roughly 45mins – 1 hour.
Please note that the tickets are your entry time.
If you miss your time slot, your ticket is no longer valid.
Once you reach The Bubble Tea Factory at your selected time slot, you will receive a queue number to begin your TBTF journey.
Queue numbers may not be called in sequence, so keep an ear out!
Location: DON DON DONKI @ JCube
Opening Hours:
Mon-Fri: 2pm – 8pm
Sat, Sun, Eve of PH, PH: 10am – 10pm
Price of Admission: 
Weekdays: Monday – Thursday (2 pm – 8 pm)
Single Ticket Price – $sgd 24
On-site Ticket Price – $sgd 26
Group Ticket Price(10 or more) – $sgd 18
Weekends & PH: Friday (2 pm – 8 pm), Saturday, Sunday, PH, Eve of PH 10 am – 10 pm
Single Ticket Price – $sgd 28
On-site Ticket Price – $sgd 30
Group Ticket Price(10 or more) – $sgd 23
Address: 2 Jurong East Central 1, #B1-12, Singapore 609731
Level: #B1-12
Website: Website Link Here
---
#10 – Design Orchard
Introduction:
Design Orchard is an integrated retail and incubation space that aims to groom and profile new and emerging designers in the lifestyle and fashion sector, and prepare to take them overseas.
Whether you're a local or tourist, shopper or design aficionado, visitors to Design Orchard can access authentic Singapore brands. Meanwhile, budding designers have a dedicated space to hone and showcase their talents.
Design Orchard is a multi-government agency effort spearheaded by Enterprise Singapore , JTC and Singapore Tourism Board (STB).
About:
level one
Shop @ Design Orchard
Check out Design Orchard's sprawling showcase of over 90 local designers and brands – you'll be sure to find something that piques your fancy.
level two
Work @ Design Orchard
An exclusive incubation space for Singapore's designers, with resources like professional sewing equipment, a Fabric Library and other services
level three
Alchemist @ Design Orchard
Operating daily from 10AM to 7PM, Alchemist will be offering their signature coffee beverages and a new range of freshly-baked pastries
The rooftop
Chill @ Design Orchard
Head up to the rooftop to enjoy the view from our public amphitheater and events space and watch the world go by.
Location: Orchard Road
Where to Park
Parking is available at The Heeren, 260 Orchard Road, S(238855), 8AM to 11PM daily, and Orchard Building, 1 Grange Road, Singapore 239693, 24 hours daily.
How to get here by Train
Design Orchard is a 6 minute (450m) walk from NS23 Somerset MRT.
How to get here by Bus
7/7B, 14/14e, 16, 36/36B, 65, 77, 106, 111, 123, 124, 128, 143, 162/162M, 167/167e, 171, 174/174e, 175, 190/190A, 502/502A, 518/518A, 587, 590, 598, 700/700A, 971E, 972/972A
Opening Hours:
Retail Showcase on Level 1
Monday – Sunday : 10.30am – 9.30pm
Cocoon Space on Level 2
Monday – Friday : 9am – 6pm
Saturday – Sunday : Closed
Price of Admission: NIL
Address: 250 Orchard Rd, Singapore 238905
Contact: +65 8642 3576
[email protected] (for the outdoor space)
[email protected] (for the indoor space)
Website: Website Link Here
---
Have a Place to Recommend?
We need your help! Do you know any other noteworthy places that deserve to be added to this list? If so, do write to us via our email at [email protected]. Tropika Club will do a review of your recommendations and update the list accordingly.
---
Meanwhile, check out Tropika Club's Ecosystem of Websites
Tropika Club Magazine – Tropika Club Magazine crafts articles on all things Singapore, but with a greater emphasis on local businesses based on our #SupportLocalSG initiative. We check out and feature local businesses of all categories, ranging from your neighbourhood hawker stalls to the aesthetic clinics in town. We also cover local content ranging from beauty, lifestyle, places, eats and what's on in SIngapore. Our Top 10 rankings include local food and service establishments based in different regions in Singapore.
Tropika Club Deals – Search for the best voucher and coupon deals. Tropika Club Deals is ideal for customers who want to discover the best deals without having to commit to a specific appointment date and time. Choose from guaranteed discounted deals in the categories of hairstyling, hair removal, facial & aesthetics, body slimming, brows & lashes, nails & makeup, massage & spa or fitness & wellness. Customers can also buy vouchers as gifts or to use for the future.