Singapore Top 10 Most Affordable Underarm Hair Removal
Welcome, my friend, to the world of affordable underarm hair removal in Singapore! If you're on a quest to find the most budget-friendly options for achieving smooth underarms, you've come to the right place. In this article, we'll unveil the top 10 most affordable underarm hair removal services available in Singapore. Say goodbye to pesky underarm hair without breaking the bank! Let's dive in and explore these pocket-friendly solutions that will leave you feeling confident and hair-free.
---
#1 – Blush Wax
Introduction:
Established in 2008, Blush is a beauty salon that specializes in professional hair removal services for ladies.
They take pride in offering quality service and professional advice with regards to any body hair problems you might encounter. Treatments are provided by highly qualified, experienced and friendly therapists, all while strictly adhering to the highest industry standards in Singapore.
Type of Services:
Permanent Hair Reduction
Waxing
Location:
176 Orchard Road, #03-19A,, The Centrepoint, S238843
Contact:
+65 9199 7313
Website: https://www.blushsg.com/
---
#2 – Wellaholic
Introduction:
Wellaholic's mission statement is to empower individuals to look and feel their best by providing exceptional services, innovative products, and expert guidance in the areas of beauty, health, and wellness. With a commitment to customer satisfaction, continuous improvement, and the highest standards of professionalism, Wellaholic aims to create a positive and supportive community that inspires people to prioritize self-care, embrace personal growth, and live a healthier, happier lifestyle.
Type of Services:
SHR Permanent Hair Removal
Body Slimming
Facial Treatments
Teeth Whitening
Hair Regrowth
Location:
Farrer Road Outlet: 3 Queen's Rd, #02-155, Singapore 260003
Jurong East Outlet: 2 Venture Dr, #02-17 Vision Exchange, Singapore 608526
Kovan Outlet: 208 Hougang St 21, #03-207, Singapore 530208
Lavender Outlet: 16M Penhas Rd, level 2, Singapore 208180
Orchard Outlet: Far East Shopping Centre #04-11C, 545 Orchard Rd, 238882
Somerset Outlet: 5 Koek Rd, #03-21, Singapore 228796
Tanjong Pagar Outlet: 210A Telok Ayer St, Level 2, Singapore 068643
Upper Changi Outlet: 690 Upper Changi Rd E, B3-03 Downtown Line MRT Station, Singapore 485990
Contact:
Farrer Road Outlet: +65 8853 3424
Jurong East Outlet: +65 8499 4980
Kovan Outlet: +65 9058 5640
Lavender Outlet: +65 6816 8038
Orchard Outlet: +65 8869 5640
Somerset Outlet: +65 8856 1338
Tanjong Pagar Outlet: +65 8499 8984
Upper Changi Outlet: +65 9239 5823
Website: https://www.wellaholic.com/
---
---
#3 – The Organic Room
Introduction:
A private, by appointment-only studio
With attention to detail and quality, this is a place where you can escape from the city life to indulge in a pampering and tranquil beauty experience. Led by holistic facialists, Sharifah Fazzeleen, sessions are designed to be extraction-free, massage-based and using only cruelty-free, safe and organic certified ingredients.
Type of Services:
Facial treatments
Organic Sugaring
Ear Candling
Makeovers
Location:
Bugis Cube, 470 North Bridge Rd, #04-03, Singapore 188735
Contact:
+65 8808 4786
Website: https://www.theorganicroom.sg/
---
---
#4 – MiracleSally
Introduction:
A brand new place for body hair removal. Significantly hygienic, reliable, safely and painlessly of the era of Singapore's wax revolution. They have certified therapists with more than 10 years of experience under their belt. Coupled with their nimble, well-trained fingers, a comfortable and pleasant waxing experience is ensured.
Type of Services:
Waxing
IPL (Intense Pulsed Light)
SHR (Super Hair Removal)
Location:
138 Robinson Road, Oxley Tower #03-43, Singapore 068906
Contact:
+65 8244 6433
Website: http://miracle2u.sg/
---
#5 – Wink Wax
Introduction:
Wink Wax Wellness has helped customers remove unwanted hair since 2008. Founder Winky specializes in Brazilian wax and she seeks to continuously improve her skills and knowledge. Their award-winning Brazilian Wax is just one of many services offered there, which includes IPL and Hybrid Laser DPL.
Type of Services:
Waxing
IPL Permanent Hair Removal
DPL Permanent Hair Removal
OPT Permanent Hair Removal
Location:
Bugis Outlet: North Bridge Centre, 420 North Bridge Rd #01-26, Singapore 188727
Tanjong Pagar Outlet: 99A Tanjong Pagar Road, Level 2 (Shop House), Singapore 088520
Contact:
Bugis Outlet: +65 6733 2037
Tanjong Pagar Outlet: +65 6536 8785
Website: https://www.winkwax.com/
---
#6 – The Waxing Guru
Introduction:
Diana King also known as The Waxing Guru, the Fastest Waxer. She's been in this prestigious beauty business for the past 17 years. Believes in her 3Ps: Passion, Patience and Perseverence. She strongly believes in giving her trusted customers the best products to use on them and services too.
Type of Services:
Location:
211 Holland avenue, Holland Road Shopping Centre #03-03, Singapore 278967
Contact:
+65 9001 0274
---
_

Read Also:

Top 10 Best Hair Removal Services in Downtown Singapore [2023

_
---
#7 – Pink Parlour
Introduction:
Established in 2005, Pink Parlour entered the grooming scene in Singapore as the rebellious counterpart of day spas in a hip and groovy setting amidst party establishments along Mohammad Sultan.
On a mission to empower women to take control of how they can look and feel, Pink Parlour was dedicated to offering beauty treatments that enhance confidence – today it has over 60,000 clients across the region a testament that Pink Parlour keeps its promise and does not disappoint.
Type of Services:
Boyfriend Brazilian Waxing
Brazilian Waxing
Alpha Light Hair Removal
Bumbum Facial
Facial Services
Location:
277 Orchard Rd, B2-18/18A, Singapore 238858
Contact:
+65 8222 1853
Website: https://www.pinkparlour.com.sg/
---
#8 – Sugared Asia
Introduction:
Sugar(ed) is the first and only professional body-sugaring studio in Singapore that is dedicated to the all-natural hair removal technique of sugaring. They launched our first studio in May 2016 in the heart of Bukit Timah, their second in the buzzing area of Katong in July 2017, and their third on iconic Keong Saik Road in May 2018. In June 2019, they came even closer to the north with our fourth studio along Upper Thomson Road. In June 2022, they moved and upgraded their central operations from Keong Saik to the charming neighbourhood of River Valley.
At Sugar(ed), they specialise in Brazilian sugaring, with the Brazilian Virgin being our most popular service. They also offer other sugaring, mask and scrub treatments for men and women. Their founder and Master Educator, Jasmine, is a certified Alexandria Professional Body Sugaring Educator and has personally trained each of their Sugarists to master the technique.
Type of Services:
Sugaring
Body Treatments
Facial Treatments
Location:
Bukit Timah: 733, Bukit Timah Road, Second Avenue Junction, Singapore 269748
Katong: 79, East Coast Road, Singapore 428784 (Opposite Roxy Square)
River Valley: 282A, River Valley Road, Singapore 238323 (On second level)
Upper Thomson: 225A, Upper Thomson Road, Singapore 574357 (On second level)
Contact:
Bukit Timah: +65 6816 6288
Katong: +65 6816 6530
River Valley: +65 6816 0828
Upper Thomson: +65 6816 0022
Website: https://www.sugared.com.sg/
---
#9 – Bon Aesthetics
Introduction:
Bon Aesthetics is established in 2013 by industry practitioners with more than 20 years of experience. Their belief is centred on having a positive and self-assured approach to beauty – it's an attitude, much like the attitude in life.
Which is why at Bon Aesthetics, they choose to provide beauty treatments and products that are safe and holistic to support the health and well-being of their customers. They do this by advocating naturally derived, botanical ingredients as well as non-invasive procedures with minimal downtime.
Type of Services:
Facials
Super Hair Removal
Body Treatments
Location:
360 Orchard Road, International Building #03-24 Singapore 238869
Contact:
+65 6733 2338
Website: https://bon-aesthetics.sg/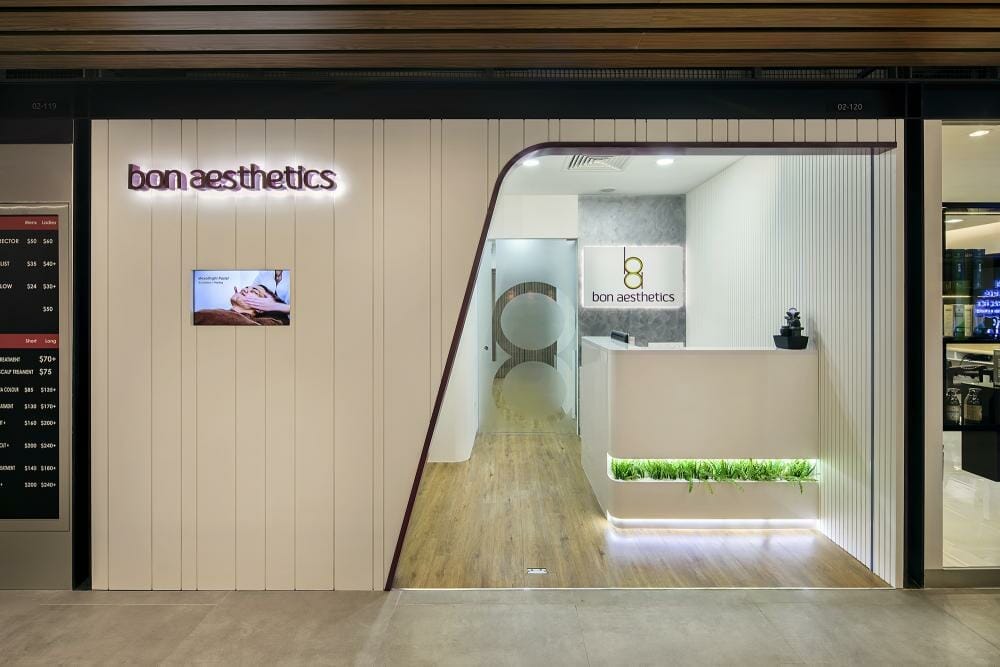 ---
#10 – Avone Beauty Secrets
Introduction:
Avone Beauty Secrets – Avone Beauty Secrets (ABS) is the only Beauty and Embroidery Faceworks Chain in Singapore to receive recognition from the prestigious International Beauty And Health General Union of Korea.
They have been recognized for our revolutionary Embroidery Techniques which are the results of an extensive research together with the International Semi-Permanent Association in Korea. Each unique embroidery technique uses different (Korean Manufactured) specialized embroidery needle blades specifically designed to enhance the delivered techniques giving amazing results.
Type of Services:
Avone Hydrotherapy Spa
SHR Hair Removal
Avone Aroma Therapy
Location:
Chinatown Point: 133 New Bridge Road, Chinatown Point #B1-30, Singapore 059413
NEX: 23 Serangoon Central #02-25, Singapore 556083
Jubilee Square: 61 Ang Mo Kio Ave 8, #04-01/02, Singapore 569814
Contact:
Chinatown Point: +65 6224 6268
NEX: +65 6509 1151
Jubilee Square: +65 6455 6658
Website: https://www.avone.sg/
---
Have a Place to Recommend?
Your contribution is valuable to us! Are there any outstanding businesses that you believe should be added to our list? If so, please send your recommendations to us at [email protected]. Tropika Club will review your suggestions and update the list accordingly. Thank you for your help in making our list of businesses as comprehensive and accurate as possible.
---
Meanwhile, Check Out Tropika Club's Ecosystem of Websites

Tropika Club Magazine – Tropika Club Magazine is a Singapore-based publication that features articles on a wide range of topics with a focus on local businesses and content for the region. The magazine emphasizes supporting local businesses through its #SupportLocal initiative, which includes coverage of everything from neighborhood hawker stalls to aesthetic clinics in town. In addition to highlighting local businesses, Tropika Club Magazine also covers a variety of local content, including beauty, lifestyle, places, eats, and what's on in Singapore and the Asia Pacific region.
Tropika Club Deals – Tropika Club Deals is a leading online deals and voucher shopping site in Singapore, offering amazing discounts on beauty, wellness, and fitness products and services. It's the perfect platform for customers who want to discover the best deals without having to commit to a specific appointment date and time. These deals are available at major beauty stores, facial salons, hair salons, and other brands in Singapore, with no minimum spend required. Choose from guaranteed discounted deals in the categories of hairstyling, hair removal, facial & aesthetics, body slimming, brows & lashes, nails & makeup, massage & spa or fitness & wellness. Tropika Club Deals is also ideal for customers who want to buy vouchers as gifts or to use for the future. So whether you're looking to save money on your next haircut or want to treat yourself to a relaxing massage, Tropika Club Deals has got you covered with the best voucher and coupon deals in Singapore!