Singapore Top 10 Rooftop Bars with Breathtaking Views
Elevate your evenings with our handpicked selection of Singapore's Top 10 Rooftop Bars with Breathtaking Views. Sip on exquisite cocktails and indulge in delectable bites while admiring the city's stunning skyline from the best vantage points. This comprehensive guide features a diverse array of rooftop establishments, catering to every taste and mood. Experience the perfect blend of sophistication, relaxation, and panoramic vistas as you uncover the Lion City's most spectacular rooftop bars.
---
#1 – Ce La Vi
Introduction:
CÉ LA VI Singapore, where contemporary Asian cuisine meets stunning rooftop views, offering an unrivaled dining experience at Marina Bay Sands. Their restaurant in MBS is the perfect destination for an unforgettable evening of rooftop dining in Singapore. After dinner, head to their world-renowned nightclub, where their resident DJ will set the dance floor ablaze with the hottest beats and electrifying energy. At CÉ LA VI, they are dedicated to providing exceptional dining and entertainment experiences you will cherish for a lifetime. Whether you're looking for an unforgettable dinner with a view or a night of entertainment, come and experience the magic of CÉ LA VI today.

Menu Items:
Stanbroke Black Angus Striploin (300g) (gf) Grain finished, port wine jus $85
Stony River Black Angus Tenderloin (300g) (gf) Grass-fed, port wine jus $80
Oven-baked Eggplant (gf, v, vg) Coconut, turmeric, puffed quinoa $20
Truffle Rice Porridge (gf, v) Seasonal truffle, Hoshi-Jirushi rice, crispy shallot $35
Location:
1 Bayfront Avenue Marina Bay Sands, Hotel, Tower 3, 018971
Contact: 6508 2188
Website: Website Link Here
---
#2 – 1-Altitude
Introduction:
Standing at a peak of 282 metres above sea level is 1-Altitude Rooftop Gallery & Bar, the highest alfresco bar in the world and one of the top bars of Singapore with a spectacular 360-degree view of the city. Stunning sunset views and starry skies can be enjoyed with some of the best high-end cocktails and beverages on offer.
Menu Items:
Heirloom Tomatoes | Samphire Oil | Burrata | Pine Nuts Crumble $26
French Oysters | Finger Lime | Salty Fingers | Frozen Crème Fraiche 3 for $30 – 6 for $58
Jospered Fremantle Octopus | Charred Asparagus | Onion Soubise | Pickled Shallots $32
Spiced Wagyu Carpaccio | Braised Fennel | Capers Lemon Myrtle Dressing | Macadamia $28
Location:
Bar The Outpost Hotel, 10 Artillery Ave, #07-01 Sentosa Island
Contact: 8879 8765
Website: Website Link Here
---
---
#3 – Smoke & Mirrors
Introduction:
Perched on the rooftop of the National Gallery Singapore, Smoke & Mirrors is known for its spectacular panoramic views of Singapore's skyline and creative cocktail programme. The destination rooftop bar sets out to elevate the cocktail experience by exploring classic drinks with experimental new twists. Guests can expect innovative menu concepts driven by modern techniques and unique flavour combinations to artfully challenge perceptions. With an emphasis on thought provoking flavour profiles, Smoke & Mirrors continues to entice curious imbibers and cocktail aficionados alike.
Menu Items:
BREAKING STORM $26
BALANCED, STRONG, BITTERSWEET
THE MANHATTAN PROJECT $26
RICH, WARMING, SLIGHTLY SWEET
MONOCHROME $25
RICH, CREAMY, SWEET
KALEIDOSCOPE $26
PUNCHY, FRUITY, DRY
Location:
1 St. Andrew's Road, #06-01 National Gallery Singapore, 178957
Contact: 9380 6313
Website: Website Link Here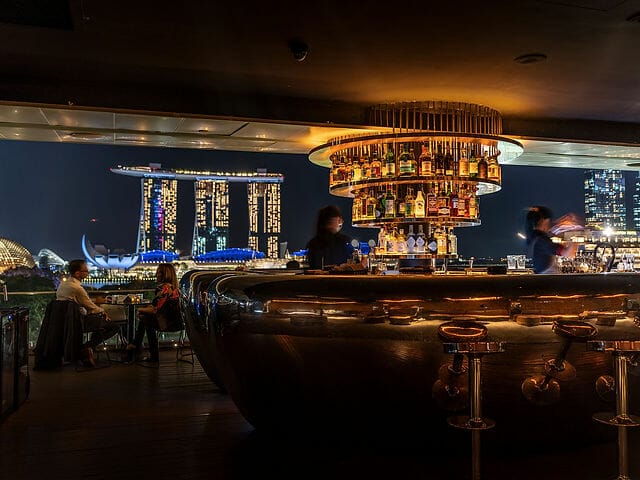 ---
_

Read Also:

Top 10 Best Bar Restaurants in Kuala Lumpur

_
---
#4 – SuperTree by IndoChine
Introduction:
Situated at the top of the iconic Supertree, IndoChine serves a sumptuous blend of Indochinese and Western cuisines, complete with a wide selection of beverages, cocktails, beers and wine. Whether it's chilling out at the alfresco rooftop bar or dining in the fully air-conditioned lounge, it's the perfect place to soak in stunning, unobstructed views of nature's best on one side and Singapore's iconic cityscape on the other.
Menu Items:
A minimum spend of S$80++ (dinner) per person is required.

TASMANIAN COFFIN BAY OYSTERS
INDOCHINE PLATTER
CRISPY LYCHEE WITH KUROBUTA PORK & BACON
Location:
47 Club St, Singapore 069424
Contact: 6325 8529
Website: Website Link Here
---
#5 – Mr Stork
Introduction:
Nestled at the rooftop on Level 39, Mr Stork is a destination bar providing 360-degree views of the city. Named after the white and long-legged birds, which are often viewed as a good omen, Mr Stork houses ten teepee huts and relaxed seating set amid lush tropical landscaping to best enjoy the breathtaking views.
Menu Items:
Roasted Pepper Hummus with Pita Bread (6 pcs) $18
Truffle Fries Kombu Garlic Aioli $18
Sweet Potato Fries Sour Plum Seasoning, Truffle Mushroom Dip $20
Chili Lobster Crab Bao (2pcs) $39
Location:
5 Fraser St, Level 39, Andaz 189354
Contact: 9008 7707
Website: Website Link Here
---
---
#6 – LeVeL33
Introduction:
LeVeL33 is a unique award-winning rooftop dining concept and also the world's highest urban microbrewery.
Showcasing what microbreweries and true craftsmanship are all about – they are fuelled by a deep passion for delivering quality and satisfaction. Serving only small-batch exclusivity, each of their locally brewed and sustainably produced beers brings forth an epitome of freshness – from the tank directly to the tap, without the need for wasteful packaging.
LeVeL33 offers an original ContemBrewery dining experience, incorporating beer ingredients and brewery processes into creatively curated restaurant dishes. From Freshly brewed craft beers, a curated selection of boutique wines and Champagne, oysters at their Raw Bar or a more formal dining experience in the Barons de Rothschild private dining room, LeVeL33 is the perfect setting.
Menu Items:
Caviar 30g $138.00
Sustainable Yarra Valley Salmon Roe $48.0
Sustainable Australian Kingfish $24
Raw Hokkaido Scallops $25
Location:
8 Marina Blvd, #33 – 01 Tower 1, Singapore 018981
Contact: 6834 3133
Website: Website Link Here
---
#7 – Southbridge
Introduction:
As one of Singapore's best-kept secrets, Southbridge is the city's premier rooftop destination for chic and buzzy bar dining. Sitting on a fully alfresco rooftop of a refurbished heritage shophouse, Southbridge offers the best 360° views of the Singapore skyline, spanning from the historic Parliament House, to Marina Bay Sands and Raffles Place. Southbridge's elegant yet unpretentious atmosphere extracts the very best of the European savoir-vivre lifestyle.
Menu Items:
UMAMI Ponzu & yuzu sauce [served in 6s] $23
MIGNONETTE Banana shallot, sherry vinegar [served in 6s] $23
NIKKEI Bulldog sauce, togarashi [served in 6s] $23
NATURAL Fresh lemon and Tabasco [served in 6s] $23
Location:
80 Boat Quay, Level 5, Rooftop 049868
Contact: 6877 6965
Website: Website Link Here
---
#8 – Kinki Rooftop Bar
Introduction:
Kinki Restaurant + Bar is based on the urban ethos of being brave enough to change the game. They're shaking up the dining scene with an ambience that defies tradition, modern Japanese dishes peppered with their own touch, and a drink list that features muddles of intoxicating liquids from the East and West.
Menu Items:
SPICY NORI CRUSTED SALMON $34
SPICY BUFFALO KATSU $32
KARAAGE CHICKEN BAO $22
CRUSTY LAMB RACK $48
Location:
70, #02-02 Collyer Quay, Customs House, 049323
Contact: 6533 3471
Website: Website Link Here
---
#9 – Lantern
Introduction:
The Lantern rooftop bar earned its evocative name from Clifford Pier's historic Chinese name, 'Red Lantern Pier'. The pier, which was the key landing point for Singapore's early immigrants and seafarers, was lit by red lanterns that provided illumination for the shoreward journey along Marina Bay. Framed by an infinity lap pool and green landscaping, the stylish rooftop bar offers panoramic views of Marina Bay waterfront and the city skyline. Chill to sensual beats and savour gourmet snacks, fine champagnes, wines and signature cocktails.
Menu Items:
24 Hour Slow Braised Angus Beef Cheek $46
Asparagus & Spinach Risotto $36
Truffle Chicken Pops $28
Maine Lobster & Shrimp Taco (3 pieces) $39
Location:
80 Collyer Quay, Singapore 049326
Contact: 3129 8229
Website: Website Link Here
---
#10 – The Other Roof
Introduction:
The Other Roof presents a worldwide new concept of tea-finished spirits and cocktails, all deriving from bespoke leaves and tea blends. Amongst the wide variety of different leaves in the world, their team has been selecting only the finest profiles to create their signature bespoke tea spirits
They offer an equally large selection of more than 300 tea-finished spirits and cocktails to accompany the lovely view they have of Singapore.
Menu Items:
Monkey See Monkey Do ($24)
Whole Lotta Love ($22)
The Other Mojito ($23)
Teaspresso Martini ($22)
Nduja Bruschetta ($15)
Location:
28 Ann Siang Rd, Rooftop Bar, Singapore 069708
Contact: +65 9234 9882
Website: Website Link Here
---
Have a Place to Recommend?
Your contribution is valuable to us! Are there any outstanding businesses that you believe should be added to our list? If so, please send your recommendations to us at [email protected]. Tropika Club will review your suggestions and update the list accordingly. Thank you for your help in making our list of businesses as comprehensive and accurate as possible.
---
Meanwhile, Check out Tropika Club's Ecosystem of Websites

Tropika Club Magazine – Tropika Club Magazine is a Singapore-based publication that features articles on a wide range of topics with a focus on local businesses and content for the region. The magazine emphasizes supporting local businesses through its #SupportLocal initiative, which includes coverage of everything from neighborhood hawker stalls to aesthetic clinics in town. In addition to highlighting local businesses, Tropika Club Magazine also covers a variety of local content, including beauty, lifestyle, places, eats, and what's on in Singapore and the Asia Pacific region.
Tropika Club Deals – Tropika Club Deals is a leading online deals and voucher shopping site in Singapore, offering amazing discounts on beauty, wellness, and fitness products and services. It's the perfect platform for customers who want to discover the best deals without having to commit to a specific appointment date and time. These deals are available at major beauty stores, facial salons, hair salons, and other brands in Singapore, with no minimum spend required. Choose from guaranteed discounted deals in the categories of hairstyling, hair removal, facial & aesthetics, body slimming, brows & lashes, nails & makeup, massage & spa or fitness & wellness. Tropika Club Deals is also ideal for customers who want to buy vouchers as gifts or to use for the future. So whether you're looking to save money on your next haircut or want to treat yourself to a relaxing massage, Tropika Club Deals has got you covered with the best voucher and coupon deals in Singapore!