The 10-Step Korean Skincare for Pristine Skin
Are you ready to get that flawless, glowing complexion that Korean beauty is famous for? It's time to dive into the world of K-beauty and embrace the 10-step Korean skincare routine! With a focus on nourishing and pampering your skin, this comprehensive regimen is all about achieving pristine, healthy skin that'll make you feel like a K-pop star. So, join us as we break down each step, unravel the secrets of Korean skincare, and help you get that radiant, enviable glow!
---
No Time to Read? Here's a Snappy Summary of This Article
Double Cleansing: This step involves using an oil-based cleanser followed by a water-based cleanser to remove all traces of makeup, dirt and oil from the skin.
Toning: This step balances the skin's pH level and prepares it for the next steps. A toner can also hydrate, exfoliate or brighten the skin depending on its ingredients.
Essence: This step is considered the heart of the Korean skincare routine. An essence is a lightweight, watery product that penetrates deep into the skin and delivers active ingredients to boost cell turnover and hydration.
Moisturizing: This step seals in all the previous steps and prevents moisture loss. A moisturizer can be a cream, gel, lotion or emulsion depending on the skin type and preference. Some people also use a sleeping mask as the last step to lock in extra moisture overnight.
---
1. The First Cleanse
If you're not sure what we're going on about, double cleansing involves using a cleansing oil, balm, or micellar water to break down make-up, SPF, and sebum on the surface of your skin first, then following it with a deeper water-based cleanse. You start by washing your face with an oil-based cleanse. If you have oily skin, you might be wondering if the oil-based cleanser is a good idea. Well, the oil-based cleanser is actually effective in clearing oil-based impurities, such as sebum, some pollutants, and SPF.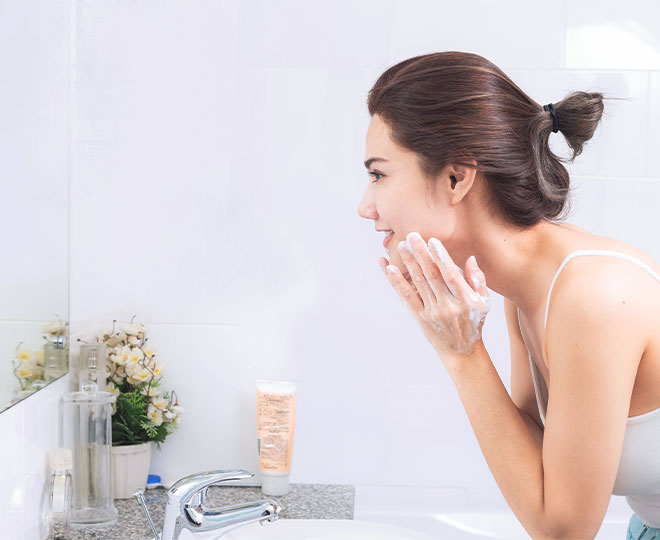 2. The Second Cleanse
The second cleanse clears the rest of the sweat and dirt on your face. Try and use products with lower pH levels. Your face pH level is probably at 5.5. Which means that you have to use products that aren't too acidic or alkaline. Otherwise, you may get acne, irritation, and blotches on your face. Because of the way the follicles are oriented on the face, it's best to wash upwards and outwards in order to get a deeper cleanse.
To make sure you don't damage your sensitive skin when you're done, splash your cleansers off with lukewarm water rather instead of drying it with a towel. According to the experts, there are two major benefits to the technique. First up, when you wear foundation, double cleansing scores you a better clean. "Double cleansing with micellar water can be helpful to remove the layer of makeup to then let the cleanser truly clean the skin," explains Shani Darden, a licensed aesthetician in Los Angeles.
3. The Toner
The facial toner is the third step of the 10-step facial routine, and it serves to balance the skin's pH level, remove any remaining traces of cleanser and prepare the skin for the next steps. Toner can also hydrate, soothe and refresh the skin with various ingredients, such as aloe vera, rose water or green tea. To apply toner, you can either use a cotton pad or your hands to gently pat the product onto your face and neck. You can also layer toner multiple times for extra hydration and absorption. Toners can help your skin absorb the essence, emulsion, and serum better, as well as enhance their effects.
Toners prepare for the preceding steps by providing a thin layer of moisture to maintain the pH balance on your face, softening your skin in the meantime as well. The moisture helps your skin absorb the products in the next few steps as well.  For this step, you can use toners that contain AHAs and/or BHAs as well. Most Korean skincare toners have bonus botanical ingredients to freshen your skin too. You can apply the toner directly on your skin with your hands, a cotton ball, or a pad. Toner removes any last traces of dirt, grime, and impurities stuck in your pores after you wash your face. When added to your daily skincare routine and used regularly, it can have a major positive impact on the appearance and tightness of your pores.
Read:
4. The Essence
Essences are typically a blend of a toner and a serum. This also keeps the moisture on your face, allowing the better absorption of the other products. This is how you get your glow. By layering a variety of products, some Korean beauty experts think that it doesn't clog your pores and allows your skin to breathe. An essence is applied to a clean face, prepping the skin to effectively absorb subsequent products, like serum and moisturizer. Ni'Kita Wilson, a cosmetic chemist who is the vice president for sales and innovation at Aware Products, likens the essence's role to loosening garden soil before watering it. They usually aren't as light and watery as toners, but they aren't as ultra-concentrated as serums. Since a main goal of an essence is to nourish skin, they are usually formulated with ingredients that are safe for regular, everyday use, unlike some, more targeted toner and serum formulas.
5. The Emulsion
The emulsion is one of the key steps in the 10-step Korean skincare routine. It is a lightweight moisturizer that helps to lock in hydration and protect the skin from environmental damage. Emulsions are typically made with a combination of water and oil, which makes them ideal for all skin types. They are not as heavy as creams, so they are not likely to clog pores, but they are still moisturizing enough to keep skin hydrated.
Emulsions are typically applied after toner and serums but before sunscreen. They can be used on their own or layered with other products. If you have oily skin, you may want to choose an oil-free emulsion. If you have dry skin, you may want to choose an emulsion that contains heavier oils. Emulsions are a great way to add hydration and protection to your skin without weighing it down. They are versatile products that can be used by people with all skin types. If you are looking for a lightweight moisturizer that can help you achieve healthy, glowing skin, then an emulsion is a great option.
Here are some of the benefits of using an emulsion as part of your skincare routine:
Locks in hydration
Protects from environmental damage
Lightweight and non-greasy
Suitable for all skin types
Versatile and can be layered with other products
If you are looking for a way to improve your skincare routine, then adding an emulsion is a great place to start. Emulsions are a lightweight and versatile product that can provide a variety of benefits for your skin.
6. The Serum
Serums are a key part of the 10-step Korean skincare routine. They are highly concentrated products that deliver targeted ingredients to the skin. Serums can be used to address a variety of skin concerns, including:
Fine lines and wrinkles
Dark circles
Hyperpigmentation
Acne
Dryness
Dullness
Serums are typically applied after cleansing and toning, and before moisturizer. They can be used daily or as needed.
When choosing a serum, it is important to consider your skin type and concerns. There are many different types of serums available, so you should be able to find one that is right for you.
Here are some of the most popular types of serums:
Hyaluronic acid serums are hydrating and plump the skin.
Vitamin C serums brighten the skin and protect against free radicals.
Retinol serums reduce the appearance of fine lines and wrinkles.
Niacinamide serums improve the appearance of uneven skin tone and reduce inflammation.
Peptide serums boost collagen production and firm the skin.
Serums can be a great way to improve the appearance of your skin. If you are looking for a more comprehensive skincare routine, I recommend adding a serum to your regimen.
7. The Sheet Mask
It's so ubiquitous even BTS has its hand on its own line of it with Mediheal. You can use most brands, but if you can afford it, it's best to sheet masks with better ingredients. After all, you have to put it on your face for around 15 to 20 minutes. Korean face sheet masks are the gateway item into the world of Korean beauty and skincare. Acting as inexpensive mini facials, sheet masks give the skin intense hydration, suppleness, and brightening effects in less than half an hour! Sheet masks can range in functions, materials, and ingredients. However, the majority of sheet masks are typically made for brightening, moisturizing, acne control, pore care, or anti-aging effects. Most cotton sheets are soaked in essences containing nourishing active ingredients ranging from tea tree for acne control and ceramide for moisture retention. The essence is kept from evaporating by the sheet mask which locks in all the moisture and protects it from being exposed to the air. With such close contact with the skin, the essence forces the antioxidants and vitamins to penetrate into the skin's top layer more effectively than if the essence was applied without a protective barrier such as a sheet mask.
Read:
8. The Eye Cream
The eye cream is the eighth step in the 10-step Korean skincare routine. The skin around the eyes is delicate and thin, so it needs special care. Eye creams are formulated with ingredients that help to hydrate, brighten, and reduce the appearance of fine lines and wrinkles.
To apply an eye cream, gently massage a small amount around the eyes. Be sure to avoid the eye area itself, as this can irritate the skin. Eye creams can be used morning and night.
Here are some of the benefits of using an eye cream as part of your skincare routine:
Hydrates the delicate skin around the eyes
Brightens the under-eye area
Reduces the appearance of fine lines and wrinkles
Protects the skin from environmental stressors
Improves overall eye health
If you're looking for a way to improve the appearance of your eyes, adding an eye cream to your skincare routine is a great option.
Here are some tips for choosing the right eye cream:
Consider your skin type. If you have dry skin, choose an eye cream that is moisturizing. If you have oily skin, choose an eye cream that is lightweight and non-greasy.
Look for ingredients that are known to be beneficial for the eye area, such as hyaluronic acid, peptides, and caffeine.
Read reviews of different eye creams before you make a purchase. This can help you to narrow down your options and find the best eye cream for your needs.
9. The Moisturiser
The face is the most important part of the body. It is the first thing that people see and it should be well-maintained. One of the ways to maintain a good face is to moisturize it. Moisturizing a face has many benefits, including making the skin look younger, reducing wrinkles and fine lines, and keeping the skin hydrated. Applying your moisturizer correctly, on the other hand, boosts hydration in your skin, prevents flaking and dullness, and creates a protective layer of moisture that lasts all day. Plus, proper application of face cream will help anti-aging ingredients work better — increasing the odds that they'll work.
---
---
10. The Sunscreen/The Sleeping Mask
If you're doing this routine in the morning; you can't miss putting on sunscreen. You've probably heard the drill before – you have to wear sunscreen every day, even you if are indoors for most of the time. If you're doing this routine before you sleep, just end the routine with a sleeping mask. Research from 2010 has shown that the use of eye masks can result in more REM time, shorter REM latency, and elevated levels of melatonin. This helps to promote healthy sleep patterns and hormone balance.
The 10-step Korean skincare routine sounds like a lot, especially if you're leading a busy life. You can always be flexible about the steps, and even take some of them out if you feel like you don't need them.
Conclusion
In conclusion, the 10-step Korean skincare routine is a comprehensive and effective way to achieve pristine skin. By following these steps, you can cleanse, exfoliate, hydrate, and protect your skin from the elements, all while promoting collagen production and reducing the appearance of fine lines and wrinkles. Of course, not everyone has the time or inclination to follow a 10-step skincare routine. If that's the case, don't worry! You can still reap the benefits of Korean skincare by focusing on the most important steps. For example, cleansing, exfoliating, and moisturizing are essential for all skin types. If you have oily skin, you may also want to add a toner to your routine. And if you have dry skin, you may want to add a serum or oil. No matter what your skin type, the most important thing is to find a skincare routine that works for you and that you can stick to. With a little effort, you can achieve the healthy, glowing skin you've always wanted.
Frequently Asked Questions
Q: Why should I try the 10-step Korean skincare routine?
A: The 10-step Korean skincare routine can help you improve your skin texture, tone, and health by providing it with the optimal care and ingredients it needs. It can also help you address any specific skin concerns or goals you may have, such as acne, aging, dullness, dryness, or sensitivity. By following the 10-step routine, you can also create a relaxing and enjoyable experience for yourself, as you pamper your skin with quality products and techniques.
Q: Where can I buy Korean skincare products in Singapore?
A: There are many online and offline options for buying Korean skincare products in Singapore. Some of the popular online platforms are Althea, Hera, and Kahi, which offer a wide range of products from different Korean brands at competitive prices and with free or low-cost shipping. You can also find Korean skincare products at physical stores such as Watsons, Guardian, Sephora, Innisfree, Etude House, and The Face Shop.
Q: How do I choose the right products for my skin type and needs?
A: The 10-step Korean skincare routine is not a one-size-fits-all approach, but rather a customizable and flexible one that can suit different skin types and needs. To choose the right products for your skin, you should first know your skin type (normal, dry, oily, combination, or sensitive) and your skin concerns or goals (such as hydration, brightening, anti-aging or anti-blemish). Then, you should look for products that match your skin type and address your concerns or goals, by checking the ingredients, benefits, and reviews of the products. You can also consult a dermatologist or a beauty expert for professional advice.
Q: How long does it take to see results from the 10-step Korean skincare routine?
A: The results from the 10-step Korean skincare routine may vary depending on your skin condition, the products you use, and how consistent you are with the routine. However, some general guidelines are:
You may see some immediate results after each session of the routine, such as cleaner, softer, and more hydrated skin.
You may see some noticeable results after a few weeks of following the routine regularly, such as improved skin texture, tone, and radiance.
You may see some significant results after a few months of following the routine diligently, such as reduced signs of aging, acne, or other skin issues.
The key to seeing results from the 10-step Korean skincare routine is to be patient, persistent, and positive.
---
Meanwhile, Check out Tropika Club's Ecosystem of Websites
Tropika Club Magazine – Tropika Club Magazine is a Singapore-based publication that features articles on a wide range of topics with a focus on local businesses and content for the region. The magazine emphasizes supporting local businesses through its #SupportLocal initiative, which includes coverage of everything from neighborhood hawker stalls to aesthetic clinics in town. In addition to highlighting local businesses, Tropika Club Magazine also covers a variety of local content, including beauty, lifestyle, places, eats, and what's on in Singapore and the Asia Pacific region.
Tropika Club Deals – Tropika Club Deals is a leading online deal and voucher shopping site in Singapore, offering amazing discounts on beauty, wellness, and fitness products and services. It's the perfect platform for customers who want to discover the best deals without having to commit to a specific appointment date and time. These deals are available at major beauty stores, facial salons, hair salons, and other brands in Singapore, with no minimum spend required. Choose from guaranteed discounted deals in the categories of hairstyling, hair removal, facial & aesthetics, body slimming, brows & lashes, nails & makeup, massage & spa, or fitness & wellness. Tropika Club Deals is also ideal for customers who want to buy vouchers as gifts or to use for the future. So whether you're looking to save money on your next haircut or want to treat yourself to a relaxing massage, Tropika Club Deals has got you covered with the best voucher and coupon deals in Singapore!