Top 10 Best Fat Burner Supplements in Singapore
If you want to consider including a supplement to help you increase your fat burn, a fat burner supplement can help your body function its best and metabolize body fat more effectively. Of course, you need to exercise or workout in the same time to have a better result. Generally, fat burner supplements are the pills that can make your fat melt off from your body like ice cream on a hot summer day. The supplements are designed with ingredients that can give you an extra boost to help burn fat, reduce fat absorption and provide energy for exercise and other calorie-burning activities. Come and grab a fat burner supplement if you lack of it. The Tropika Club team has rounded up Top 10 Fat Burner Supplement in Singapore. Check them out!
---
1. Wellaholic OxyBurn Fat Burner
Description: OxyBurn combines the best weight-management ingredients of Raspberry Ketone, Garcinia Cambogia, Green Coffee Bean as well as Caffeine Anhydrous and Green Tea Extract to accelerate your fat burn.
How to Use: Take 2 capsules daily preferably with meals. Do not exceed the recommended dose. Pregnant or nursing mothers, children under 18, and individuals with a known medical condition should consult a physician before using this or any dietary supplement.
Pricing: $34.90 for 30s
---
2. Herbalife Prolessa Duo Fat Burner
Description: A unique formula that helps to significantly reduce caloric intake. It also helps promote body fat loss and create a feeling of fullness. Stimulant-free and made with clinically tested ingredients.
How to Use: Gently shake the canister prior to each use as contents may settle. Make your Formula 1 shake as usual, and then add one scoop (10.6 g) of Prolessa® Duo. Mix for an additional 5-10 seconds. Use Prolessa® Duo one time per day by adding to your morning or afternoon Formula 1 shake, whenever snacking or over eating may be a challenge. Not suitable for acidic or hot drinks.
Pricing: $184.00 for 318g
Where to Find: Qoo10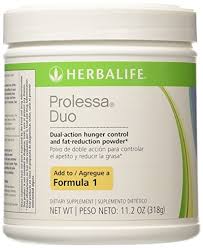 ---
3. Hydroxycut Pro Clinical
Description: Features a unique blend of herbs and vitamins to support weight loss, boost energy and burn calories.
How to Use: Do not exceed two (2) caplets in a 4-hour period and/or six (6) caplets in a 24-hour period. Do not take within 5 hours of bedtime. For best results use Pro Clinical Hydroxycut for 8-12 weeks in conjunction with a calorie-reduced diet and regular exercise program. Consume 8-10 glasses of water per day.
Pricing: $122.95 for 100s
Where to Find: Suppsshop
---
4. FANCL Perfect Slim W
Description: Alpha Lipoic Acid helps to metabolize glucose (sugar) and L-Ornithine, an amino acid which promotes the metabolism of excess body fat. With the other diet-effective ingredients, L-Carnitine, CoenzymeQ10, Garcinia extract, Vitamin B1 and red pepper, new Perfect Slim Alpha will support your diet by curbing your appetite, burning more body fat and giving you more energy!
How to Use: Take 3 tablets a day.
Pricing: $33.90 for 90s
Where to Find: Qoo10
---
5. Magnum Nutraceuticals After Burner Bedtime Burner
Description: Magnum's After Burner is the most effective nighttime fat burner available. Long after your day is over and you are asleep in bed, After Burner helps you to continue using fat as energy by supporting fat loss while you sleep, decreasing fat storage, reducing food cravings and hunger.
How to Use: Take 3 capsules before bed.
Pricing: $95.00 for 72s
Where to Find: Qoo10
---
---
6. Apex Forskolin High Potency Fat Burner – Metabolism Booster Appetite Suppressant Control Die
Description: Made in USA and 100% organic and all natural. This luna trim weight loss supplement contains standardized 10% pure Forskolin extract to work as a maximum belly fat burner for women and men.
How to Use: As a dietary supplement take 2 capsules per day. For best results take 1 capsule 2 times a day, 30 minutes before a meal with a full glass of water.
Pricing: $66.00 for 30s
Where to Find: Qoo10
---
---
7. Optimum Nutrition Daily Fit Stimulant-Free Fat Burner
Description: Optimum Nutrition Daily Fit Stimulant-Free Fat Burner is a stimulant free metabolism booster formulated with L-carnitine, chili pepper and green tea extract.
How to Use: Take two capsules, 30-60 minutes before your morning and afternoon meals.
Pricing: $60.00 for 120s
Where to Find: Qoo10
---
8. Musclepharm Shred Sport Thermogenic Fat Burner
Description: MusclePharm® Shred Sport™ is the next generation of weight loss and energy that utilizes safe, effective, and researched ingredients to burn fat, provide intense energy and remarkable results. This fast-acting fat burner targets stored body fat, controls appetite and supports your metabolism. No inferior herbal blends here, just powerful ingredients proven to bring you closer to your performance goals!
How to Use:
Take 1 serving (2 capsules) daily.
For competitions and intense training sessions, take 2 servings daily – 1 serving (2 capsules) in the morning, 1 serving (2 capsules) in the afternoon.
To assess individual tolerance,first begin with 1 capsule in the morning and 1 capsule in the afternoon.
Drink with plenty of water.
Pricing: $53.00 for 60s
Where to Find: Qoo10
---
9. Swanson Fat Burner
Description: Stimulate your metabolism to burn fat while promoting lean muscle development with Swanson Fat Burner. This powerful formula features garcinia cambogia, chromium, vitamin B-6 and other nutrients that ignite your metabolism.
How to Use: As a dietary supplement, take two tablets 30 to 60 minutes before meals with 12 ounces of water.
Pricing: $27 for 60s
Where to Find: Qoo10
---
10. BioTechUSA: Thermo Drine (Fat Burner)
Description: Meet your fitness goals with Thermo Drine, a highly potent thermogenic with green tea, caffeine, L-Carnitine and other key ingredients for extra support to your active lifestyle. Like all BioTechUSA products, Thermo Drine consists of safe, carefully selected nutrients.
How to Use: 1 packet on training days with plenty of liquid, 30 minutes before workout. On rest days, take 1 packet between the second and the third meal.
Pricing: $20.50 for 60s
Where to Find: Shopee
---

Got a Product to Suggest?
We need your assistance! Do you have a great experience with any products that fall into this category and would like to recommend for them to be listed? If so, do write to us via our email. Tropika Club will do a review of your recommendations and update the list accordingly.
---
Meanwhile, check out Tropika Club's Ecosystem of Websites

Tropika Club Deals – Search for the best voucher and coupon deals. Tropika Club Deals is ideal for customers who want to discover the best deals without having to commit to a specific appointment date and time. Deals allow customers to buy vouchers and coupons in advance and to arrange the appointment directly with the merchant or business. Customers can also buy vouchers as gifts or to use for the future.
Tropika Club Magazine – Get the latest scoop on beauty, wellness, eats and all things Singaporean. Tropika Club Magazine crafts and curates articles for the discerning Singapore male and female. We provide up-to-date articles on Beauty and Vogue for gals, and articles on Grooming and Style for guys. We also cover local Singaporean content under City. Supporting Tropika Club's vision to bring the best beauty, wellness and fitness services to our visitors, we also have a review section on the best services and selections under Top Picks. This features the Top 10 rankings for your beauty and wellness salons based on the various regions in Singapore.