Top 10 Best Glucosamine Supplements in Singapore [2022 Edition]
Glucosamine is a molecule that occurs naturally in both human and animal tissues. Thus, it helps to increase the amount of cartilage and fluid in the joints. Glucosamine often used to treat the symptoms of joint and bone disorders. Besides, it also can be used to target several other inflammatory diseases. The Tropika Club team has rounded up Top 10 Best Glucosamine supplements in Singapore. Check them out!
---
1. Glucosamine Sulfate by Wellaholic
Description: Glucosamine sulfate helps joint health for joint lubrication, better joint movement and flexibility, reduces osteoarthritis-related pain, stiffness, and swelling in the joints. ​Made in USA under a certified FDA facility.
Made in the USA
GMP and NSF Certified
Non-GMP Ingredients
International Liability Warranty
Coating-free Supplements
No Synthetic Food Dyes
No Desiccant (to avoid drying out of the capsule shell of supplements)
No Questions 14-day Return Policy
How to Use: One Tablet, taking 1 to 2 times daily preferably with meals.
Pricing:
60 Servings for S$24.90
60 Servings for S$24.90
60 Servings for S$24.90
Where to Find: Lazada
---
2. Lake Avenue Nutrition, PEA (Palmitoylethanolamide) + Glucosamine Sulfate
Description: Lake Avenue Nutrition delivers quality and value at affordable everyday prices.'
Lake Avenue Nutrition PEA & Glucosamine
PEA (Palmitoylethanolamide) & Glucosamine Sulfate
PEA Helps to Support Relief from Occasional Minor Pain
Glucosamine Sulfate Helps to Support Joint Discomfort
Formulated Without: GMOs, Gluten or SoyProduced in a GMP Facility
How to Use: Take 2 capsules twice per day with food, or as recommended by a Healthcare Practitioner.
Pricing: 120 Capsules for S$27.30
Where to Find: iHerb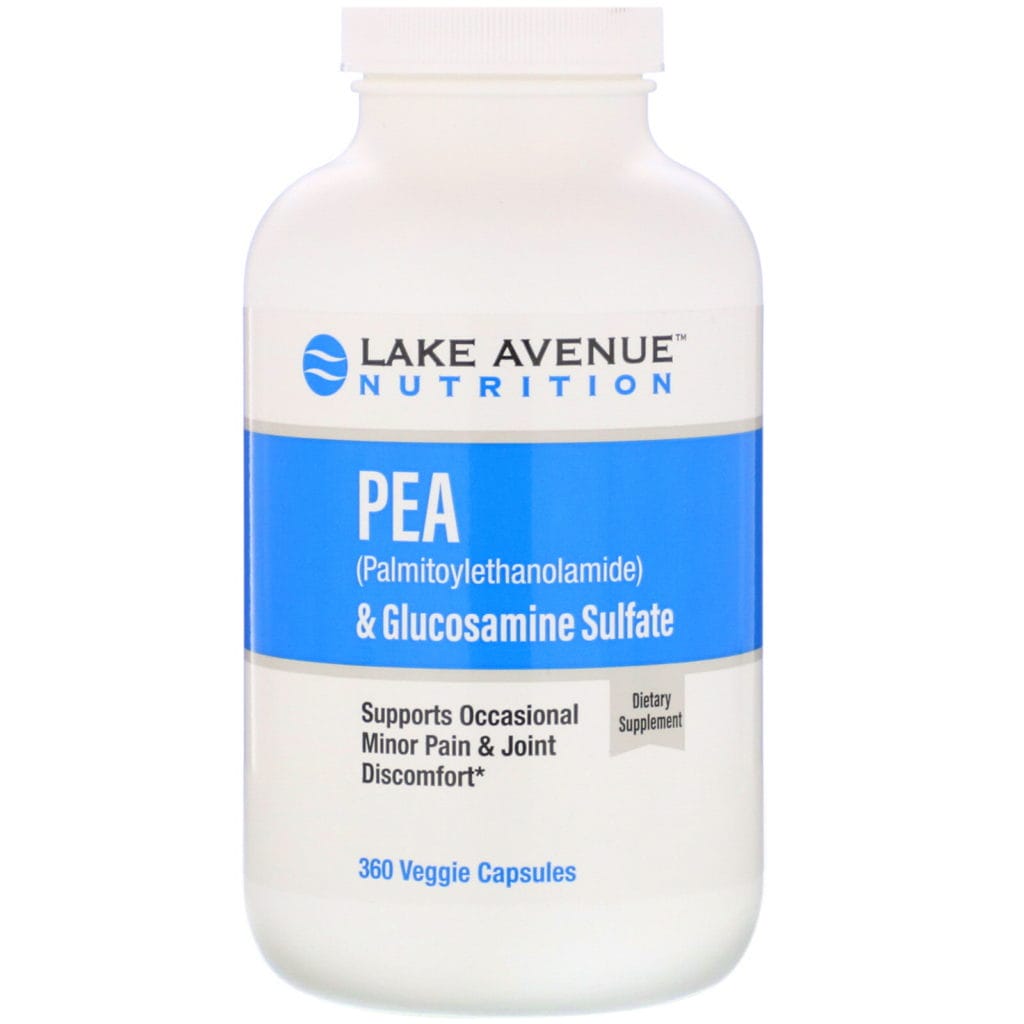 ---
3. California Gold Nutrition, Glucosamine, Chondroitin, MSM Plus Hyaluronic Acid, 120 Veggie Caps
Description: California Gold Nutrition® Glucosamine, Chondroitin, MSM plus Hyaluronic Acid features patented GreenGrown® Vegetarian Glucosamine and OptiMSM® Methylsulfonylmethane plus bovine sourced Chondroitin and non-animal sourced Hyaluronic Acid. This formula contains no shellfish and is focused to support healthy, flexible joints.
California Gold Nutrition® Glucosamine, Chondroitin, MSM Plus Hyaluronic Acid
GreenGrown® Vegetarian Glucosamine*OptiMSM® Methylsulfonylmethane
Bovine Sourced Chondroitin
Non-Animal Source Hyaluronic Acid
Supports Healthy Joints
Produced in a 3rd Party Audited cGMP
Registered (Certified) Facility*Formulated to Contain: No Gluten, No GMOs
No Soy
No Shellfish
100% Gold Guarantee
How to Use: Take 2 veggie capsules daily, with or without food. Best when taken as directed by a qualified healthcare professional.
Pricing: 120 Capsules for S$25.87
---
---
4. Doctor's Best, Glucosamine Sulfate, 750 mg, 180 Capsules
Description: Doctor's Best Glucosamine Sulfate contains sodium-free, potassium stabilized glucosamine sulfate. Glucosamine sulfate consists of glucosamine, an amino sugar extracted from shellfish skeletons. Thoroughly researched for decades in human clinical trials, glucosamine sulfate supports normal, healthy joint function and helps maintain healthy joints. Most clinical studies on the effectiveness of glucosamine have been conducted using glucosamine sulfate.
Helps support normal healthy joint function
Helps maintain healthy joints
Science-Based Nutrition
Dietary Supplement
Helps Maintain Healthy Joints
Non-GMO / Gluten Free / Soy Free
How to Use: Take 2 capsules daily, with or without food, or as recommended by a nutritionally-informed physician.
Pricing: 180 Capsules for S$16.50
Where to Find: iHhttps://invol.co/cl6yuor?url=https%3A%2F%2Fiherb.com%2Fpr/doctor-s-best-glucosamine-sulfate-750-mg-180-capsules/9?gclsrc=dserb
---
5. Now Foods, Vegetarian Glucosamine & MSM, 120 Veg Capsules
Description: NOW® Vegetarian Glucosamine & MSM combines two well-known joint support ingredients in a vegetarian/vegan friendly formula that does not include shellfish-derived Glucosamine. Glucosamine is an essential building block for the formation of glycosaminoglycans (GAGs) and proteoglycans, the main components of cartilage tissue. These compounds attract water to form a joint cushion, providing lubrication and shock absorption. MSM (Methylsulfonylmethane) is an organic form of sulfur, a mineral necessary for the production of GAGs and proteoglycans. Now Foods developed the glucosamine test method chosen as the official AOACI industry standard method.
Vegetarian
Joint Health
Joint Mobility and Comfort
Green Grown Glucosamine
A Dietary Supplement
Vegetarian/Vegan
Non-GMO
General Health
Family Owned Since 1968
GMP Quality Assured
How to Use: Take 3 capsules daily.
Pricing: 120 Capsules for S$18.97
Where to Find: iHerb
---
---
6. Blackmores Glucosamine Sulfate 1500 One-A-Day, 60 Tablets
Description: Blackmores Glucosamine 1500 One-A-Day may be of use in relation to pain relief and protection from osteoarthritis, associated with joint mobility and joint stiffness.
Glucosamine is naturally produced in the body and is a key component of cartilage which is necessary for normal joint function. Taking glucosamine as a supplement has been shown to be as effective in reducing the symptoms associated with osteoarthritis.
High strength, one-a-day glucosamine supplement
May relieve joint pain caused by osteoarthritis
Increase joint mobility and reduce joint stiffness*Reduce cartilage wear.
How to Use:
Adults: Take 1 easy swallow tablet once a day with a meal or as professionally prescribed.
Children under 12 years: Only as professionally prescribed.
Pricing: 60 Tablets for S$60.99
Where to Find: Lazada
View this post on Instagram
---
7. Swisse, Ultiboost, Glucosamine Sulfate, 1,500 mg, 180 Tablets
Description: Swisse Ultiboost Glucosamine Sulfate is a premium quality formula to help maintain cartilage health and support joint mobility and flexibility. Glucosamine occurs naturally in the body and plays a key role in the construction of cartilage – the connective tissue that cushions joints and helps maintain cartilage health. Glucosamine sulfate also helps maintain joint mobility and flexibility, helping to maintain healthy joint function. Swisse Ultiboost Glucosamine Sulfate has been formulated based on scientific evidence in a convenient one-a-day dose.
Supports Joint Mobility
Flexibility and Cartilage Health
Based on Scientific Evidence
Premium Quality Formula
Joint Health
Dietary Supplement
How to Use: Recommended Adult Use: One tablet daily, during or immediately after a meal, or as directed by a healthcare professional.
Pricing: 180 Tablets for S$41.16
Where to Find: iHerb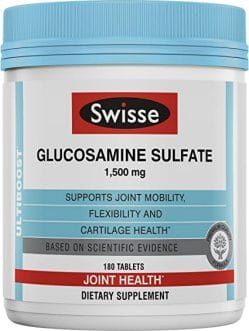 ---
---
8. Deva, Glucosamine, Vegan , 90 Tablets
Description: This human body produces Glucosamine naturally, and it is mainly found in the fluid that is around the joints. Their Glucosamine is derived from non-GMO corn rather than shellfish or other animals. Deva glucosamine is ideal for vegan or vegetarians as they are not made from shellfish and hence is ideal for all with dietary restrictions.
Vegan
Non-Shellfish
Dietary Supplement
How to Use: For adults take three (3) tablets daily with food, or as directed by a doctor.
Pricing: 90 Tablets for S$12.08
Where to Find: iHerb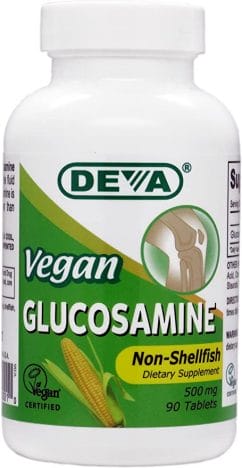 ---
9. Source Naturals, Glucosamine Sulfate, 500 mg, 60 Capsules
Description: Source Naturals Glucosamine Sulfate is a naturally occurring amino sugar. Amino sugars are key constituents of larger compounds called glycosaminoglycans and glycoproteins, which allow cells in tissues to hold together. They are necessary for the construction and maintenance of virtually all connective tissues and lubricating fluids in the body – tendons, ligaments, cartilage, bone matrix, skin, joint fluid, intestinal lining and mucous membranes. Glucosamine Sulfate is complexed with potassium chloride to enhance stability.
Dietary Supplement
Sodium Free
How to Use: 1 capsule three times daily.
Pricing: 60 Capsules for S$9.88
Where to Find: iHerb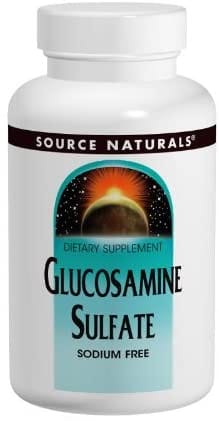 ---
10. Solaray, Two Daily Glucosamine Sulfate with Turmeric & Boswellia, 1,500 mg, 120 VegCaps
Description: Glucosamine is an important component in the synthesis of connective tissue and joint mobility. Turmeric root extract and Boswellia gum extract provide additional support for overall joint health.
Dietary Supplement
Lab Verified
How to Use: Use only as directed. Take two VegCaps daily with a meal or glass of water.
Pricing: 120 Capsules for S$23.44
Where to Find: iHerb
---

Got a Product to Suggest?
We need your assistance! Do you have a great experience with any products that fall into this category and would like to recommend for them to be listed? If so, do write to us via our email. Tropika Club will do a review of your recommendations and update the list accordingly.
---
Meanwhile, check out Tropika Club's Ecosystem of Websites
Tropika Club Magazine – Tropika Club Magazine crafts articles on all things Singapore, but with a greater emphasis on local businesses based on our #SupportLocalSG initiative. We check out and feature local businesses of all categories, ranging from your neighbourhood hawker stalls to the aesthetic clinics in town. We also cover local content ranging from beauty, lifestyle, places, eats and what's on in SIngapore. Our Top 10 rankings include local food and service establishments based in different regions in Singapore.
Tropika Club Deals – Search for the best voucher and coupon deals. Tropika Club Deals is ideal for customers who want to discover the best deals without having to commit to a specific appointment date and time. Choose from guaranteed discounted deals in the categories of hairstyling, hair removal, facial & aesthetics, body slimming, brows & lashes, nails & makeup, massage & spa or fitness & wellness. Customers can also buy vouchers as gifts or to use for the future.