Top 10 Best Plumbing Services in Singapore
Are you having issues with a leaky pipe or a drain that's clogged and overflowing? Worry not! If you are looking for a reliable plumber or a plumbing service in Singapore, we have the answer for you. Tropika Club aggregated rankings or "ranking of rankings" compared from the following sources to further ascertain the final rankings. This is further refined using the TripAdvisor rankings to decide between the position in case there is a tie. Read on to find out where are the Top 10 Best Plumbing services in Singapore.
---
1. Mr Plumber Singapore
Introduction: Mr Plumber Singapore provides quality plumbing services at fair and transparent pricing. They believe in providing trustworthy services that their customers can use for the long term. They have a team of licensed plumbers who are available for emergency plumbing. They have over 10 years of plumbing experience and have done thousands of plumbing jobs for both residential (Landed, condo and HDB plumbing) and commercial plumbing. They are the highly recommended plumber Singapore,with many satisfied customers and reviews over the years on Google and Facebook.
Offerings: Mr Plumber Singapore provides full range of plumbing services in Singapore including:
1. Plumbing Chokes & Repair Water Heater Installation, Toilet Bowl Installation, Toilet Flush System Installation, Water Tap / Faucet Installation, Shower Installation
2. Plumbing Installation / Replacement & Repair Toilet Bowl Choke, Drain Choke / Floor Trap Choke, Clogged Sink / Sink Choke
3. Plumbing Leaks & Pipe Repair Water Pipe Leak Repair & Re-piping Services
Service Offerings:
1.Rich experience in the industry: They have been serving people with plumbing needs for over 10 years.
2. 7 days per week emergency service: Their well-skilled plumbers will deliver a solution, 7 days a week, 365 days a year.
3. Warranty for all plumbing jobs: They offer various durations of warranty for any work done.
Location: 3 Phillip Street, Singapore 048693
Contact: +65 6653 6258
Website: https://www.mrplumber.sg/
---
2. Family Plumber Singapore
Introduction: Founded since 1988, Family Plumber Singapore is a group of PUB licensed plumbers in Singapore who can solve any of your plumbing problems. They have worked with more than 5,000 customers over the years, which is a testament to their level of expertise and experience. Providing reliable plumbing services in Singapore for over 20 years. They operate a 24-hour plumber outcall service for quick and timely dispatch, especially during emergencies. Their prices are transparently stated on their website and they will only begin work when you have agreed on their assessment and pricing.
Offerings: Family Plumber covers a wide variety of different services, including: Plumbing installation and repair, Bathroom plumbing, Sink plumbing, Kitchen plumbing, Shower plimbing, Water leak detection, Faucet replacement and installation, Water heater issues, Pipe cleaning, Sewer line issues, Unclogging drains and Bathroom remodeling. Services Highlight:
1. Over 20 years' experience in the industry: This well-trusted plumbing company began its service in 1988, with a team of PUB licensed plumbers.
2. 24-hour availability and speedy response time for swift service: They will rush to you within half an hour of your call and they will come in a fully stocked van to ensure they have all the equipment required to fix the issue as soon as possible.
3. 3-month guarantee of plumbing works: There is a 3-month guarantee period for all services conducted.
Location:
Central: 140 Upper Bukit Timah Rd, Singapore 588176
West: 47 Pavilion Circle, Singapore 658511
North: 326 Woodlands Street 32, Singapore 730326
East: 9010 Tampines Ind Pk, Singapore 528844
Contact: +8 126 2163 / 9815 7075
Website: https://www.24hrfamilyplumber.com/
---
3. Greenwood Plumbing
Introduction: Greenwood Plumbing is a well-established plumbing & electrical company since 1984, their plumbers are highly experienced and skilled, and their outstanding service is proven by a large number of loyal customers and positive reviews. They provide an island wide 24 Hours Plumbing Services.
Offerings: Greenwood provides a multitude of plumbing services for residential and commercial properties, including: 1. Choke/ Blockage/ Clogged pipe: Toilet bowl, floor trap, basin, kitchen 2. Leakage: Toilet Cistern, pipe, tap, sink 3. Install & Repair: Water heater, Mixer/Water tap, Basin, Toilet bowl Services Highlight:
1. Over 30 years of plumbing experience: Established in 1984, Greenwood Plumbing is one of the most long-standing service providers on the Island.
2. Guarantee on all workmanship: Being strongly confident in their technicians and service quality, they offer a guarantee on all repairs to back it up.
3. Specialist in well-known brands and providing quality solutions: They use the highest quality bathroom and kitchen pieces to fit into your home or business. 4. 24/7 emergency hotline is available.
Location: 140 Upper Bukit Timah Road, Singapore 588176
Contact: +65 8208 5588
Website: https://www.greenwoodplumbingsg.com/
---
4. PS Plumber Singapore
Introduction: Ps Plumber Singapore is fully owned by PS Home Maintenance Pte Ltd. They are a well-recognized and well established company, praised in Singapore for efficient and top notch Plumbing practices. They work with a wide range of customers from homeowners and landlords to business owners to help them in their needs. Their team is comprised of the best plumbers that can take care of almost everything from consultation to the final work. They are also hired by a thorough background check so customers can be rest assured that their home will be in the hands of a trustworthy professional.
Offerings: PS Plumber Singapore provides customers with a wide range of plumbing services, including:
1. Installation of pipes for sinks, showers, washing machine, fridge
2. Repairing of leaking taps, toilet bowls, flush tanks, pipes
3. Installation or replacement of sinks, taps, bidet, toilet bowls and pipes
4. Drain chokes, clear floor trap
5. Flush tank leakage
6. Repairing the burst pipes
Services Highlight:
1. 24 hour emergency plumbing service: PS Plumber Singapore is available for plumbing work 24/7.
2. Short response time: It can be as fast as 30 minutes when there is an emergency.
3. 30-day labor warranty: They offer a 30-day warranty on all repair and installing work they perform.
4. They also provide free, no obligation quotes based on your individual needs.
Location: BLK 884 Tampines ST 83, 05-67, Singapore 520884
Contact: +65 6850 5025
Website: https://www.plumbersingapore.org/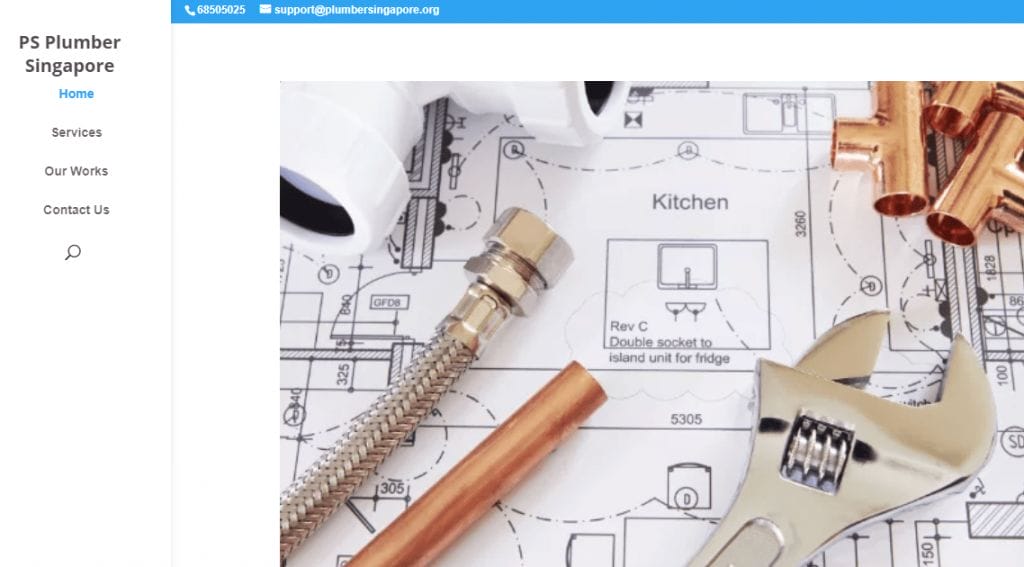 ---
5. Kiasu Plumber
Introduction: Kiasu Plumber, one of the leading plumbing services in Singapore, is a fully-licensed, insured, and bonded company providing the full range of plumbing services. Founded in 1998, their plumbers are readily available 24 hours to solve every household's plumbing problems. All their plumbers are PUB-licensed & well trained. They also boast heavy industry experience that allows them to tackle issues efficiently.
Offerings: Their core plumbing repair services include: Water leakage detection, repair and fixing Pipe repair and fixing, Clogged Sink, Water heater installation and repair services, Drain cleaning services, Pipe Bursting, Exposed Copper pipe repair and etc. KiasuPlumber not only has plumbing services, but also electrical, painting and handyman services.
Location: 20 Maxwell road #09-17 Maxwell House, Singapore 069113
Contact: +65 8820 5579
Website: https://kiasuplumber.com/
---
6. HW Singapore Plumbing
Introduction: HW Singapore Plumbing is a well-known plumbing service company in Singapore that provide solutions for all customers plumbing needs. Their team of experienced plumbers work fast and efficiently, with 100% guaranteed satisfaction, and are more willing to serve their customers anytime and anywhere.
Offerings: HW provides a multitude of services in residential and commercial properties, including:
1. Installation of shower heaters, kitchen, bathroom, shower, toilet and sewage plumbing
2. Replacement of faucets, piping and sewage systems
3. Repairs of choked pipes, leakages
Services Highlight:
1. 20 year plumbing experience: They have gained a solid reputation amongst customers as a trustworthy plumbing company since its establishment.
2. 24/7 availability
3. 30-day warranty on service: They provide a 30-day warranty in case anything goes wrong.
4. Speak to an experienced plumber in seconds: When customers call them, an experienced plumber will answer to quickly assist with customers' issue.
Location: 41A Cambridge Rd, Singapore 211041
Contact: +65 9037 1221
Website: https://hw-singaporeplumbing.com.sg/
---
---
7. HDB Plumbers
Introduction: HDB Plumbers are a team of accredited plumbers in Singapore with more than 20 years of experience. Their highly-qualified plumbers with their state-of-the-art equipment and expertise are ready to solve daily bathroom plumbing issues in HDB estates as well as commercial and other residential areas in Singapore. They operate 24/7 and promise to be at your place between one and three hours from your call. Rates are transparent and published on their website.
Offerings: They provide top-quality maintenance and new construction services, including:
1. Residential, commercial and industrial buildings
2. Plugging of pipe leakage
3. Repair and replacement of water taps, mixer taps, faucets, bottle traps, flexible boses, basins, sink bowls, urinal bowls and flush cisterns
4. Supply and installation of water heaters (instant/storage)
Location: Block 153 Batok Street 11, Singapore 6501534
Contact: +65 8491 6116
Website: https://hdbplumbers.com.sg/
---
8. Plumbing Hub
Introduction: Founded in 1984, Plumbing Hub began as a small neighbourhood plumbing company. They attend to everyday plumbing problems in Singapore, as well as plumbing emergencies. They have a professional team of plumbers ready to solve any plumbing problem, from simple plumbing repairs to major plumbing work. They have accumulated over 5000 satisfied customers island-wide with over 20 years of experience.
Offerings: Plumbing Hub services including: General Plumbing Solutions, Water Heater Issue Repair and Installation, Kitchen Sink or Basin Repair, Tank Repair, Vibrating Water Tap Repair, Drain Choke Repair, Leaking Pipe Repair, Toilet Bowl Choke, Other Services.

Services Highlight:
1. More than 30 years in plumbing services
2. 24/7 service: PlumbingHub plumbers offer a 24/7 service even on public holidays. And provide quick response within one hour.
3. 3-month warranty for residential repair and replacement plumbing work.
4. 9-month warranty for commercial repair works
Location: 140 Upper Bukit Timah Rd Singapore 588176
Contact: +65 8126 2092
Website: https://www.plumbinghub.com.sg/
---
9. SG Plumber
Introduction: SG Plumber also named as Singapore One-Stop Plumbing Solutions. Their Plumber provide high quality plumbing services for customers' home, office or commercial building. They have many regular customers who would highly recommend them as a professional and respected service with more than 10 years experience.
Offerings: Their main services provide: Water Heater Repair & Installation, Boiler Repair & Installation, Troubleshooting leaks & clogs, Repair/Replace/Install Plumbing, Repair exposed copper pipe leaks, Supply & install toilet bowl set & basin.
Location: No.9 Little Road, #05-01A, Singapore 536985, Singapore
Contact: +65 9225 9356
Website: https://www.sg-plumbing.sg/
---
---
10. Tom Plumbing
---
11. 24 Hours Plumbling
---
12. Singapore Plumbing Society
---
13. Local Service: Plumbing Services
---
14. Handyman Services Singapore
---
Have a Place to Recommend?
Your contribution is valuable to us! Are there any outstanding businesses that you believe should be added to our list? If so, please send your recommendations to us at [email protected]. Tropika Club will review your suggestions and update the list accordingly. Thank you for your help in making our list of businesses as comprehensive and accurate as possible.
---
Meanwhile, Check out Tropika Club's Ecosystem of Websites
Tropika Club Magazine – Tropika Club Magazine is a Singapore-based publication that features articles on a wide range of topics with a focus on local businesses and content for the region. The magazine emphasizes supporting local businesses through its #SupportLocal initiative, which includes coverage of everything from neighborhood hawker stalls to aesthetic clinics in town. In addition to highlighting local businesses, Tropika Club Magazine also covers a variety of local content, including beauty, lifestyle, places, eats, and what's on in Singapore and the Asia Pacific region.
Tropika Club Deals – Tropika Club Deals is a leading online deals and voucher shopping site in Singapore, offering amazing discounts on beauty, wellness, and fitness products and services. It's the perfect platform for customers who want to discover the best deals without having to commit to a specific appointment date and time. These deals are available at major beauty stores, facial salons, hair salons, and other brands in Singapore, with no minimum spend required. Choose from guaranteed discounted deals in the categories of hairstyling, hair removal, facial & aesthetics, body slimming, brows & lashes, nails & makeup, massage & spa or fitness & wellness. Tropika Club Deals is also ideal for customers who want to buy vouchers as gifts or to use for the future. So whether you're looking to save money on your next haircut or want to treat yourself to a relaxing massage, Tropika Club Deals has got you covered with the best voucher and coupon deals in Singapore!