Top 10 Best Restaurants in Kallang Wave Mall
Kallang Wave Mall, which opened its doors in September 2016, is quickly becoming a popular spot for food lovers. Kallang Wave Mall, located in the heart of Kallang, is a shopping destination for everyone. With its wide array of shops and restaurants, the mall offers something for everyone. Whether you're looking for clothes, electronics, or home goods, the mall has it all. In addition to its great selection of shops, Kallang Wave Mall also offers an impressive food court with a variety of options for all palates. Located at the heart of Kallang Wave Road, the mall has a number of restaurants that offer something for everyone. Here are the top 10 restaurants in Kallang Wave Mall.
---
1. Al Capone
Introduction: Al Capone's Sports Bar + Dining serves a delectable selection of Italian cuisine. From pastas to pizzas and mains, Al Capone is a great dining place for casual lunch and dinner with family and friends. The Boss, Anil Goswami has been successful in maintaining the prices of alcohol since 2015, and indirectly forcing other bars to re adjust their prices. They are famous for our jam packed weekends and Mabuk Mondays! Don't forget to quench your thirst by gulping down your favourite poison from our selection of authentic agent stock single malt and blended whiskys, premium wines, white spirits, and bone-chilling Heineken or Guinness!
Offerings:
Location: 1 Stadium Place, Kallang Wave Mall#01-15, Singapore 397628
Operating Hours:
Mon – Sun: 11am – 10.20pm
Contact: +65 6282 5926
Website: https://alcaponesg.com/
---
2. Old Town White Coffee
Introduction: OLDTOWN White Coffee started with a humble passion – to make and serve the finest coffee possible. From breakfast favourites like white coffee and toasts to heartier rice and noodles options, all its dishes are served with a dash of the traditional Ipoh coffee shop charm.
Offerings:
OLDTOWN Ipoh Chicken Hor Fun
OLDTOWN Asam Laksa
OLDTOWN Nasi Lemak
OLDTOWN Nasi Lemak with Crispy Chicken
OLDTOWN Nasi Lemak with Curry Chicken
Location: KALLANG WAVE MALL #01-18 & 19
Operating Hours:
Mon – Fri: 10am – 10.30pm
Sat & Sun: 9am – 10.30pm
Contact: +65 6702 4404
Website: https://oldtown.com.my/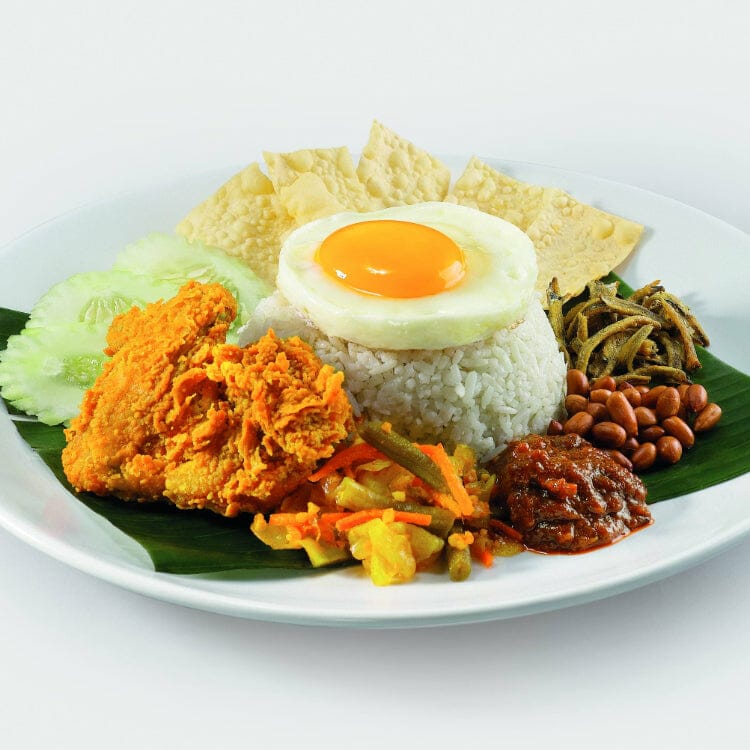 ---
3. Aji-Ichi
Introduction: Quality, authentic and value-for-money Japanese food. Freshly prepared for your enjoyment. Aji-ichi, a subsidiary of Aston Food & Beverage Specialities, uses Koshihikari rice imported from Niigata in Japan, US beef, and tonkotsu broth that has been simmered for 12 hours.
Offerings:
Location: Kallang Wave Mall #02-011 Stadium Place Singapore 397628
Operating Hours:
Daily : 11:30AM – 3:00PM (Last Order: 2:30PM),5:00PM – 10:00PM
Cease Operations on 20 April 2022
Contact: +65 6702 3015
Website: https://ajiichi.com.sg/
---
---
4. Typhoon Cafe
Introduction: Its name "台风" (which also means Typhoon) is an abbreviation of "台湾风味" which means Taste of Taiwan and it aims to do exactly that – bring a slice of Taiwan to their little red dot. Its casual unpretentious restaurant is perfect for Taiwanese food lovers; one no longer has to endure "夜市" crowds and compromise sleep to get a Taiwan food fix. Its menu comprises flavours of Taiwan from 'Lu Rou Fan', Oyster Omelette, and Golden Chicken Fritters to its obsession for artisan fruit teas, bubble milk teas and intricately made desserts such as its soufflé creations. Drop by one of their outlet to try today.
Offerings:
Typhoon Momofuku Bun
Crabmeat Scrambled Egg White with Tobiko
Taiwan Lu Rou Rice
Panko Canadian Pork Chop with Egg Fried Rice
Souffle Stackers with Honeycomb Ice Cream
Location: KALLANG WAVE MALL 1 Stadium Place #01-35 Singapore 397628
Operating Hours: Daily: 11.30am – 10.30pm
Contact: +65 6702 1752
Website: https://www.typhooncafe.com.sg/
---
5. Yu Kee Specialities
Introduction: Yu Kee Duck Rice uses the traditional Teochew method of braised duck cooking and more than 10 over different types of herbs, spices and ingredients for its braised sauce. The brand's speciality chilli is a must try that complements every dish on the menu.
Offerings:
Location: Kallang Wave Mall, #02-12, Singapore 397628
Operating Hours:
Contact: +65 6688 7782
Website: https://yukeegroup.com.sg/
---
---
6. Old Street Bak Kut Teh
Introduction: Founded in 2010, Old Street Bak Kut Teh prides itself to be the local specialist in the well-loved traditional herbal pork ribs soup. Its unique East meets West approach, with its own special creation like the Old Street Dry Bak Kut Teh, freshly made You Tiao, modular extendable table with induction cooktop and iPad ordering, not only differentiated itself from competition, but also offer consumers a taste and dining experience like never before.
Offerings:
Pork Ribs Soup
Dry Bak Kut Teh
Braised Pig's Trotter
Braised Minced Pork Rice
Claypot Sesame Oil Chicken
Location: KALLANG WAVE MALL #01-22
Operating Hours:
Contact: +65 6438 6886
Website: https://www.oldstreetbakkutteh.com/
---
7. Pastamania
Introduction: PastaMania is the largest Italian casual dining chain in Singapore offering a diverse range of pastas. From Italian classics like Seafood Marinara, Prawn Aglio and Carbonara, to specially crafted fusion delights like Seafood Tom Yum and Salted Egg Chicken, there's something for everyone!
From the Pastamania chain to farming barramundi, Andrew Kwan hothouses local food brands and helps them grow. In 2010 when Andrew Kwan was 44, he and his partner sold their window-film business for a nine-figure sum. Retirement wasn't an option, not least because his wife didn't think that would be a good idea.
Offerings:
Location: KALLANG WAVE MALL #01-21/K10
Operating Hours:
Contact: +65 6662 9666
Website: https://www.pastamania.com.sg/
---
8. Poulet
Introduction: Poulet is a modern French-themed bistro offering delectable fine French cuisine at pocket friendly prices.Since 2012, Poulet has has been serving its signature Poulet Roti (Amazing French Roast Chicken) that is brined in a secret blend of citrus and herbs overnight, then left to slow cook over a flame, before it's finally served with a choice of 3 delicious sauces. Besides Roast Chicken, savour an all-day French menu that comforts and indulges – from soups, salads, pastas, meat, fish to desserts. Elegantly decorated, Poulet boasts a contemporary and relaxed setting with an ambience that is perfect for any occasion worth celebrating.
Offerings:
Click the link for menu

Roasted Chicken with Mushroom Cream Sauce
Chunky Chicken Pot Pie
Roast Chicken with Diane Sauce
Roast Chicken with Cranberry Sauce
Homemade Tiramisu
Location: 1 Stadium Pl, #01-17 Wave Mall, Singapore 397628
Operating Hours:
Contact: +65 6702 7342
Website: https://www.poulet.com.sg/
---
---
9. Ayam Penyet President
Introduction: Established In 2009. Ayam Penyet President Was Founded In 2009, Starting With The First Outlet At Lucky Plaza, Orchard Road. Since Then, The Chain Has Expanded To Serangoon, Tampines, And Kallang Area. As An Indonesian, Ayam Penyet President's Owner Is Quite Familiar With Indonesian Recipes.
As Much As Possible, Ayam Penyet President Restaurant Serves Authentic Indonesian Flavors. No Wonder Then That Owners Had To Buy Some Spices And Other Equipment Directly From Indonesia.
Offerings:
Location: KALLANG WAVE MALL #01-23
Operating Hours:
Mon ⁠–⁠ Thu: 11.30 am – 9pm
Fri – 11.30am – 9.30pm
Sat: 11am – 9.30pm
Sun: 11am – 9pm
Contact: +65 6384 6356
Website: https://ayampresident.com/
---
10. Encik Tan
Introduction: Encik Tan opened its first outlet in Singapore at Kallang Wave Mall. It is a food establishment with halal certification from MUIS and serves popular local food like (amongst many others) oyster omelette, fried carrot cake, wanton noodles. At Encik Tan, you can get decent hawker fare (with halal certification from MUIS) with nostalgic flavour and taste in an air-conditioned setting at a reasonable price.
Offerings:
Location: KALLANG WAVE MALL #01-32
Operating Hours:
Contact: +65 6702 7225
Website: https://enciktan.com.sg/
---
---
Have a Place to Recommend?
We need your help! Do you know any other noteworthy eating places that deserve to be added to this list? If so, do write to us via our email. Tropika Club will do a review of your recommendations and update the list accordingly.
---
Meanwhile, check out Tropika Club's Ecosystem of Websites

Tropika Club Magazine – Tropika Club Magazine crafts articles on all things Singapore, but with a greater emphasis on local businesses based on our #SupportLocalSG initiative. We check out and feature local businesses of all categories, ranging from your neighbourhood hawker stalls to the aesthetic clinics in town. We also cover local content ranging from beauty, lifestyle, places, eats and what's on in SIngapore. Our Top 10 rankings include local food and service establishments based in different regions in Singapore.
Tropika Club Deals – Search for the best voucher and coupon deals. Tropika Club Deals is ideal for customers who want to discover the best deals without having to commit to a specific appointment date and time. Choose from guaranteed discounted deals in the categories of hairstyling, hair removal, facial & aesthetics, body slimming, brows & lashes, nails & makeup, massage & spa or fitness & wellness. Customers can also buy vouchers as gifts or to use for the future.