Top 10 Frequently Drawn Winning 4D Numbers from Singapore Pools
Ever wonder what are the most frequently drawn winning 4D numbers from Singapore Pools? Check it out from the chart below. In fact, Tropika Club has compiled the Top 100 Frequently drawn 4D numbers from Singapore Pools, based on the weekly Singapore Pool results. Now you know the statistics, you can strategize in your 4D winning number betting based on the Singapore Pools odds at any of the Singapore Pool outlets. If you want to find the outlets with the highest winning rate, you can try this article too. Good luck! [Article updated as of May 2023]

---
No Time to Read? Here's a Snappy Summary of This Article
The article reveals the top 10 frequently drawn winning 4D numbers from Singapore Pools, based on the weekly results from 2019 to 2023.
The article also provides a comprehensive guide on how to win big with 4D numbers, including tips and strategies on how to choose the right numbers, increase the chances of winning and maximize the returns.
The article explains the basics of 4D, such as how to bet, how to check the results and how to claim the prizes. The article also covers some common terms and rules of 4D betting.
The article ranks the top 10 winning 4D numbers according to their frequency of occurrence, starting with 7132, which has been drawn 18 times in the past three years. The article also shows the distribution of the winning numbers by category and range.
The article then lists the top 100 frequently drawn winning 4D numbers from Singapore Pools, along with their frequency and percentage of occurrence. The article also provides a link to a video that discusses the top 10 winning numbers in more detail.
The article concludes by encouraging readers to try their luck at 4D betting, but also reminds them to gamble responsibly and within their means.
The Ultimate Guide to Winning 4D Numbers at Singapore Pools
Welcome to our comprehensive guide on how to win big with 4D numbers at Singapore Pools. In this article, we will share the top tips and strategies to help you pick the right numbers, increase your chances of winning, and maximize your returns. Whether you're a seasoned player or new to the game, our guide has everything you need to know to make the most of your 4D betting experience.
Understanding 4D Numbers
First, let's start with the basics. 4D is a popular lottery game in Singapore where players bet on a four-digit number from 0000 to 9999. The draw takes place twice a week, and players can choose to bet on a single number or a combination of numbers. The more numbers you bet on, the higher the potential payout, but also the lower the odds of winning.
Tips for Choosing Winning Numbers
Here are some expert tips to help you pick the right 4D numbers and increase your chances of winning:
Use the hot and cold numbers strategy: This strategy involves choosing numbers that have been frequently or infrequently drawn in recent draws. You can find this information on the Singapore Pools website [2].
Avoid common number combinations: Many players choose numbers that follow a certain pattern or are commonly used, such as 1234 or 8888. These numbers may have a lower payout if they are drawn, as more players are likely to have bet on them.
Consider the odds: Betting on a single number has a 1 in 10,000 chance of winning, while betting on all possible combinations has a 100% chance of winning but may not yield a profit. Find a balance between risk and reward that suits your betting style.
Use a 4D prediction software: There are several software programs and mobile apps available that use algorithms to predict winning numbers based on past results and statistical analysis.
Trust your instincts: Sometimes, the best way to choose your numbers is by following your gut feeling or using a personal lucky number. As long as you stay within your budget and don't bet more than you can afford to lose, there's no harm in trying out your luck.
Maximizing Your Returns from 4D
Now that you've chosen your numbers, it's time to think about how to maximize your returns. Here are some tips to help you get the most out of your 4D betting experience:
Bet with a reputable agent: Make sure to choose a licensed and trusted agent or outlet to place your bets. This will ensure that your winnings are paid out promptly and that your personal information is kept safe.
Bet on multiple numbers: Betting on a single number may yield a high payout, but it also has a low chance of winning. Consider betting on multiple numbers to increase your chances of winning
Top 100 Frequently Drawn Winning 4D Numbers from Singapore Pools
Top 100 Frequently Drawn Winning 4D Numbers from Singapore Pools
Order 4D Number No. of Times
1 0400 23
2 2967 23
3 4785 23
4 5807 23
5 7683 23
6 9395 23
7 9509 23
8 1180 22
9 1273 22
10 1845 22
11 3225 22
12 5760 22
13 9306 22
14 0738 21
15 0885 21
16 3445 21
17 4527 21
18 4678 21
19 4946 21
20 5502 21
21 5510 21
22 5790 21
23 5934 21
24 6045 21
25 6290 21
26 6440 21
27 6741 21
28 7234 21
29 7816 21
30 8787 21
31 9216 21
32 9281 21
33 9282 21
34 0389 20
35 0435 20
36 0875 20
37 1005 20
38 1238 20
39 1247 20
40 1464 20
41 1825 20
42 1942 20
43 2156 20
44 2195 20
45 2347 20
46 2698 20
47 2939 20
48 3657 20
49 3873 20
50 4248 20
51 4840 20
52 4979 20
53 5020 20
54 5043 20
55 5107 20
56 5228 20
57 5323 20
58 5374 20
59 5614 20
60 5789 20
61 5954 20
62 6412 20
63 6556 20
64 6945 20
65 6990 20
66 7595 20
67 8572 20
68 8729 20
69 8846 20
70 9007 20
71 9476 20
72 9659 20
73 0379 19
74 0476 19
75 0567 19
76 0605 19
77 0682 19
78 0903 19
79 0922 19
80 1066 19
81 1092 19
82 1525 19
83 1849 19
84 1977 19
85 2000 19
86 2019 19
87 2052 19
88 2102 19
89 2175 19
90 2314 19
91 2370 19
92 2401 19
93 2597 19
94 2638 19
95 2756 19
96 2942 19
97 2977 19
98 3198 19
99 3336 19
100 3495 19
How about Lucky Number 7132?
A group of statisticians u/Sproinkerino and u/captmomo shared their research findings in a Reddit Post in 2018 on what are the "luckier" numbers. Based on the 4D statistics for winning 4D numbers based on Singapore Pools weekly results, it seems that some Singapore Pools 4D numbers are drawn more regularly and frequently. You can look at the illustrations and charts below by the team. Red shows that the numbers are more "hot" and have relatively won more money than others. [The source for the charts are here, thanks to the team]. By using this information, the 4D lottery enthusiasts would be able to compute the winning odds or at least the statistics of the winning Singapore 4D numbers.
Key: Dark Red (>$4,000), Orange Red (>$3,000), Dark Orange (>$2,000), Light Orange (>$1,000), Yellow (<$1,000)
Singapore 4D Numbers 0000 to 0999
Singapore 4D Numbers 1000 to 1999

Singapore 4D Numbers 2000 to 2999
Singapore 4D Numbers 3000 to 3999
Singapore 4D Numbers 4000 to 4999
Singapore 4D Numbers 5000 to 5999
Read also:
Singapore 4D Numbers 6000 to 6999
Singapore 4D Numbers 7000 to 7999
Singapore 4D Numbers 8000 to 8999
Singapore 4D Numbers 9000 to 9999
---
Highest Performing Singapore 4D Numbers
Based on the chart, the highest performing and 4D winning numbers and their winnings results would be the following:
7132 – $4,850
7123 – $4,650
9981 – $4,550
3798 – $4,400
3865 – $4,350
0094 – $4,250
0852 – $4,200
6440 – $4,200
4759 – $4,100
6588 – $4,100
7883 – $4,050
8617 – $4,050
7135 – $4,000
---
Predicting Singapore Pools 4D Lottery Winning Numbers?
To answer this question, we take reference from Terence's interesting blog page "A Slacker's Guide to Programming", where Terence used the TensorFlow library to predict 4D some time back. He wanted to test a few hypotheses:
Are we able to predict 4D results?
Are we able to determine which prize category a future number will be?
Can we predict a number based on a given date?
He used the following data (accurate as of 27th June 2020) to generate the following interesting graphs:
The first 4D draw was on 31st May 1986.
The total number of draws were 4651 but listed as 4562 on Singapore Pools website.
A total of 106946 results has been drawn till date.
There used to be draws on Thursdays.
Based on the current payouts and the assumption that you placed a $1 Ordinary Big bet on every draw since 31st May 1986 :
You would have recouped your losses if you selected any of the numbers from the first and second prize list.
You would have recouped your losses from a few selected numbers from the third prize list.
You would have incurred losses if you selected numbers from the frequently drawn numbers list.
*Data accurate as of 27th June 2020.
---
How to Register for a Singapore Pools Account?
A Singapore Pools Account allows you to place bets online, or by phone. To register for an account, you must:
be a Singapore Citizen or Permanent Resident,or a foreigner residing in Singapore, with a valid Singapore Foreign Identification Number (FIN)
be at least 21 years of age
provide a local mobile number
provide a Singapore residential address
not be subjected to any of these exclusions:

a family exclusion order made under section 162 or 165C of the Casino Control Act ('CCA')
an exclusion order made under section 165 or 165C of the CCA
an exclusion from any casino premises by the operation of law under section 165A(1)(a) and (b) of the CCA
To register for an account, complete this online registration form. After completing the online registration form, visit any Singapore Pools branch with your NRIC or an official document containing your FIN to verify the information submitted. Singapore Pools will also verify your account eligibility within three days with the National Council on Problem Gambling. No action is required from you. You may log into your account with your username and password to check the status of your registration.
---
How to Place 4D Bets at Singapore Pools Outlets?
Place your Self Pick or Quick Pick bets for Ordinary, System Entry and 4D Roll for draws conducted on Wednesday, Saturday or Sunday, or for six consecutive draws (including the current draw). (Source: Singapore Pools)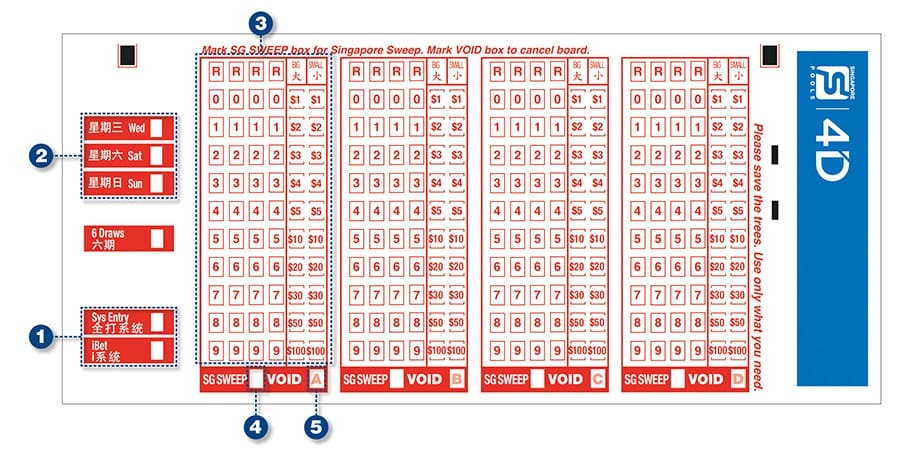 Mark your selections with a heavy vertical line within the correct box.
Mark your Bet Type.Use another bet slip for a different bet type.If you are selecting Ordinary Entry or 4D Roll, you need not mark anything.
Mark the draw days you are placing your bets for.Mark '6 DRAWS' if you wish to place bets for six consecutive draws, including the current draw.If you are selecting 4D Roll, you can only place bets for one current draw.
Mark the digits you wish to place bet on and your Big and/or Small bet amounts.

For Ordinary Entry, mark four digits. Bet cost is the bet amounts marked.
For 4D Roll, mark three digits in addition to 'R'. Bet cost is the bet amounts marked multiplied by 10.
For System Entry, mark four digits. Bet cost is the bet amounts marked multiplied by the number of combinations for your selection.
For iBet, mark four digits. Bet cost is the bet amounts marked.

Each bet slip allows you to mark up to four boards of numbers – all of the same bet type.
Mark 'SG SWEEP' if you would also like to place a Singapore Sweep bet ending with the same last four digits. Only for 4D Ordinary bets.
Mark 'VOID' to cancel the board. Use another board to place your bets.
You will receive a ticket after placing your bet at the outlet.
Conclusion
Well, you might be using this statistics to plan your 4D, but please always note that 4D or Toto should always be treated for a form of gaming and fun rather than investment. While the auntie-next-door might quip, "buy a small hope to a big fortune," the reason to why Singapore Pools still exist and is a big donor to charities lies with the fact that the house always wins no matter what. Hence, there's no free lunch at Singapore Pools – you have been warned!
Frequently Asked Questions
How are the 4D numbers drawn by Singapore Pools? The 4D numbers are drawn using a Random Number Generator (RNG) system, ensuring that each draw is fair and unbiased. The draw process is also closely monitored by independent auditors.
Is there a guaranteed method to predict the winning 4D numbers? No, there is no foolproof method for predicting the winning 4D numbers, as the draws are random. However, some players may choose to use historical data, such as frequently drawn numbers, to make their selections.
Can I use the frequently drawn 4D numbers as a basis for my bets? While some players may choose to use frequently drawn numbers as a strategy, it is essential to remember that past performance does not guarantee future results. Each draw is independent, and all numbers have an equal chance of being drawn.
What is the minimum bet amount for 4D? The minimum bet amount for a 4D game is SGD 1. However, the minimum bet amount may vary depending on the bet type you choose, such as Ordinary Entry, 4D Roll, System Entry, or iBet.
Are there any restrictions on betting on 4D games? Yes, you must be at least 18 years old to bet on 4D games in Singapore. Additionally, Singapore Pools has implemented responsible play measures to ensure that players enjoy the games within their means.
---
Have an Article to Suggest?
Tropika Club is always looking for new and exciting content to feature in their magazine and they value the input of our readers. If you have any noteworthy content or articles that you believe would be a great addition to Tropika Club's magazine, we are open to suggestions and encourage you to reach out to us via email at [email protected]. By doing so, Tropika Club values your expertise and knowledge in the matter and appreciates your willingness to help. We will review your recommendations and update our list accordingly
Meanwhile, Check Out Tropika Club's Ecosystem of Websites
Tropika Club Magazine – Tropika Club Magazine is a Singapore-based publication that features articles on a wide range of topics with a focus on local businesses and content for the region. The magazine emphasizes supporting local businesses through its #SupportLocal initiative, which includes coverage of everything from neighborhood hawker stalls to aesthetic clinics in town. In addition to highlighting local businesses, Tropika Club Magazine also covers a variety of local content, including beauty, lifestyle, places, eats, and what's on in Singapore and the Asia Pacific region.
Tropika Club Deals – Tropika Club Deals is a leading online deals and voucher shopping site in Singapore, offering amazing discounts on beauty, wellness, and fitness products and services. It's the perfect platform for customers who want to discover the best deals without having to commit to a specific appointment date and time. These deals are available at major beauty stores, facial salons, hair salons, and other brands in Singapore, with no minimum spend required. Choose from guaranteed discounted deals in the categories of hairstyling, hair removal, facial & aesthetics, body slimming, brows & lashes, nails & makeup, massage & spa or fitness & wellness. Tropika Club Deals is also ideal for customers who want to buy vouchers as gifts or to use for the future. So whether you're looking to save money on your next haircut or want to treat yourself to a relaxing massage, Tropika Club Deals has got you covered with the best voucher and coupon deals in Singapore!