Top Winning Singapore Pools Outlets for 4D and Toto
Buy a piece of hope – that's what everyone says when they queue for 4D or Toto at the many Singapore Pools outlets on a weekly basis. As Singapore Pools publishes an updated version of the winning outlets (see link; updated as on March 2020), many hopeful Singaporeans (and foreign workers) visit these "lucky outlets" with the hope to striking it rich. While some think of these outlets as lucky, others see it from a more statistical perspective. Maximise your winning chances by placing your bets in the best 20 Singapore Pools outlets and authorised retailers in Singapore, ranked by total winners! Either way, Tropika Club has compiled the top 10 winning Singapore Pools outlets for both 4D and Toto. While we do not guarantee that your chances of winning would be improved, you can at least convince yourself so!
Map Distribution of Jackpot and Group 2 Winnings at Singapore Pools Outlets
In fact, Kontinentalist created a graphical map interface of all the winning outlets, which is pretty amazing!
1.Tong Aik Huat
Location: Blk 685 Hougang St 61 #01-160 Singapore 530685
Tong Aik Huat sold two TOTO tickets that won some of the largest jackpots in Singapore history. in 2016, a single winner went home with S$7,884,082 after buying a Quick Pick System 8 TOTO ticket from Tong Aik Huat. In 2014, a person walked away with $6,410,229 after winning the top prize with a System 7 ticket from there. Tong Aik Huat has consistently created many winners, and because many Singaporeans head to Tong Aik Huat, that might have also indirectly increased the percentage of winning tickets at this outlet. There are also many reports of long queues at Tong Aik Huat as shown in this Straits Times report.
---
2. Delisia Agency
Location: 149 Rochor Rd, Fu Lu Shou Complex, Singapore 188425
Delisia Agency Pte Ltd was founded in 1985 at Fu Lu Shou complex, and has seen consistent queues since the 1990s. They are not only popular with the usual 4D but also the quick pick system 7 for Toto.
---
3. NTUC Tampines Mall
Location: 4 Tampines Central 5, #B1-12, Singapore 529510
NTUC Tampines Mall is usually packed with Singaporean shoppers for their groceries, but most do not know that its Singapore Pools outlet is highly ranked in terms of winning lottery tickets. It is one convenient location where you can get your 4D or Toto tickets and shop for groceries at the same time.
---
4. Tan Wee Fong Trading
Location: 24 Bendemeer Rd, #01-529, Singapore 330024
Tan Wee Fong Trading is no ordinary lottery ticket shop. According to the punters ' history books , someone has won the top TOTO prize here every year. In 2017, the winner walked away with close to $4.5 million thanks to the numbers simply assigned by the machine. Every weekend, you will find a long queue of eager Singaporeans waiting for purchase their 4D or Toto.
---
5. Ng Teo Guan
Location: 301 Ubi Ave 1, #01-251, Singapore 400301
Ng Teo Guan usually draws long queues. But the queues get extremely long during the Chinese Lunar New Year period for both 4D draw and Toto draw due to the size of the jackpot draw. Ng Teo Guan has produced 7 jackpot winners and 44 Group 2 winners so far.
---
---
6. People's Park Outlet
Location: 101 Upper Cross St #01-12 People's Park Centre, 058357
Located in the busy People's Park Centre of Chinatown, the People's Park Centre Branch of Singapore Pools see a large influx of Singaporeans not only living around the Chinatown area, but also from the nearby CBD working district. This branch has created 7 Jackpot winners and 30 Group 2 winners. This is one of the more popular 4D and Toto outlets in the Central Business District area.
---
7. Mee Lee Cheong
Location: 139 Tampines Street 11, Singapore 521139
Mee Lee Cheong Pte Ltd is the second popular Singapore Pools outlet, after the one at NTUC Tampines Mall. Mee Lee Cheong was incorporated in 1978 and has seen 7 Jackpot winners and 28 Group 2 winners.
---
---
8. 7-11 Yishun
Location: Yishun Ave 5, #01-137 Block 102, Singapore 760102
7-11 Yishun at Avenue 5 caters to all the hopeful pundits living in the Northern part of Singapore. In fact, the small outlet sees such long queues that they extend to the outdoor areas. 7-11 Yishun has generated 7 Jackpot winners and 27 Group 2 winners.
---
9. IMM Outlet
Location: 2 Jurong East Street 21, #02 – 63, Singapore 609601
Just like the NTUC outlet at Tampines Mall catering to the Singaporeans staying in the East, the outlet at IMM caters to the Singaporeans living in the west. With a history of 7 Jackpot winners and 15 Group 2 winners, you can queue for your chance to strike it big, and also do your weekly shopping at IMM itself.
---
10. 7-11Eunos
Location: Blk.1A Eunos Cres, #01-2469/2471, Singapore 401001
The second 7-11 convenience store to make it in the top 10 rankings, the 7-11 Eunos outlet is located in a quiet spot at Eunos Crescent. This does not shake off its accolade of creating 7 Jackpot winner and 13 Group 2 winners.
How to Register for a Singapore Pools Account?
A Singapore Pools Account allows you to place bets online, or by phone. To register for an account, you must:
be a Singapore Citizen or Permanent Resident,or a foreigner residing in Singapore, with a valid Singapore Foreign Identification Number (FIN)
be at least 21 years of age
provide a local mobile number
provide a Singapore residential address
not be subjected to any of these exclusions:

a family exclusion order made under section 162 or 165C of the Casino Control Act ('CCA')
an exclusion order made under section 165 or 165C of the CCA
an exclusion from any casino premises by the operation of law under section 165A(1)(a) and (b) of the CCA
To register for an account, complete this online registration form. After completing the online registration form, visit any Singapore Pools branch with your NRIC or an official document containing your FIN to verify the information submitted. Singapore Pools will also verify your account eligibility within three days with the National Council on Problem Gambling. No action is required from you. You may log into your account with your username and password to check the status of your registration.
How to Place 4D Bets at Singapore Pools Outlets?
Place your Self Pick or Quick Pick bets for Ordinary, System Entry and 4D Roll for draws conducted on Wednesday, Saturday or Sunday, or for six consecutive draws (including the current draw). (Source: Singapore Pools)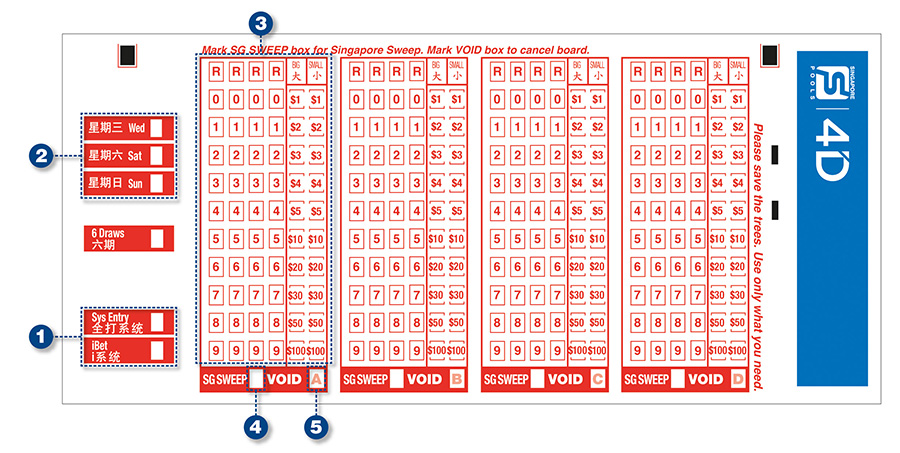 Mark your selections with a heavy vertical line within the correct box.
Mark your Bet Type.Use another bet slip for a different bet type.If you are selecting Ordinary Entry or 4D Roll, you need not mark anything.
Mark the draw days you are placing your bets for.Mark '6 DRAWS' if you wish to place bets for six consecutive draws, including the current draw.If you are selecting 4D Roll, you can only place bets for one current draw.
Mark the digits you wish to place bet on and your Big and/or Small bet amounts.

For Ordinary Entry, mark four digits. Bet cost is the bet amounts marked.
For 4D Roll, mark three digits in addition to 'R'. Bet cost is the bet amounts marked multiplied by 10.
For System Entry, mark four digits. Bet cost is the bet amounts marked multiplied by the number of combinations for your selection.
For iBet, mark four digits. Bet cost is the bet amounts marked.

Each bet slip allows you to mark up to four boards of numbers – all of the same bet type.
Mark 'SG SWEEP' if you would also like to place a Singapore Sweep bet ending with the same last four digits. Only for 4D Ordinary bets.
Mark 'VOID' to cancel the board. Use another board to place your bets.
You will receive a ticket after placing your bet at the outlet.
Conclusion
Well, you might be using this statistics to plan your 4D, but please always note that 4D or Toto should always be treated for a form of gaming and fun rather than investment. While the auntie-next-door might quip, "buy a small hope to a big fortune," the reason to why Singapore Pools still exist and is a big donor to charities lies with the fact that the house always wins no matter what. Hence, there's no free lunch at Singapore Pools – you have been warned!
---
Meanwhile, check out Tropika Club's Ecosystem of Websites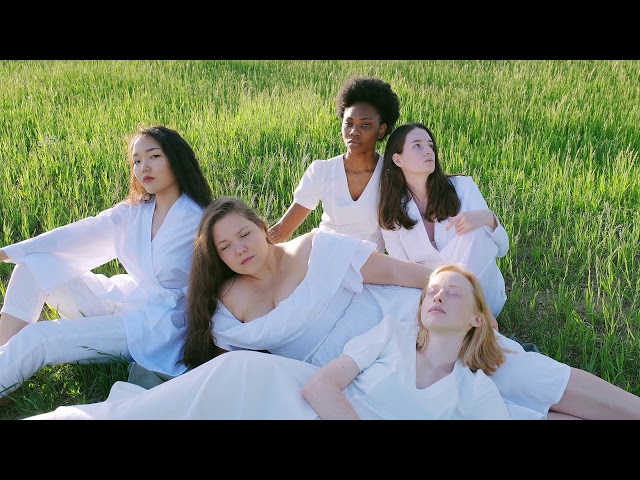 TROPIKA CLUB DEALS
Search for the best voucher and coupon deals with up to 5% cashback
TROPIKA CLUB BOOKINGS
Discover and book services at amazing off-peak discounts.
TROPIKA CLUB MAGAZINE
Get the latest scoop on beauty, wellness, eats and all things Singaporean.
Tropika Club Deals – Search for the best voucher and coupon deals. Tropika Club Deals is ideal for customers who want to discover the best deals without having to commit to a specific appointment date and time. Deals allow customers to buy vouchers and coupons in advance and to arrange the appointment directly with the merchant or business. Customers can also buy vouchers as gifts or to use for the future.
Tropika Club Bookings – Discover and book services at amazing off-peak discounts. Tropika Club Bookings is ideal for customers who want to see the full selection of a merchant or business. Customers can search by merchant or service categories and then choose from a full range of service offerings. Customers can also see if there are any off-peak discounts for the selected service(s). Customer will book the appointment for the specific date and time.
Tropika Club Magazine – Get the latest scoop on beauty, wellness, eats and all things Singaporean. Tropika Club Magazine crafts and curates articles for the discerning Singapore male and female. We provide up-to-date articles on Beauty and Vogue for gals, and articles on Grooming and Style for guys. We also cover local Singaporean content under City. Supporting Tropika Club's vision to bring the best beauty, wellness and fitness services to our visitors, we also have a review section on the best services and selections under Top Picks. This features the Top 10 rankings for your beauty and wellness salons based on the various regions in Singapore.
Great article on Singapore 4D and Toto!