Top 12 Best Bicycle Shops in Singapore
The cycling craze is definitely happening in Singapore, with a lot of interest in cycling. If you are joining the cycling craze, and is looking for a new bicycle, you can take a good reference from our list of top bicycle shops in Singapore. These bicycle shops stock bicycles of different brands, styles, as well as features, and for young and old alike. "Find a bicycle shop near me?" We have the list of bicycle shops for you. Tropika Club takes you to the Top 12 Best Bicycle Shops in Singapore.
No Time to Read? Here's a Snappy Summary of This Article
Coast Cycles: A bike shop that designs and manufactures its own bikes, with a focus on urban and lifestyle bikes.
DCBikes: A bike shop that offers a range of bikes, parts, accessories and services, as well as online shopping and delivery.
Treknology 3: A bike shop that is the authorized dealer of Trek bikes, as well as other cycling brands and equipment.
Hello, Bicycle!: A bike shop that sells stylish and affordable bikes, as well as coffee and snacks.
My Bike Shop SG: A bike shop that is the exclusive distributor of several folding bike brands, such as Tern, Dahon and Bickerton.
Pro Cycle Bikes: A bike shop that provides professional bike fitting, servicing and coaching, as well as a variety of bikes and accessories.
Bikes n Bites Singapore: A bike shop that offers a selection of premium bikes, components and apparel from international brands.
Rodalink: A bike shop that is the official dealer of Polygon and Marin bikes, as well as other cycling products and services.
Mr Bicycles: A bike shop that sells vintage and retro bikes, as well as custom-built bikes and accessories.
Cycle Project Store: A bike shop that specializes in fixed gear and single speed bikes, as well as custom paint jobs and wheel builds.
TWD Bicycle: A bike shop that sells mountain bikes, road bikes, hybrid bikes and electric bikes, as well as parts and accessories.
Fishtail Cyclery: A bike shop that focuses on gravel and adventure bikes, as well as bikepacking gear and accessories.
---
1. Coast Cycles
Introduction: According to its website, Coast Cycles has been designing, prototyping and refining pedal and electric bikes since 2014. The bikes that they make are not the result of a clinical process of customer focus groups, but are a moonshot through triangulating, aesthetics, function, and retrieving kid-like emotions of joy, want and escape. Sounds great indeed. Coast Cycles is headquartered in The Netherlands and has outlets across the world, with a cycling shop in Singapore as well. Coast Cycles is popular with bikers and cycling enthusiasts living in the eastern Singapore region, especially for those living in Siglap and East Coast and Telok Kurau area with their biking servicing needs.
Offerings: "We make our bikes so that you want to take them out to ride. It's a simple philosophy that drives us to work hard everyday. From the drawing board to the first prototype to the final production model, we brainstorm, argue, discuss and concur only to repeat the process until we arrive at the 'perfect' bike. How 'perfect'? It makes you want to get on, and ride."
Buzzraw X
Buzzraw Pro
Buzzraw Classic
Quinn
Components
Location: 54 Siglap Dr, Singapore 456176
Contact: +65 6681 6681
Website: https://coastcycles.com/
---
2. DCBikes
Introduction: DCBikes is a family owned and operated company dedicated to all things related to cycling. They profess to know their bikes and love their bikes. They are also committed to making sure that you get the most out of your ride, whether you are a serious competitor or a casual rider. The brothers Dannie, Donald and Demio have set out to create a one-stop shop where customers can purchase top-quality bikes and source exceptional bicycle components. DCBikes also offer bike repair and servicing services, as well as bike cleaning and restoration. If you are looking for a bicycle shop in the eastern part of Singapore or around the Eunos or Kembangan area, you can consider DCBikes for your biking needs.
Offerings:
1.9kg Superlight Kids 12 Inch Junior Balance Bike
DCBikes Bicycle Trade / Mountain Bike Buy In Program
Location: Blk 415 Eunos Road 5 Singapore 400415
Contact: +65 86858855
Website: https://dcbikes.com.sg/
---
3. Treknology 3
Introduction: Treknology3 was founded in 1992 as Trek Bicycle Authorized Distributor and Retailer in Singapore, Malaysia, Sri Lanka, Brunei and Bangladesh. However, many years prior to the founding of Treknology3, founders Mr Haresh Balani has been in the family bicycle retail line since the 1960's under the Cheap John's retail store. Their vision is to To be synonymous with cycling, serve as an active hub for cyclists to access the best bike advice; maintenance; bicycles and accessories via our retail and online stores; and distribution network; and create an inclusive cycling community. Treknology 3 with its various outlets helps to provide bike services and bicycle sales to all corners of Singapore including Jurong East, Bukit Timah, West Coast, Yishun or even Pasir Ris and Tampines.
Offerings:
2021 Trek Fuel EX 7 NX
2021Trek Top Fuel 8 NX
2021 Trek Fuel EX 8 GX
2021 Trek Procaliber 9.7
Location: Multpile locations
Contact: +65 83083475
Website: https://treknology3.com/
---
---
4. Hello, Bicycle!
Introduction: Hello, Bicycle! specializes in bicycles for leisure and commuting, so called lifestyle bikes. Probably they have ultimate range of this kind (in Singapore). If you are looking for fitness bike they have lots to offer. There is a wide range of bicycles for high speed in their store. If you are a professional racer and you need a bike for competitions, probably you have to turn for shops offering such type but don't expect them to be cheap. Take in account, that manufacturing of a light bike may be 1000 $S more expensive for every 150 gm off. Are you sure that you really need this particular type that definitely will cost you about 10 000$S or even over? They believe that 99% of riders don't need this slightly light bike for this price. Hello, Bicycle! sells beautiful and comfortable bicycles for people, who like leisure ridding or even practice cycling as a sport, but are not keen to set professional records.
Offerings:
Altore 7
Dutchi 3I
Dutchi 7I
Kids Bikes
Kids Lil'
Mixte 3I
Mixte 7I
Pronto 10S Mens
Pronto 8S Mens
Location: Multiple locations
Contact: +65 6333 0054
Website: https://hellobicycle.com.sg/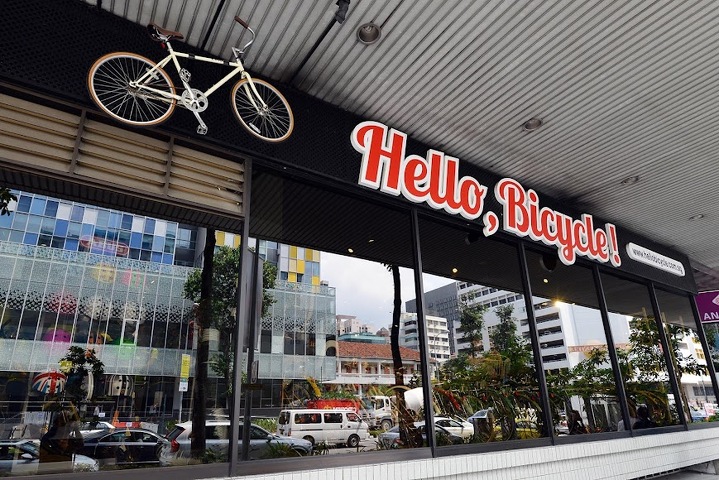 ---
5. My Bike Shop SG
Introduction: At My Bike Shop SG, the owners believe that cycling is a great way to exercise – and exercising in a fun, enjoyable way – that also enhances your life. They started our love and attention on the small-wheeled category of folding mbs-shop-frontagebicycles as we believe that these bring the most benefit to most people – whether you like to cycle to work (and need to carry your bicycle on public transport or find a space at the office to keep it secure) or as a fun way to get out and about with the whole family at weekend, or increasingly, as a great way to enjoy active cycling excitement. They have since extended our cover to Roadbikes and Carbon fiber wheelsets
Offerings:
Tern Link A7
Bickerton 1501
Banian Travel D10
Bike Friday New World Tourist
Bike Friday PakIT
Location:
213 Henderson Road #01-06 S159553
9 Yishun Industrial St 1 #01-77 North Spring Bizhub S768163
Contact: +65 6694 1750
Website: https://mybikeshopsg.com/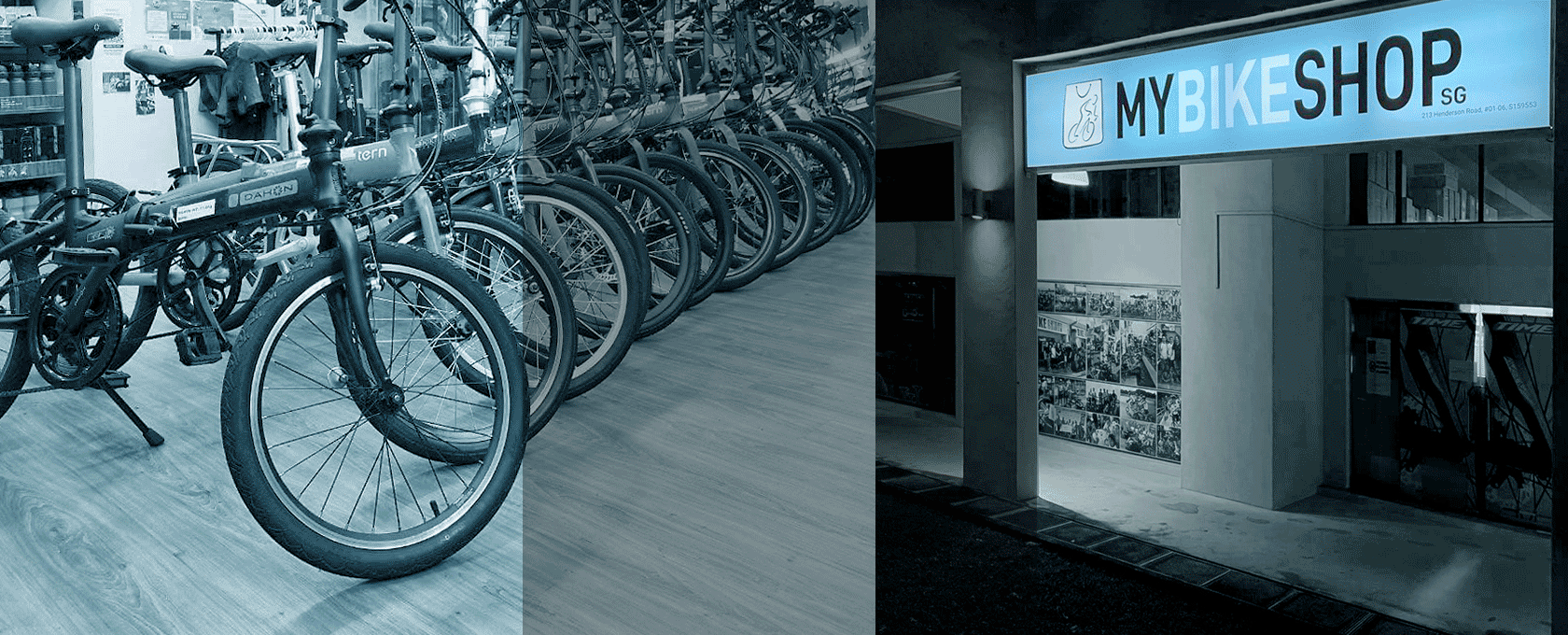 ---
---
6. Pro Cycle Bikes
Introduction: Pro Cycle Bikes is a bicycle shop in Singapore offering bicycle brands like Argon 18, Cervelo, Ridley, Dedacciai, Irwin, Zipp, Fizik, Profile Design, Rudy Project, SQlab, Wahoo, Garmin. They specialized in Road and Triathlon fitting services & bike repair and servicing. At Pro Cycle Bikes Singapore, they believe every cyclist deserves a bicycle that is tailored to ones needs, aspirations and body fit. Pro Cycle Bikes consists of a husband and wife team with a mission to ensure their customers are paired with the best possible bike solution to achieve their sporting and lifestyle goals. They work closely with their customers and their bicycle suppliers to provide dedicated and highly individualized service and a wide range of high quality products.
Darren has spent a lifetime working on cars, motorbikes, trucks and boats and now dedicates his efforts on his greatest passion—bicycles. With years of engineering experience, he is able to get the best performance out of anything that passes through his hands, diagnosing issues mechanical or electronic. Every bike that comes for a servicing is carefully cleaned, inspected and tuned for maximum efficiency and reliability while new builds are curated using a semi-custom approach with the best and most stylish components to meet any budget. Darren's commitment to quality and his integrity has won the trust of many friends and new customers who have utmost peace of mind when handing over their bike for his renowned first class service.
Offerings: Passions runs high in cycling, Pro Cycle Bikes offers professional bikes like Argon 18, Dedacciai, Officina Battaglin, Irwin, 720armour, Fizik in Singapore. All their bicycle and cycle products are handpicked and internally tested to ensure they meet the Pro Cycle Bikes standard. They subject all their frames, wheels and components to real world riding and racing conditions and this personal review process gives us an intimate understanding of their products that allows them to make the best recommendations for their customers.
Location: Blk 11 Jalan Bukit Merah, #01-4446, Singapore 150011
Contact: +65 9072 3533
Website:https://procyclebikes.com.sg/
---
7. Bikes n Bites Singapore
Introduction: Bikes n Bites Singapore was incorporated in 2010 by a group of passionate sportsmen who wanted to offer the sporting community a place to procure premium cycling equipment and technology, supported by expert yet personal service. Bikes n Bites Singapore presents an environment for like-minded individuals to congregate, share their sporting achievements, and expand their network over coffee. They're not about pushing the highest end and most expensive bike to you. They listen to your bicycle or cycle requirements, look out for your best interests and give you advice, even if they're counter-intuitive.
Offerings:
Cervelo
Equilibrium Cycle Works
Exept
Fifty One Bikes
Focus
Moots
Location: 100G Pasir Panjang Road #01-11 Interlocal Centre Singapore 118523
Contact: +65 6336 0952
Website: https://www.bikesnbites.com/
8. Rodalink
Introduction: Rodalink Group started in 1997 as the first and the biggest bicycle retailer in Indonesia. It belongs to the group of Insera Sena, which has grown to be one of the biggest bicycle manufacturers in Asia. Few years later, Rodalink Group decided to extend its operation to Singapore.
Until now, Rodalink has 2 stores located in East Coast and Jurong East. These stores are strategically located to serve you better. An online store website is also available for a convenient 24/7 shopping experience. We are committed to providing you with the best service and products from world-renowned brands. With a wide range of bicycles, parts, and accessories, we offer road, commuting, leisure, and mountain bike needs from various world-renowned brands; Colnago, Polygon, Marin, Shimano, PRO, Giro, Fulcrum, fi'zi:k, Elite, KORE, Continental, Topeak, and many more. Rodalink aims to provide a complete shopping experience for your bicycle needs, whether you are new to cycling or a race professional.
Offerings:
Mountain Bike
Road Bike
City Bike
Touring Bike
Folding Bike
Kids Bike
Women Bike
Assembled Bikes in Box
Location: Multiple locations
Contact: +65 6242 8330 or +65 6795 4320
Website: www.rodalink.com/sg
---
9. Mr Bicycles
Introduction: Mr Bicycles were established by year 2012 in Singapore. When global e-commerce is growing rapidly, they started to spread its wings and became one of Asia 's most specialist retailers. In 2016, Their new warehouse and international logistics center at China Shenzhen was set up. Mr Bicycles insist to deliver a world-class shopping experience to cyclists around the globe, offering the lowest prices on everything you need to feed your cycling habit, and delivering directly to you with no fuss.
Offerings:
TSUNAMI SNM100 COMPLETE FIXIE BIKE/SINGLE SPEED BIKE(Black/WEAPON Groupset)
UNKNOWN PS2 FIXIE BIKE / TRACK BIKE COMPLETE BIKE (Grey / Weapon Groupset)
UNKNOWN PS2 FIXIE BIKE / TRACK BIKE COMPLETE BIKE (Brown/ Weapon Groupset)
LEADER 721 COMPLETE BIKE (Matte Black)
Location: 37 Keppel Road , Tanjong Pagar Distripark, Singapore 089064
Contact: +65 85333908
Website: https://www.mrbicycles.com/
---
10. Cycle Project Store
Introduction: A firm believer of quality goods and services, the company was conceived in late 2012 as an online store to cater to the single-speed bicycle market in Singapore. That focus has since expanded over to road, commuter and gravel bikes over the years. With the aim to assist each cyclist's needs and fellow cycling stores around the globe to cultivate a cycling culture and friendly environment for bike commuting, our mission is to promote cycling to be part of everyone's daily lives.

They believe that each bicycle is akin to a project and as per project, attention to details coupled with proper care and execution should be planned in accordance to the demands of the owner.
Offerings:
Full range of bikes and accessories
Location: 57 Hoon Street Unit 1-80, Singapore 160057
Contact: +65 9457 6343
Website: https://www.cycleprojectstore.com/
---
11. TWD Bicycle
Introduction: TWD Bicycle Pte Ltd is Singapore most trustable source of Premium Euro-Designed Power Assisted Bicycles (Ebike) that support a sustainable green and healthier environment. Great alternative to car-lite walk and cycle lifestyle. All TWD Powered Assisted Bicycles are legal to use in Singapore and has passed the highest Euro safety standard EN15194 and with LTA approval.
As the team from TWD Bicycle are consumers and cyclists too, theye aim to do things right by selecting innovative products that looks good, comfortable, safe and can comply with Singapore regulations beyond.
They aim high for the wellbeing of their customers by giving the peace of mind knowing that their products are fully legal, approved, sealed, documented and registered by Singapore Land Transport Authority. The company work ethos and public responsibility means that they will not sell PABs or ebikes that have not been approved or dangling promises which cannot be delivered later
Offerings:
TWD Bicycle's products are used in many European countries from daily commuters to recreational users, from individual to corporate bike sharing and rentals and have withstood harsh climates and demanding terrains.
​From Apollo Italy award winning designs and Allegro Switzerland attention to details they present products with cutting edge technology, safe and pay off in the end. They too share the burden of people in this planet who have enough of low safety, low quality products that is a burden in the long run.
​TWD Bicycle team members actively work with the manufactures in choosing proper components and in Research and Development to ensure compatibility with local compliances.
Each of their products innovatively designed with European standard, manufactured in the facilities in China, and assembled locally. Each component is scrutinized with great attention to details, from proper frame geometry to precision components, so their valued customers like you can enjoy quality e-riding lifestyle.
Location: 194 Pandan Loop. #05-07 Pantech Business Hub. Singapore 128383
Contact: +65 9738 9114
Website: https://www.twdbicycle.com/
---
12. Fishtail Cyclery
Introduction: The word "FISHTAIL" is not to be confused with the anatomy of a fish: to the folks at Fishtail Cyclery, the word draws inspiration from the patterns created by the skilful side skid stopping of a fixed gear bicycle.
Three months after the company's founding in January 2015, Fishtail Cyclery sent a team to compete in the world's premier fixed gear bicycle race – the Red Hook Criterium, Brooklyn, New York leg in April 2015. The tremendous effort, which they termed The FISHTAIL X GRÜN Red Hook Criterium Brooklyn No. 8 Effort, was the first co-operative initiative by a Singaporean bicycle shop and a Singaporean bicycle frame manufacturer to further the sports of fixed gear cycling in Singapore. The initiative was part of an effort to promote fixed gear cycling as a serious sporting activity – Fishtail Cyclery was the first in Singapore to send a team of riders to Brooklyn, NYC to compete in the world's premier track bike event.
At Fishtail Cyclery, they aim to raise awareness and help foster vibrancy within the fixed gear cycling community of Singapore and South East Asia. They are motivated by the relentless pursuit of excellence and the smile on your face when you collect your bike validates their belief that they are partners to their customers and what they build together will help you reach your next destination in life.
Fishtail Cyclery stocks specialised bicycles in SIngapore, with premium bike gear as well as provide cycle repairs adn related services.
Offerings:
CINELLI Superstar Disc 2022 Ultegra Full Bike
CINELLI Vigorelli Shark Red Alert Frameset
Andel Tracer 21 Cranker with BB
Ascent Adamant Track Wheelset
Centurio Primus Frameset
Location: 801 French Road #02-49 Singapore 200801
Contact: +65 86876686
Website: https://www.fishtailcyclery.com/
---
Conclusion
If you love cycling, you'll be happy to know that Singapore has many bike shops that can cater to your needs. Whether you're looking for a new bike, a bike repair, or some cycling gear, you'll find a bike shop that suits your preferences and budget.
In this article, we've listed the top 12 best bicycle shops in Singapore, based on their products, services, and customer reviews. These bike shops offer a variety of bikes, from road bikes to mountain bikes, from folding bikes to electric bikes, and from custom-made bikes to vintage bikes. They also have a range of accessories, such as helmets, lights, bags, and locks. Some of them even have cafes or workshops where you can enjoy a cup of coffee or learn some bike maintenance skills. No matter what kind of cyclist you are, you'll find a bike shop that can help you get the most out of your cycling experience.
So, what are you waiting for? Check out these bike shops and get ready to hit the road or the trail with your bike! And if you need more tips on how to stay fit and healthy, don't forget to visit Tropika Club Magazine for more articles and guides. Tropika Club Magazine is your online destination for wellness, beauty, and lifestyle in Singapore. We bring you the latest news, trends, and tips on how to live your best life in the Lion City. Whether you're looking for a spa, a gym, a salon, or a clinic, we have you covered with our comprehensive directory and reviews. You can also book your appointments online with our easy and convenient platform. So, join us today and discover the best deals and offers in Singapore!
Frequently Asked Questions (FAQ)
Q: What are the benefits of cycling in Singapore?
A: Cycling is a great way to stay fit, save money, reduce carbon emissions, and explore the city. Cycling can also improve your mental health, mood, and creativity. You can cycle along the many park connectors, nature trails, and bike paths in Singapore, or join a cycling group or club for more fun and social interaction.
Q: Where can I buy a bicycle in Singapore?
A: There are many bicycle shops in Singapore that offer a variety of bikes, from city bikes to mountain bikes, from road bikes to hybrid bikes, and from foldable bikes to electric bikes. You can also buy bike accessories, such as helmets, lights, locks, bags, and gloves. Some of the best bicycle shops in Singapore are Bike Continent, Bike Haus, Bike X, BYX, Chapter 2 Bikes, Hello Bicycle, Hup Leong Company, My Bike Shop, Rodalink, The Urban Bike, Tiong Hin Co. Tyre, and Treknology 3. You can read more about them in our article on the top 12 best bicycle shops in Singapore.
Q: How do I choose the right bicycle for me?
A: Choosing the right bicycle depends on your budget, preference, and purpose. You should consider the following factors when buying a bicycle:
The type of bike: City bikes are good for general daily use and comfort. Mountain bikes are good for rough terrains and stability. Road bikes are good for racing and long-distance cycling. Hybrid bikes are good for speed and versatility. Foldable bikes are good for portability and convenience.
The size of the bike: The bike should fit your height and body type. You should be able to stand over the bike with some clearance between your crotch and the top tube. You should also be able to reach the handlebars and pedals comfortably.
The quality of the bike: The bike should be durable, reliable, and easy to maintain. You should check the frame material, the components, the brakes, the tires, and the gears. You should also test ride the bike before buying it.
The style of the bike: The bike should suit your personality and taste. You can choose from different colors, designs, and features. You can also customize your bike with stickers, decals, or paint jobs.
Q: How do I take care of my bicycle?
A: Taking care of your bicycle will extend its lifespan and performance. You should do the following things regularly:
Clean your bike: Use a soft cloth, water, and mild soap to wipe down your bike. Avoid using harsh chemicals or abrasive materials that can damage your bike. Dry your bike thoroughly after cleaning it.
Lubricate your bike: Use a bike-specific lubricant to oil your chain, gears, cables, and other moving parts. Avoid using too much or too little lubricant that can cause dirt buildup or friction.
Check your bike: Inspect your bike for any signs of wear and tear, such as cracks, rust, loose bolts, flat tires, or broken spokes. Fix any problems as soon as possible or bring your bike to a professional mechanic if needed.
Store your bike: Keep your bike in a cool, dry place away from direct sunlight or rain. Use a bike cover or a lock to protect your bike from theft or vandalism.
Q: How do I stay safe while cycling in Singapore?
A: Staying safe while cycling in Singapore requires following the rules of the road, being aware of your surroundings, and wearing proper gear. You should do the following things when cycling in Singapore:
Follow the rules of the road: Obey traffic signals, signs, and markings. Ride on the left side of the road or on designated bike paths. Signal your intentions before turning or changing lanes. Give way to pedestrians and other vehicles.
Be aware of your surroundings: Look out for potential hazards such as potholes, debris, wet surfaces, or blind spots. Keep a safe distance from other cyclists and vehicles. Use your bell or horn to alert others of your presence.
Wear proper gear: Wear a helmet that fits snugly and securely on your head. Wear bright or reflective clothing that makes you visible at night or in low-light conditions. Wear gloves that protect your hands from blisters or injuries. Wear sunglasses that protect your eyes from glare or dust.
Q: How do I have more fun while cycling in Singapore?
A: Having more fun while cycling in Singapore requires exploring new places, joining new communities, and learning new skills. You can do the following things to have more fun while cycling in Singapore:
Explore new places: Discover new routes, parks, trails, or attractions that you can cycle to. Challenge yourself to cycle longer, faster, or harder than before. Enjoy the scenery, the fresh air, and the freedom of cycling.
Join new communities: Meet new friends, mentors, or partners who share your passion for cycling. Join a cycling group, club, or event that matches your level, interest, or goal. Share your experiences, tips, or stories with other cyclists.
Learn new skills: Improve your cycling skills, such as balance, speed, endurance, or technique. Learn how to do basic bike maintenance, such as changing a tire, adjusting a brake, or fixing a chain. Learn how to do tricks, stunts, or wheelies on your bike.
Have a Place to Recommend?
Your contribution is valuable to us! Are there any outstanding businesses that you believe should be added to our list? If so, please send your recommendations to us at [email protected]. Tropika Club will review your suggestions and update the list accordingly. Thank you for your help in making our list of businesses as comprehensive and accurate as possible.
---
Meanwhile, Check out Tropika Club's Ecosystem of Websites
Tropika Club Magazine – Tropika Club Magazine is a Singapore-based publication that features articles on a wide range of topics with a focus on local businesses and content for the region. The magazine emphasizes supporting local businesses through its #SupportLocal initiative, which includes coverage of everything from neighborhood hawker stalls to aesthetic clinics in town. In addition to highlighting local businesses, Tropika Club Magazine also covers a variety of local content, including beauty, lifestyle, places, eats, and what's on in Singapore and the Asia Pacific region.
Tropika Club Deals – Tropika Club Deals is a leading online deals and voucher shopping site in Singapore, offering amazing discounts on beauty, wellness, and fitness products and services. It's the perfect platform for customers who want to discover the best deals without having to commit to a specific appointment date and time. These deals are available at major beauty stores, facial salons, hair salons, and other brands in Singapore, with no minimum spend required. Choose from guaranteed discounted deals in the categories of hairstyling, hair removal, facial & aesthetics, body slimming, brows & lashes, nails & makeup, massage & spa or fitness & wellness. Tropika Club Deals is also ideal for customers who want to buy vouchers as gifts or to use for the future. So whether you're looking to save money on your next haircut or want to treat yourself to a relaxing massage, Tropika Club Deals has got you covered with the best voucher and coupon deals in Singapore!