Top 10 Facial Salons in East Singapore
Welcome to the world of pampering and beauty! East Singapore is renowned for its abundance of facial salons that offer an array of services and treatments for every budget. Whether you're looking for a simple and quick facial or something more advanced and luxurious, you'll find what you need in these top 10 facial salons in East Singapore. Here, we will explore the best places to go for all your skincare needs. You can probably find a great salon for your favourite facial treatments even in the quaint neighbourhoods of Tai Seng, Punggol, Serangoon, and Kovan. So here are Tropika Club's top 10 facial salons in North-Eastern Singapore for your consideration.
---
---
#1 Spa Aperial Beauty Hair and Nail (Serangoon)
Introduction: Face, Body, Spa & Nail indulgences are professionally and friendly pampered by our Certified Experience Therapists and Beauticians.
Spa Aperial offers a wide variety of High Technology Germany Facial Treatment such as our Signature Elight Skin Tightening, Cold Blue LED Anti Acne Treatment, Oxygen Infusion Jet, Far Infrared Anti Wrinkle Treatment and Permanent Elight Hair Removal & Whitening Treatment. Get in shape with our 3 in 1 Thala Slim and JAMU Tummy Trimming. Let their skilled hands rub and knead out aches and stress.
They promise to fulfil complete wellness with the Best Services, Quality Product and Edge Cutting Technology for you to achieve the results you desire. Leave behind the chaos and stress behind and let us take care of you to attain the perfect balance of Body, Mind & Soul.
Their VISION
They endeavour to become a strong brand that promises quality, customer satisfaction and a one-stop holistic approach to provide beauty and health care for our client.
Their MISSION
Leading a positive and innovative culture, they aim to create lifelong relationships with their client and help to achieve any single client desire with their best combination of products, services, customer care, latest beauty equipment technology and professional consultations
The Treatment:
Eye Brow Shaping
All angles of the face are determined by the brows. They can lift the eyes, narrow or widen the face. Discovering the best shape for your eyebrows with sacrificing their natural appearance is what you want to accomplish when shaping your brows.
Check them out at:
---
#2 Avone Beauty Secrets (NEX Outlet)
Introduction: 10 different locations islandwide to choose from. Only Beauty and Embroidery Faceworks Chain in Singapore to receive recognition from the prestigious International Beauty And Health General Union of Korea. 16 years of experience in Beauty and Embroidery Faceworks. Multi Beauty Awards Winners and Member of the Singapore Beauty and Wellness Association (SWAS). Each unique embroidery technique uses different (Korean Manufactured) special needle blades specifically designed to enhance the delivered techniques, giving amazing results.
The Treatment:
AVONE VITA RENEW FACIAL SPA
For those who desire a lighter, more uniform complexion. This intense treatment has preventive and corrective actions to help diminish pigmentation disorders. Guaranteed to leave your skin brighter, more radiant and lightened. Their Specialized Vitamin C Serum acts as an antioxidant and fights free radicals that damages skin and cause photo-ageing. In addition, it also boosts collagen production at the epidermal level to keep skin supple and wrinkle-free.
Check them out at:
Location: 23 Serangoon Central, #02-40, Singapore 556083 (At Serangoon MRT)
Hotline: +65 6509 1151
Website: http://www.avone.sg/
---
#3 Theresa Body Skin Wellness (Hougang)
Introduction: Established in 1987, Theresa Beauty started out in Ang Mo Kio with its first outlet and expanded to other outlets islandwide. Theresa Body Skin Wellness started out with humble beginnings and through their team of experienced aestheticians, they have established the brand as a household name with the support of their loyal customers and team members.
Mission
To help their employees and customers to get more out of life. Achieve optimal health, fulfilled life at work through supportive partnerships and genuine service from the heart.
Vision
At Theresa, they see every customer as a seed of potential beauty. Seeds come together to form the petals of a blooming flower, exemplifying Theresa's mission to help customers develop a fabulous shape by unveiling the potential beauty within them.
The Treatments:
1. Rejuvenating GlowThavma Therapy
Thavma Therapy erases expression lines without the use of surgical intervention. With its cutting edge technology EFFECTOX™, a cocktail of peptides and new-generation active ingredients that inhibits the mechanism that is responsible for the creation of expression lines and wrinkles, meaning when you laugh, frown, smile and squint -­ the lines don't crease up as much. EFFECTOX™ allows your skin to:
Reduce muscle contractions
Hydrate and Glow
Lift and Tighten
Thavma Therapy also contain Leuphasyl which relaxes the muscle along with avocado oil, Vitamin A and E.
2. Painless HIFU Technology With Same Results
SygmaLIFT HIFU is the latest HIFU (High-Intensity Focused Ultrasound) technology designed to enhance non-surgical facelifts. The facelift transformation process is pain-free, injection-free & surgical-free.
Utilising the innovative Tri-Micro Focal Ultrasound, the SygmaLIFT HIFU can target 3 depth under the skin to regenerate collagen production. Used in conjunction with the cold laser, it can:
Promote more effective healing & tissue repair
Stimulate collagen production
Melt the facial fats to lift and tighten skin
Check them out at:
---
#4 Wellaholic (Kovan)
Introduction: Wellaholic's vision is to help their customers look their best with the best rates in Singapore. They offer a range of aesthetic services, including technology facials, microneedling, permanent hair removal, hair regrowth, fat freeze, RF body sculpting and teeth whitening. Wellaholic has seven outlets, with Tai Seng as HQ, Jurong East, Orchard, Clarke Quay, Tg Pagar, Bright Hill and Lavender. They believe in offering quality services to their customers, with excellent customer service and definitely no hard-selling.
The Treatment:
1 hour and over *Price varies from $290 for the entire package
WellaFacial™ is Wellaholic's signature facial regime, designed for customers who want an extensive all-inclusive facial regime which includes the latest technologies to promote cellular renewal and anti-ageing. WellaFacial™ provides additional free treatments to help our customer look their best at an affordable per-session pricing. Unlike typical facials which involves steaming the face, and manual extraction of blackheads, etc., Wellaholic advocates the use of technology and scientifically proven methods to help our customers with their anti-ageing regime. The result– visible differences over the course of a three-to-six month period.

Ultimate Anti-Ageing Facial Treatment which includes the following treatments in a month:
WellaBoost with 4 Serums
Microneedling Face
Microneedling Neck
LED Cell Regeneration Facial
Check them out at:
Location: 208 Hougang Street 21, #03-207, Singapore 530208
Hotline: +65 8181 1814
---
---
#5 Artemis Beauty (Serangoon)
Introduction: Being beautiful doesn't have to be difficult. At Artemis Beauty, you get the help of the best beauty experts in the industry, you'll find that it's easy to maintain gorgeous skin, achieve a radiant complexion, and stay youthful-looking. Browse through their list of beauty services, including massage, nails, IPL and Spa to look your best.
The Treatments:
Face Yoga Facial Treatment
USING VINU SHAPE MINI RF TREATMENT, the waves penetrate the skin and create the formation of new collagen, increasing oxygenation and giving you great tissue circulation. It helps to tone and tighten your skin and there is no downtime.
Pigmentation
Reinforce the skin's natural properties and preserve its good condition. Their products are specially blended with essential oils and the result will be a brighter, youthful-looking skin. Helps to reduced pigmentation
Check them out at:
Location: Blk 214 Serangoon Ave 4, #01-96, Singapore 550214
Hotline: +65 6280 0170
---
#6 Vienna Vogue
Introduction: In fact, it looks best when a pro does it by hand. When it's done right.
Vienna Vogue specializes in professional and responsible services to anyone who wants to be pampered themselves. They are recognized by International Baccalaureate. The company takes strict care of every service offered by its employees, and continuously improves the quality of the company, providing the best and most satisfactory technology and service to the customers. Company beauticians are certified by the British International Diploma, Taiwan Certified International Diploma, participate in each competition trophy and certificate can be seen in this shop. They hope you will contact them every time you want to become better. They will have the specialist to solve your problems and needs, giving you the best and most perfect solutions.
The Treatments: Their facial product all come from US which is suitable to all skin type. Facial is essentially a multi-step skin treatment that is one of the best ways to take care of your skin. A facial cleanses, exfoliates, and nourishes the skin, promoting a clear, well-hydrated complexion and can help your skin look younger. Facial works best when it is part of an on-going program of skin care.
VIENNA'S FACIAL THERAPY
They provide every type of facial treatment by a beauty specialist. Latest machine, unique approach ,100% verified product.
Check them out at:
Location: #01-01 Spazio Kovan, 767 Upper Serangoon Road, Singapore 534635
Hotline: +65 6581 4828
Website: http://viennavoguesg.com/
---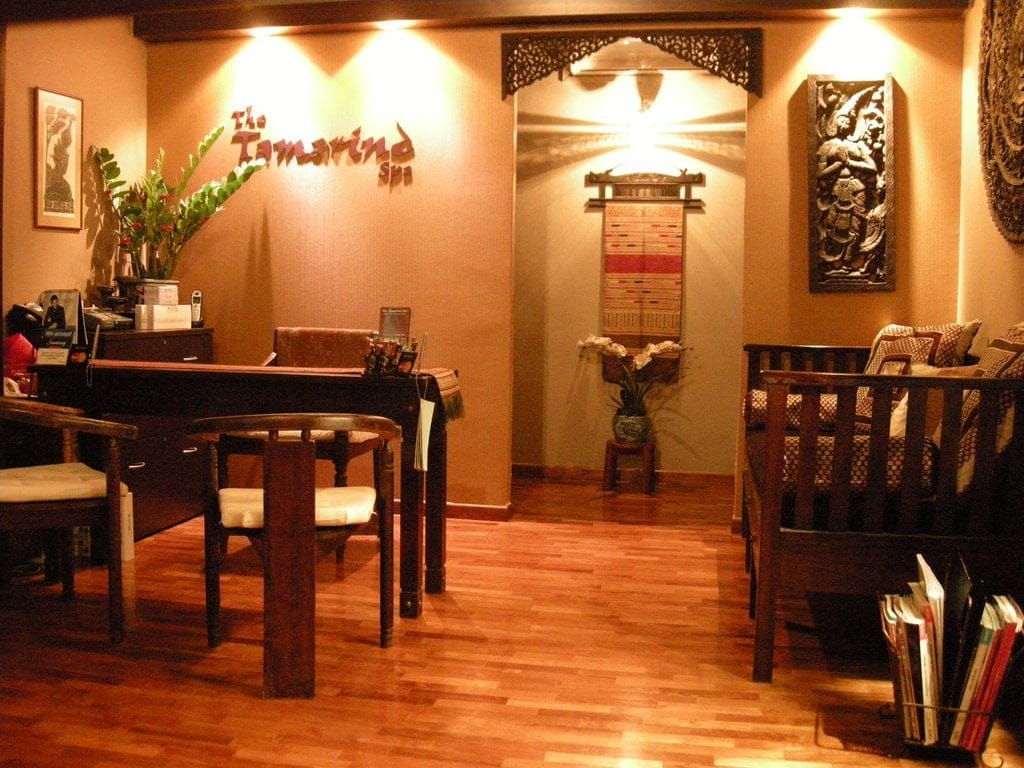 #7 The Tamarind Spa
Introduction: Incorporated in 2003, The Tamarind Spa opened its first uniquely cosy designed shophouse set-up in Serangoon Gardens Estate. They specialise in massage therapy that relax, renew and rejuvenate. Tamarind Spa has been awarded as one of the Best Spas in Singapore by Gayot.
The Treatments:
SKIN PERFECTING DETOXIFYING FACIAL- $ 128
RE-BALANCE COMPLEXION
It reduces sebum flows, refine pores and mattifies the complexion of combination or oily T-zone problems skin . With Sebucon Complex Perfect Combination harmonizing the overall appearance of the skin. Leaving your skin with a beautiful matte appearance.
Anti-Oxidant Moist Intense Facial- $138
TRIPLE MOISTURE VITAMIN C
Triple moisture action from Mexican cactus & pomegranate replenishes the skin's reservoirs with vitamin C. Hyaluronic acid binds the moisture, leaving your skin felt silky soft and smooth with long-lasting effect keeping the skin water circulation intact. Suitable for all skin types especially summer-lovers.
Check them out at:
Location: Address 8A Kensington Park Road, Serangoon Gardens Estate, Singapore 557260
Hotline: +65 6285 2696
#8 Ella Earth Beauty
Introduction: The founder of Ella Earth Beauty has over 15 years of experience dealing with skincare and facial care. Before "Ella Earth Beauty" was born, she was doing facial in a home-based environment in Seng Kang & then moved on to a retail shop in Kovan.
The Treatments:
PH Balance Facial
This is a basic facial which includes cleansing, extraction and the use of machinery. Top up $30 for ampoule to further nourish your skin.
Check them out at:
---
#9 Mary Chia (NEX)
Introduction: Mary Chia is a homegrown and leading beauty and wellness spa brand with over 30 years of experience and expertise in providing premium and quality beauty, slimming and spa services for women. Mary Chia has ten studios in Singapore and six studios in Malaysia. Mary Chia is also the first lifestyle and wellness service provider to be listed on the SGX-ST Catalist board in August 2009. The Mary Chia brand has received numerous awards and accolades over the years. Founders Ms Mary Chia and CEO Ms Wendy Ho were both awarded The Entrepreneur of the Year Award, organized by ROTARY-ASME in 2004. In 2005, Mary Chia was awarded the Singapore Prestige Brand Award. Mary Chia was awarded Superbrands in year 2004/2005 and also in 2009. They are also accredited by CASETrust and ISO certified for service excellence.
The Treatments: The facial treatments for lifting & firming or rejuvenation, meanwhile, feature Wave Frequency Advanced Facelift, Face Lifting Programme, RadianX Phototherapy (RXP), Crystalite Face Rejuvenation,Oxy3 Face Spa, Diamond Face Sparkler, Rejuvenating Peel Treatment, Purifying New Facial, as well as Refreshing Eye-scapade.
Check them out at:
Location: 23 Serangoon Central, #04-47/48, Singapore 556083
Hotline: +65 6344 2866
---
#10 Urban Homme Face & Body Studio For Men (NEX)
Introduction: Incorporated in 1994, the company is today one of the leading lifestyle and wellness salon brands in Singapore. Each of the salons provides premium and quality beauty, slimming, hair removal and spa services.
From the beginning, the aim of the company has been to help the clients look and feel their very best through efficacious, safe, and effective treatments and products.
The Treatments: Face treatments include an Aroma Essence Face Massage and a Face Rejuvenation Programme, as well as treatments for double chins and eyebrow enhancements. If safety is a concern, rest assured that all treatments at Urban Homme are safe and medically-certified with high-end, patented technology. Where necessary, certain treatments (like inventive liposuction and face fillers) will only be carried out by certified doctors.
Check them out at:
---
INTERESTED TO BE FEATURED ON THIS LIST?
If you are interested to be featured in Tropika Club's top picks, do write to us via our email. Tropika Club will do a comprehensive review of your treatments and customer journey as part of our verification and validation process.
---
Meanwhile, check out Tropika Club's Ecosystem of Websites

Tropika Club Magazine – Tropika Club Magazine crafts articles on all things Singapore, but with a greater emphasis on local businesses based on our #SupportLocalSG initiative. We check out and feature local businesses of all categories, ranging from your neighbourhood hawker stalls to the aesthetic clinics in town. We also cover local content ranging from beauty, lifestyle, places, eats and what's on in SIngapore. Our Top 10 rankings include local food and service establishments based in different regions in Singapore.
Tropika Club Deals – Search for the best voucher and coupon deals. Tropika Club Deals is ideal for customers who want to discover the best deals without having to commit to a specific appointment date and time. Choose from guaranteed discounted deals in the categories of hairstyling, hair removal, facial & aesthetics, body slimming, brows & lashes, nails & makeup, massage & spa or fitness & wellness. Customers can also buy vouchers as gifts or to use for the future.