Top 10 Restaurants in Singapore Serving Awesome Moussaka
Singapore is a vibrant and diverse country known for its rich culture and delicious cuisine. If you're looking for the best places to try moussaka, a traditional Mediterranean dish made of eggplant, cheese, and ground meat, this article has got you covered. Here we will be exploring the top 10 restaurants in Singapore that serve an amazing moussaka. From fine dining experiences to casual eateries, these restaurants are sure to please all palates.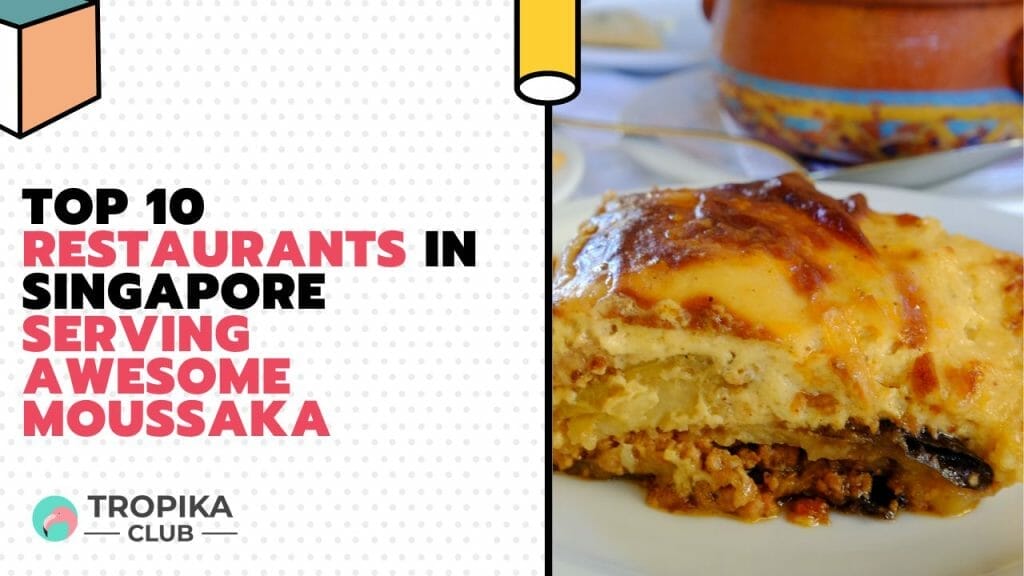 ---
#1 – BAKALAKI Greek Taverna
Introduction:
BAKALAKI is Greek cuisine at its best. Located in the heart of Tiong Bahru, this restaurant and taverna is the new Mediterranean hotspot in Singapore. BAKALAKI Greek Taverna enriches Singapore's increasingly sophisticated food scene, exploring the rich culinary history and fabulous offerings of the Eastern Mediterranean.
BAKALAKI offers the best from regional producers, as traditional ingredients are sourced from authentic Greek suppliers. Taking pride in their culinary traditions, the restaurant also serves authentic seafood specialities from the Mediterranean basin that are loved by generations.
Type of Food:
Salad
Dessert
Fish and seafood platters
Location:
38A Martin Road #01-01, Singapore, Singapore
Contact:
+65 6836 3688.
Website: Website Link Here
---
#2 – Beirut Grill
Introduction:
A unique yet divine dining experience. Established since 2009, serving some of the finest Lebanese and Middle Eastern cuisine in Asia, Beirut Grill will most definitely stimulate and delight your senses with the taste of our mouth-watering mezza infused with olive oil, spices and herbs. All key spices and herbs are imported from the finest shops in Beirut, Lebanon.
Type of Food:
Location:
72 Bussorah Street, Singapore, Singapore
Contact:
+65 9069 1925
Website: Website Link Here
---
---
#3 – Blu Kouzina Siglap
Introduction:
Restaurant born out of the love of sharing a hearty meal with friends, spiced with quality olive oil and good wine. Since 2010, Blu Kouzina is recognized as one of the oldest ( & Best ) Greek restaurant in Singapore. We are committed in bringing Greece to you by offering quality Mediterranean cuisine, great Greek wines and unique Helenic products.
Type of Food:
Location:
10 Dempsey Road, #01-20, Singapore, Singapore
Contact:
+65 91010681
Website: Website Link Here
---
---
#4 – Pistachio Middle Eastern & Mediterranean Grill
Introduction:
Helmed by Chef Khaled Elelimi, Pistachio Middle Eastern & Mediterranean Grill is a halal restaurant that offers popular classic dishes with a contemporary twist.
Chef Khaled is a firm believer that good health begins with a healthy diet, He combines decades of international culinary experience with his knowledge in Ayurveda and Glycemic Index to create food with nutritional richness and exquisite flavour. No trans fats or artificial ingredients will be used in the cooking.
Type of Food:
Order online
Pizza
Birthday cake
Reservation
Location:
501 Orchard Road, #02-04/05 Wheelock Place, Singapore 238880
Contact:
+65-6262 6400
Website: Website Link Here
---
#5 – Mykonos
Introduction:
Mykonos On The Bay is an extension of co-owners Executive Chef Mauro Muroni and General Manager Gerri Sottile's time in Greek Tavernas around the Hellenic Islands in Greece. As part of the Mangiatutto Group of Restaurants, our focus is on authentic Greek cuisine using the freshest and finest ingredients.
Type of Food: :
ARTISAN BREAD
MOUSAKA
EPIDORPIA "DESSERTS"
PITA GYROS
Location:
31 Ocean Way #01-10 Quayside Isle Sentosa Cove Singapore 098375
Contact:
+65 6334 3818
Website: Website Link Here
---
#6 – Hummus & Tandoor
Introduction:
Turkish cuisine is inherently healthy and highly seasonal, with many dishes being built around the multitude of fresh produce available!
The flavours and spices that go into Turkish foods are not only delicious, but they have antioxidant properties, working to lower cholesterol, eliminate toxins, and boost immunity.
Type of Food:
Arabic salad
Lentil soup
Mezza Platter
Location:
58 Arab St, Singapore 199755
Contact:
+65 8372 8786
Website: Website Link Here
---
_

Read Also:


Top 10 Best Turkish Restaurants in Singapore

_
---
#7 – Alati Divine Greek Cuisine
Introduction:
ALATI, or salt from the ancient Greek word ἅλας, takes great pride in serving only the freshest produce wild-caught by the hands of the fishermen at the Aegean Sea. Donning its traditional uniform of blue and white, the casual and comfortable restaurant with an ambiance reminiscent of Cyclades opened its doors for business on 30th September, 2015. Everything in the menu, from the meat to the pastry to the bread, are made painstakingly and meticulously by hand.
Type of Food:
Grilled Octopus
Lamb Baklava
Bakaliaros Skordalia
Location:
73 Amoy Street, Singapore 069892
Contact:
+65 8751 9138
Website: Website Link Here
---
#8 – House of AnLi Bistro
Introduction:
House of AnLi is the brainchild of Anne-Jean Liétaer and Panagiotis Lynas, more than that — it is a home created by the long-time partners who have spent their lives seeking and sharing inspiration with others everywhere they went.
What started as a playful game of word between Anne-Jean and Panagiotis, resulted in the name of their culinary adventure: Pano Kato, opened in 2018.
Pano Kato means in Greek – Panagiotis's mother tongue – upstairs downstairs. Thus referring to House of AnLi store & bistro upstairs (Level 3) and House of AnLi & Pano Kato downstairs (Level 2) in Tanglin Mall.
The Greek origin of the words Pano Kato refers to the Mediterranean cuisine that is served in all it's simplicity. Simple, unpretentious, pure are key words in Anne-Jean's and Panagiotis' taste for delicious home cooked style food using great ingredients from the Mediterranean.
Type of Food:
Grilled sOUVLAKI
SIMPLY VEGAN PIZZA
CLASSIC BOLOGNESE pasta
Awesome pano kato's burger
Location:
#02-142/144 Tanglin Mall (level 2 – next to main taxi stand)
Contact:
+65 6235 5056
Website: Website Link Here
---
#9 – Derwish-Turkish
Introduction:
Derwish Turkish Mediterranean Restaurant Singapore is an opulent and elegant Turkish restaurant specialising specifically in halal dishes. Located in Kampong Glam on Bussorah Street, this stylish restaurant is a must-try if you love delicious food packed with flavour. Serving everything from Turkish pide with all manner of toppings to succulent halal meat from the charcoal grill; and from kebabs to fresh seafood, let's just say you'll be in for a feast to remember at Derwish Turkish Mediterranean Restaurant. Situated only a short walk from Sultan Mosque in the heart of Kampong Glam/Beach Road/Arab street, make a reservation and treat yourself to a Turkish and Mediterranean feast. You won't be disappointed.
Type of Food:
Doners & Wraps
Ottaman Signature
Kebab Specialisties
Assorted Meat Platters
Pasta & Pide
Location:
Derwish Turkish Mediterranean Restaurant 60 Bussorah Street, Singapore 199476
Contact:
+65 6298 8986
Website: Website Link Here
---
#10 – Alaturka
Introduction:
Located in historic Kampong Glam, Alaturka is a purveyor of fine Mediterranean cuisine prepared by the most experienced of Turkish chefs.
We opened our doors in May 2005 located in enclave of iconic Arab Street. Since then, we have been serving high quality interpretations of classic Turkish dishes as well as tasty new ventures into uncharted territories of Mediterranean food.
We were awarded the Michelin Guide Singapore Bib Gourmand in 2016 and continue to work hard to bring Singapore an authentic taste of Turkey.
Type of Food:
Turkish Pizza
Charcoal-Grilled Meats
Traditional Dishes – Geleneksel
Seafood – Denizden
Location:
15 Bussorah Street, Singapore 199436
Contact:
+65 6294 0304
Website: Website Link Here
---
Have a Place to Recommend?
Your contribution is valuable to us! Are there any outstanding businesses that you believe should be added to our list? If so, please send your recommendations to us at [email protected]. Tropika Club will review your suggestions and update the list accordingly. Thank you for your help in making our list of businesses as comprehensive and accurate as possible.
---
Meanwhile, Check out Tropika Club's Ecosystem of Websites

Tropika Club Magazine – Tropika Club Magazine is a Singapore-based publication that features articles on a wide range of topics with a focus on local businesses and content for the region. The magazine emphasizes supporting local businesses through its #SupportLocal initiative, which includes coverage of everything from neighborhood hawker stalls to aesthetic clinics in town. In addition to highlighting local businesses, Tropika Club Magazine also covers a variety of local content, including beauty, lifestyle, places, eats, and what's on in Singapore and the Asia Pacific region.
Tropika Club Deals – Tropika Club Deals is a leading online deals and voucher shopping site in Singapore, offering amazing discounts on beauty, wellness, and fitness products and services. It's the perfect platform for customers who want to discover the best deals without having to commit to a specific appointment date and time. These deals are available at major beauty stores, facial salons, hair salons, and other brands in Singapore, with no minimum spend required. Choose from guaranteed discounted deals in the categories of hairstyling, hair removal, facial & aesthetics, body slimming, brows & lashes, nails & makeup, massage & spa or fitness & wellness. Tropika Club Deals is also ideal for customers who want to buy vouchers as gifts or to use for the future. So whether you're looking to save money on your next haircut or want to treat yourself to a relaxing massage, Tropika Club Deals has got you covered with the best voucher and coupon deals in Singapore!