Top 10 Restaurants in Singapore Serving Magical Mussels
Singapore is a culinary paradise that offers an incredible variety of delicious dishes, one of which is mussels. Mussels are a popular seafood dish enjoyed by many all around the world for its unique, succulent flavor and texture. If you're looking for the best places to get mussels in Singapore, then you've come to the right place! Here's a list of the top 10 restaurants serving magical mussels across the city-state.
---
#1 – DB Bistro & Oyster Bar
Introduction:
Chef Daniel Boulud, Chef-Owner
Daniel Boulud is Chef-Partner of DB Bistro and Oyster Bar. He is considered one of America's leading culinary authorities and has become renowned for the contemporary appeal he adds to soulful French cusine. Daniel was raised on his family's farm in the village of Saint-Pierre-de-Chandieu outside Lyon, France, but has called New York City his home since 1983.
Daniel Boulud's eponymous restaurant in New York City is his flagship DANIEL. db Bistro Moderne, is the sister restaurant to Singapore, a contemporary Parisian bistro located one block from Times Square. Daniel owns and operates six other operations in New York City as well as restaurants in London, Washington DC, Boston, Miami, Palm Beach, Toronto, Montreal,
In 2015, the World's 50 Best Restaurants awarded Boulud its Lifetime Achievement Award for his success as a restaurateur, businessman, and 'chef who is revered as one of the world's finest. Chef Boulud's culinary accolades include James Beard Foundation awards for "Outstanding Restaurateur", "Best Chef of New York City" and "Outstanding Chef of the Year". In addition, Restaurant Daniel was also cited as one of the 10 best restaurants in the world by the International Herald Tribune and has earned multiple Michelin stars and Wine Spectator's "Grand Award". Chef Boulud has also authored nine books and created three seasons of the television series After Hours with Daniel.
Menu Items:
BRUNCH
LUNCH
DINNER
DESSERT
Location:
The Shoppes at Marina Bay Sands, B1-48, Galleria Level (Across from the Theaters), 2 Bayfront Avenue, Singapore, 018956.
Contact: +65 6688 8525
Website: Website Link Here
---
#2 – The Orchard Cafè
Introduction:
The Orchard Cafe's rejuvenation reveals a stylish ambience and brand-new layout incorporating a naturally-lit indoor bar with floor-to-ceiling windows and an al fresco seating section set against lush greenery – a cosy haven to wine and dine.
Diners will savour locally-inspired signatures such as Wok-fried Slipper Lobster with Salted Egg Yolk sauce and an array of Asian noodle dishes served at a live Noodle Bar. Long-time fans will also enjoy the revival of classic fare including Braised Pork Bee Hoon, Charcoal-grilled Satay and Tau Suan.

Upbeat and distinctive, The Orchard Cafe is the ideal dining destination to savour delicious taste memories of Singapore's culinary heritage and delight in best-in-class contemporary cuisines.
Menu Items:
ALL DAY DINING MENU
CHARGRILL STEAK AND SEAFOOD MON – THU BUFFET MENU
CHARGRILL STEAK AND SEAFOOD FRI – SUN BUFFET MENU
Location:
442 ORCHARD ROAD SINGAPORE, 238879, SINGAPORE
Contact: +65 6739 6565
Website: Website Link Here
---
---
#3 – Kucina Italian Restaurant
Introduction:
Kucina Italian Restaurant is founded in June 2016 by Chef Gero @ Omar, an Italian-Muslim revert, who has over 30 years of experience in Italian cuisine. Realising that there's no authentic and halal Italian food in Singapore, he decided to open the first one. Chef Gero wants to introduce Italian food to the Muslim community, who may not have the chance to enjoy such food due to the ingredients commonly used in Italian dishes.
Authenticity, in Kucina's context, is all about retaining the original method of preparing Italian food – no short-cuts or fusion. You can never find any other halal Italian food in Singapore that are more authentic and halal than the food served at Kucina.
Menu Items:
Stay Home Packages
Antipasti (Appetizers)
Pane Fresco (Fresh Bread)
Insalata (Salad)
Fritto (Fried)
Zuppe (Soups)
Primi Pasta
Secondi (Mains)
Pizza
FRESH HOME MADE PASTA
Dolce
HOME MADE WHOLE CAKES
Drinks
HALAL HOME MADE SAUCES
Location: 11 Tanjong Katong Road, KINEX #B1-09/10 , Singapore, Singapore
Contact: +65 6493 2154
Website: Website Link Here
---
_

Read Also:

Top 10 Best Cat Litter Boxes for Your Feline

_
---
#4 – Peppermint
Introduction:
The brand-new all-day dining restaurant Peppermint (formerly known as AquaMarine) welcomes you into nature's embrace with sights of greenery and a healthful farm-to-table cuisine that offers the best flavours from around the world.
The new all-you-can-eat concept provides a wide variety of wholesome Asian and International favourites, freshly prepared at the open display kitchen. With a renewed focus on conscious eating, Peppermint's new menus include plant-based options and the use of sustainably and locally sourced ingredients.
Step out to the terrace and discover their very own Urban Farm, where more than 60 varieties of herbs, edible flowers and vegetables are grown and used as salads, garnishes, aromatics and ingredients for food, as well as drinks, such as tea and infused water. Dine in a garden setting and savour the natural flavours of their fresh harvest.
Menu Items:
À La Carte Menu
Flavours of Peranakan – Weekday Buffet Lunch Menu
Flavours of Peranakan – Weekday Buffet Dinner Menu
Flavours of Peranakan – Weekend Buffet Lunch Menu
Flavours of Peranakan – Weekend Buffet Dinner Menu
Location: 6 Raffles Blvd, Level 4 PARKROYAL COLLECTION Marina Bay, Singapore 039594.
Contact: +65 6845 1112
Website: Website Link Here
---
#5 – Edge Food Theatre
Introduction:
Be treated to a theatrical dining experience at one of the best buffet restaurants in Singapore that features the authentic tastes of local cuisine, the region and the Pacific Rim. Seven open kitchens create a feast for the senses, as master chefs create a range of delicious cuisines that is bound to please the palates of everyone, for every occasion and celebration – from business entertainment to spending time with family and love ones over a good meal.
Menu Items:
Edge Buffet Menus
MenCelebration Cakes Menu
Seafood & Grill Night Buffet at Edge
A Japanese Weekend Brunch at Keyaki
Cakes Galore at Pacific Marketplace
Location: 7 Raffles Blvd, Level 3 Pan Pacific, Singapore 039595.
Contact: +65 6826 8240
Website: Website Link Here
---
---
#6 – Burlamacco Ristorante
Introduction:
Burlamacco is a carnival mask featuring the characteristic essence of the famous town of Viareggio in Tuscany where the most famous Italian carnival takes place.
Burlamacco Ristorante is a classic yet trendy restaurant nestled at two prime Singapore locations – the ground floor of 30 Stanley Street in Central Area and 217 East Coast Road in Marine Parade, welcoming guests to a cozy atmosphere perfectly complimented by a wide variety of mouth-watering dishes and excellent wines.
They give you the authenticity of traditional Tuscan cuisine while adding a modern twist to our dishes – carefully crafted to give your palate a sure treat.
Menu Items:
Location:
STANLEY STREET : 30 Stanley St, Singapore 068739
Burlamacco Ristorante East Coast : 217 E Coast Rd, Singapore 428915
Contact:
Stanley Street: +65 62201763
East Coast Road: +65 96585197
Website: Website Link Here
---
#7 – Trattoria Nonna Lina
Introduction:
Trattoria Nonna Lina is named after owner Simone's much-loved grandmother Lina.

Master chef Simone hails from Porto Santo Stefano, a quaint port where tethered yachts bob sleepily at its shores and seagulls hover over fishing boats trawling up fresh Mediterranean catch. As the sun sets, bathing suits are exchanged for casual wear as friends meet for evening aperitifs before adjourning to dinner.
Life is simple.

At Trattoria Nonna Lina, the same rustic and comfortable dining atmosphere is re-created. Expect nothing but the best of traditional Tuscan cuisine, during lunch, aperitif and dinner hours. After all, food is not just about filling the stomach, or even satisfying the tastebuds. In typical Italian style, it's also about getting together, having fun and enjoying life with friends and loved ones.

And thus Nonna Lina, a place for everyone to feel at ease as though they've returned home, to a welcoming Italian grandmother's kitchen.
Menu Items:
Antipasti
Primi Piatti – Pasta
Secondi Piatti – Fish/Meat Mains
Dolci – Dessert
Digestivi – Digestive Liquors
Bevande – Beverages
Wine List
Location: 61 Cantonment Rd, Singapore 089757.
Contact: +65 62220930
Website: Website Link Here
---
#8 – Lime Restaurant
Introduction:
A vibrant, modern restaurant and bar offering a wide variety of seafood favourites, afternoon tea, buffets and signature cocktails in Singapore, Lime Restaurant is the perfect place for all occasions.
Three open kitchens set the stage for a fascinating display of skills, as in-house chefs deftly transform an assortment of fresh ingredients into signature creations. Diners with smaller appetites will appreciate the myriad of options available on Lime's refreshed la carte menu with seafood offerings and meatless alternatives.
Menu Items:
Tiers of Joy
Weekday Lunch
Weekday Dinner
Weekend Brunch
Weekend Dinner
Breakfast
A La Carte Menu
Location: 3 Upper Pickering St, Singapore 058289
Contact: +65 3138 2251
Website: Website Link Here
---
#9 – Scaled by Ah Hua Kelong
Introduction:
Scaled by Ah Hua Kelong is a new expression of Singapore seafood cuisine, founded in 2018 — Its restaurant now tucked along the quaint streets of Jalan Besar.
As the brainchild of co-founder Wong Jing Kai, and the first fish-farmer-owned restaurant in Singapore to serve locally-farmed seafood, Scaled has its novel taken from its handpicked pedigrees of produce and original local-inspired recipes, crafted by co-founder chef Ron. Using its fresh-driven philosophy, Scaled is where good food is redefined through a local lens.
AH HUA KELONG
Situated in a cul-de-sac of the island nation Singapore at both Changi and Sembawang, Ah Hua Kelong reflects the natural bounty of local sea produce and farm skills. Home to clusters of seabass, pearl grouper, golden pomfret, green-lipped mussels, and other wild-caught seafood, the floating farm is where produce is reared to its prime before being harvested.
Apart from supplying seafood to their own restaurant, Ah Hua Kelong also distributes to other local franchise chains such as table65, Labyrinth, Salted & Hung, and LeVeL33.
FARM TO TABLE
At Scaled by Ah Hua Kelong, "farm to table" goes far beyond cost-effective and sustainable farming. It reaches to the depths of changing the local's perception of domestically farmed seafood through technology and extensive preparation of its seafood products. Through its restaurant, Scaled offers farmers at Ah Hua Kelong direct access to your plates — tip top quality and farm-freshness intact whether smoked, torched or dipped in curry.
Menu Items:
SIDES
MAINS
DRINKS
DESSERT OF THE WEEK
Location: 8 Hamilton Rd, Singapore 209179
Contact: +65 9133 3379
Website: Website Link Here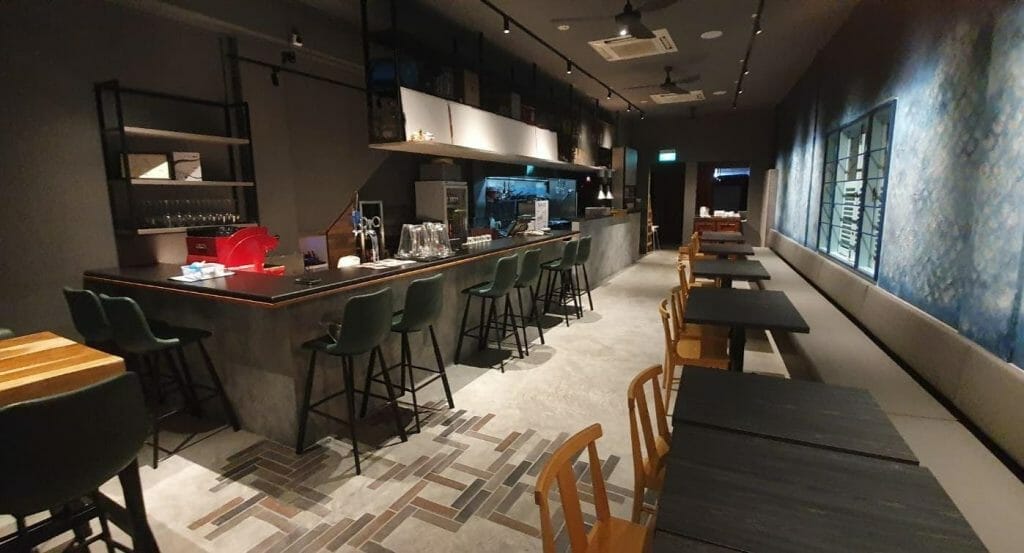 ---
#10 – Pura Brasa Singapore
Introduction:
The Spanish firm 'Pura Brasa' opens its new restaurant in Singapore The Spanish restaurant chain Pura Brasa, a new high quality restaurants concept born in Barcelona in 2010, opens its seventh restaurant at Guoco Tower in Singapore. Pura Brasa was created by Josper®, the internationally recognized brand of charcoal ovens, with the aim to be a place to give ideas to Josper's customers and teach them how to implement the grills and ovens and the variety of applications they have. Eating at Pura Brasa is the best way to see how the Josper® technology works. Apart from being based on grill and the Josper ovens, Pura Brasa's concept goes much further: a modern place, with open kitchen, where the customer feels comfortable and relaxed while savoring a unique dining experience. A novel formula of understanding the act of eating, or simply enjoying some tapas, in a pleasant, modern and casual ambience.
Pura Brasa's cuisine is based on quality products, with simple and original elaborations and the touch of Josper. The menu seeks originality and has been designed to include a wide variety of dishes: tapas, salads, burgers, fish and meat, all with the characteristic flavour of grilled cooking. There are also many different menus for groups and dishes for vegetable lovers. The best raw material and the latest cooking technologies to offer a unique gastronomic experience, with affordable prices. Pura Brasa is excited to open its seventh restaurant and the first one in Singapore and have the opportunity to share its gastronomic grill in a spectacular new space. The restaurant will be located on 5 Wallich Street #01-16 of the Guoco Tower. The space will feature seating for up to one hundred people.
Menu Items:
PURE HAMBURGER
MEATS
IDEAL FOR SHARING
SPANISH TAPAS
FRIED
SALADS
PAELLA & RICE
PASTA & PIZZA
FISHES
Lo cation: 5 Wallich Street, #01-16 Guoco Tower, Singapore 078883
Contact: +65 6386 9678
Website: Website Link Here
---
Have a Place to Recommend?
Your contribution is valuable to us! Are there any outstanding businesses that you believe should be added to our list? If so, please send your recommendations to us at [email protected]. Tropika Club will review your suggestions and update the list accordingly. Thank you for your help in making our list of businesses as comprehensive and accurate as possible.
---
Meanwhile, Check out Tropika Club's Ecosystem of Websites

Tropika Club Magazine – Tropika Club Magazine is a Singapore-based publication that features articles on a wide range of topics with a focus on local businesses and content for the region. The magazine emphasizes supporting local businesses through its #SupportLocal initiative, which includes coverage of everything from neighborhood hawker stalls to aesthetic clinics in town. In addition to highlighting local businesses, Tropika Club Magazine also covers a variety of local content, including beauty, lifestyle, places, eats, and what's on in Singapore and the Asia Pacific region.
Tropika Club Deals – Tropika Club Deals is a leading online deals and voucher shopping site in Singapore, offering amazing discounts on beauty, wellness, and fitness products and services. It's the perfect platform for customers who want to discover the best deals without having to commit to a specific appointment date and time. These deals are available at major beauty stores, facial salons, hair salons, and other brands in Singapore, with no minimum spend required. Choose from guaranteed discounted deals in the categories of hairstyling, hair removal, facial & aesthetics, body slimming, brows & lashes, nails & makeup, massage & spa or fitness & wellness. Tropika Club Deals is also ideal for customers who want to buy vouchers as gifts or to use for the future. So whether you're looking to save money on your next haircut or want to treat yourself to a relaxing massage, Tropika Club Deals has got you covered with the best voucher and coupon deals in Singapore!