Singapore Top 10 Kid-Friendly Restaurants for a Stress-Free Meal
Dining out with kids can be a stressful experience, but it doesn't have to be. Singapore has no shortage of kid-friendly restaurants that cater to families with children of all ages. From play areas to kid's menus, these restaurants offer a stress-free dining experience that allows parents to enjoy a meal while keeping the little ones entertained. To help you choose the best restaurant for your family, we've put together a list of the top 10 kid-friendly restaurants in Singapore. Whether you're looking for a casual brunch spot or a fancy dinner destination, these restaurants offer a welcoming atmosphere and delicious food that both kids and adults will love. So, say goodbye to mealtime stress and hello to a fun and enjoyable dining experience with your family at one of these top-rated kid-friendly restaurants in Singapore.
---
#1 – Jamie's Italian
Introduction:
Jamie Oliver is one of the most well-known chefs in the world, and his love of Italian cuisine is renowned. His range of Italian restaurants are very popular in his native UK, and now they have come to Singapore. Their outlet down on Harbourfront, inside the Vivo City shopping centre is scenic, convenient and, above all, packed with Italian delicacies that are sure to delight visitors: book your table now.
Menu:
Italian Fish & Chips
The Jamie's Italian Burger
Italian Steak & Fries
Location:
583 Orchard Road Forum #01-01/04 Forum, Singapore 238884 Singapore
Contact: +65 6655 7676
Website: Website Link Here
---
#2 – Marché Mövenpick
Introduction:
Enjoy fresh meals in the warm and cosy atmosphere of the Swiss Alps. The rustic and enchanting Alpine setting is assembled using materials from a 500-year-old Swiss chalet that have been directly shipped from Switzerland. And they've made sure the restaurant is just right for their smallest guests – they have painting sets, banners, balloons and even an indoor playground to enjoy! A visit to Marché [email protected] will prove to not only be a culinary delight, but also a relaxing mini Swiss holiday for the entire family.
Menu:
Original Swiss Rösti with Sour Cream
Chicken Schnitzel
Garlic Pork Sausage
Roast Chicken
Roasted Chicken Pizza
Location:
313 Orchard Rd, Singapore 238895
Contact: 6834 4041
Website: Website Link Here
---
---
#3 – Food for Tots
Introduction:
Housed in Singapore's oldest museum, Food For Thought aims to create a space where people can catch a glimpse of their city's past, present and future, and the stories we tell about them.
Due to their museum locale, you'd find carefully curated selection of locally published children's books, cookbooks, autobiographies, art and design books and poetry.
Food For Thought serves up hearty, local-inspired bistro fare – honest food in Southeast Asian flavours with a globalised influence.
Menu:
BASIC WORKS
SOUP OF THE DAY
TROPICAL FRUIT YOGURT BOWL
Location:
1H, Cluny Road​ #01-K1​ Singapore, 259604
Contact: 6338 4848
Website: Website Link Here
---
---
#4 – Slappy Cakes
Introduction:
Originating from Portland, Oregon, SLAPPY CAKES was introduced into Singapore in 2013 as a trendy, interactive and fun dining concept.
With built-in griddles at each table, the make-your-own (MYO) dining concept allows diners to create their own pancakes. Diners can craft their own designs and watch their imagination come to life at Slappy Cakes, liberating the creative potential of the young and the young at heart.
Menu:
Slappy Classic Breakfast
Country Fried Chicken
SMOKED TROUT BENEDICT
Carbonara with Egg
Seafood Aglio Olio
Location:
418 Northshore Dr, #01-11 Northshore Plaza II, Singapore 820418
Contact: 6992 2992
Website: Website Link Here
---
#5 – Kith Café
Introduction:
Kith's iconic yellow and black logo boldly represents the forward motion that the company is striving towards. There are 18 black and 18 yellow spaces. '18' is a symbolic number in many, especially Chinese culture, meaning you will 'definitely prosper!' The octagonal shape inscribed in the logo represents balance in Fengshui. With 8 sides, each side represents a different aspect of Kith that we strive to be the best at, such as maintaining harmony between growing the business and staying true to our roots by serving our customers from the heart.
Menu:
KIDS TOAST & EGGS
RIBEYE STEAK
SALMON STEAK
CHICKEN PARMIGIANA
BEEF BURGER
Location:
9 Raffles Blvd, #01-44/45, Singapore 039596
Contact: 6333 4438
Website: Website Link Here
---
#6 – The Social Space
Introduction:
The Social Space creates multi-concept spaces to inspire social-impact champions in all that they do so as to create an economy for good. Their spaces feature a Café, a fair trade retail area, and a nail salon, all promoting greater awareness for sustainability, an appreciation for providence, and more accessible conscious living.
The Social Space is also a platform of opportunities for differently-abled people to acquire skills and dignified employment and put their talents and skills to a good cause. They aim to empower such individuals who face a higher barrier to employment opportunities due to circumstances beyond their control to gain self-sufficiency in the long term.
From the choice of high-quality, fair-trade, eco- and socially-conscious products they use and sell, to the services they offer, down to the people they hire, The Social Space aspires to bring about serendipity through their creative spaces and platforms, and hopes to encourage their community to be more socially conscious in their daily lives.
Menu:
TAHINI BILLIONAIRE BAR
ALMOND MEAL COOKIES
MIXED BERRY FRIAND
LEMON PISTACHIO CAKE
SALTED CHOCOLATE CAKE
Location:
333 Kreta Ayer Rd, #01-14, Singapore 080333
Contact: 6655 0221
Website: Website Link Here
---
_

Read Also:

Top 10 Best Eats at West Coast Food Centre

_
---
#7 – The Pantry at Dempsey
Introduction:
Part of the Kids21 family and the COMO Dempsey lifestyle enclave, The Pantry is the newest family-friendly restaurant in Dempsey. There is a huge playground that used to be Maggie & Rose next to Kids21 that's free to use for diners. Smaller kids and toddlers may find the treehouse-style playground too difficult to access so there's also some play equipment right next to the alfresco seating. Foodwise, look out for casual dishes like Cottage Pie, salads and woodfired pizzas. They also do takeaway sets of mains, sides and desserts for the fam.
Menu:
The Pantry Burger
Fish & Chips
Roasted Half Chicken
Wood-Fired Pizza
Bangers & mash
Location:
The Pantry, Block 16A Dempsey Road, Singapore 249677
Contact: (+65) 8121 5763
Website: Website Link Here
---
#8 – SandBank
Introduction:
family-friendly • in-house bakery • handmade pizzas • chargrilled meats and seafood • ice-cold beers • 15m plunge pool perfect for private events/parties plenty of parking • chilled vibes until after midnight
Menu:
French Fries
Prawn Pasta Chicken Wings
Crispy Prawn
Caprese
Seafood Chowder
Location:
920 ECP, #01-28/32, Singapore 449875
Contact: 6247 7988
Website: Website Link Here
---
#9 – Café Melba
Introduction:
Cafe Melba is a relaxed cafe and restaurant concept by Tadcaster Hospitality, which blends influences from (Melb)ourne and (A)sia for a gourmet yet leisurely dining experience. They opened their first Cafe Melba in the East at Goodman Arts Centre in 2012, and Cafe Melba at Mediapolis in the West in 2016.
As of 2022, both venues are officially certified as pet-friendly, so you can bring your fur-babies along to make it a real family day out!
Menu:
Eggs Benedict
Wagyu Beef Burger
Cuban Sandwich
Aglio Olio
Balinese Fried Rice
Location:
90 Goodman Road, Goodman Arts Centre, Blk N #01-56, Singapore, 439053
Contact: +65 6440 6068
Website: Website Link Here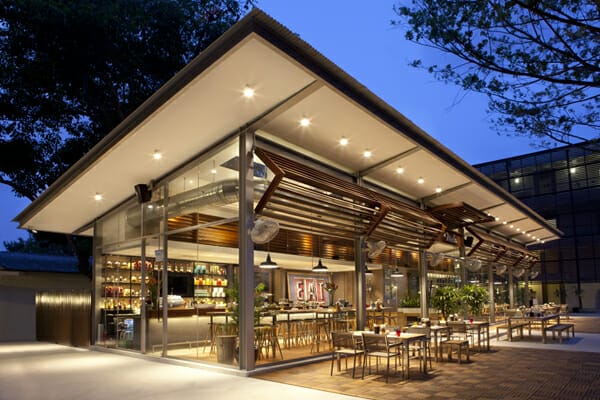 ---
#10 – Timbre+
Introduction:
Timbre+ is many things. It is an upgraded urban food park. It offers a diversity of restaurant-grade food and casual eats at affordable prices. It is enlivened by multi-dimensional entertainment experiences. But the single focus is making sure you eat well.
Menu:
San Cubano
Forest Mushroom
Four Cheeses
Mocha
Snack Platter
Location:
73A Ayer Rajah Crescent, JTC LaunchPad @ one-north, Singapore 139957
Contact: 9850 5819
Website: Website Link Here
---
Have a Place to Recommend?
Your contribution is valuable to us! Are there any outstanding businesses that you believe should be added to our list? If so, please send your recommendations to us at [email protected]. Tropika Club will review your suggestions and update the list accordingly. Thank you for your help in making our list of businesses as comprehensive and accurate as possible.
---
Meanwhile, Check out Tropika Club's Ecosystem of Websites

Tropika Club Magazine – Tropika Club Magazine is a Singapore-based publication that features articles on a wide range of topics with a focus on local businesses and content for the region. The magazine emphasizes supporting local businesses through its #SupportLocal initiative, which includes coverage of everything from neighborhood hawker stalls to aesthetic clinics in town. In addition to highlighting local businesses, Tropika Club Magazine also covers a variety of local content, including beauty, lifestyle, places, eats, and what's on in Singapore and the Asia Pacific region.
Tropika Club Deals – Tropika Club Deals is a leading online deals and voucher shopping site in Singapore, offering amazing discounts on beauty, wellness, and fitness products and services. It's the perfect platform for customers who want to discover the best deals without having to commit to a specific appointment date and time. These deals are available at major beauty stores, facial salons, hair salons, and other brands in Singapore, with no minimum spend required. Choose from guaranteed discounted deals in the categories of hairstyling, hair removal, facial & aesthetics, body slimming, brows & lashes, nails & makeup, massage & spa or fitness & wellness. Tropika Club Deals is also ideal for customers who want to buy vouchers as gifts or to use for the future. So whether you're looking to save money on your next haircut or want to treat yourself to a relaxing massage, Tropika Club Deals has got you covered with the best voucher and coupon deals in Singapore!