Singapore Top 10 Vegan and Vegetarian Restaurants for Plant-Based Foodies
Singapore's food scene has something for everyone, including plant-based foodies. Whether you're a strict vegan or simply looking to incorporate more plant-based meals into your diet, Singapore has a variety of vegan and vegetarian restaurants that cater to your needs. From vegan burgers to plant-based sushi, these restaurants offer delicious and healthy options that are sure to satisfy your cravings. To help you discover the best plant-based dining experiences in Singapore, we've put together a list of the top 10 vegan and vegetarian restaurants in the city. So, whether you're a long-time vegan or a curious carnivore, get ready to indulge in some of the best plant-based cuisine in Singapore at these top-rated restaurants.
---
#1 – Whole Earth
Introduction:
They continue on their mission to elevate the standard of plant-based cooking and promote it to a wider audience. Locals, expatriates and tourists adore our fresh vegetables, legumes, mushrooms and grains, dished to authentic Peranakan and Thai perfection.
Using only the freshest ingredients, cooked and simmered with care – they seek to deliver consistent great quality and taste to you.
They travel around the world to explore new ingredients and cuisines. It has been a great and fulfilling journey for them since 2003. They look forward to more amazing years ahead.
P.S. They are proud to be Singapore's first and only plant-based restaurant to be awarded the Michelin Bib Gourmand for 6 years since 2016 – 2022!
Menu Items:
Elephant Toes (Price $26)
Sawadee Larb (Price $19)
Handmade Yam Treasure Ring (Price $22)
Honey Lotus Roots (Price $28)
Location: 76 Peck Seah St, Singapore 079331
Contact: 6221 6583
Website: Website Link Here
---
#2 – The Living Cafe
Introduction:
Since opening in 2011, The Living Café has been at the forefront of raw and plant-based cuisine. They had a simple founding vision which we still live by today.
They do not serve dairy, red meat, refined sugars, preservatives, artificial additives or colourings in any of their meals. They offer a small amount of white meat and fish.
They source high quality, organic produce where possible and combine the freshest ingredients to bring you delicious and healthy meals that they like to call food for the soul.
Menu Items:
Big Vegan Brekkie (V) (Price $18)
Mediterranean Omelette (VG, GF) (Price $20)
Breakfast Burrito (VG) (Price $20)
6th Avenue Rosti (GF, NF) (Price $20)
Location: 779 Bukit Timah Rd, Singapore 269758
Contact: 9735 9404
Website: Website Link Here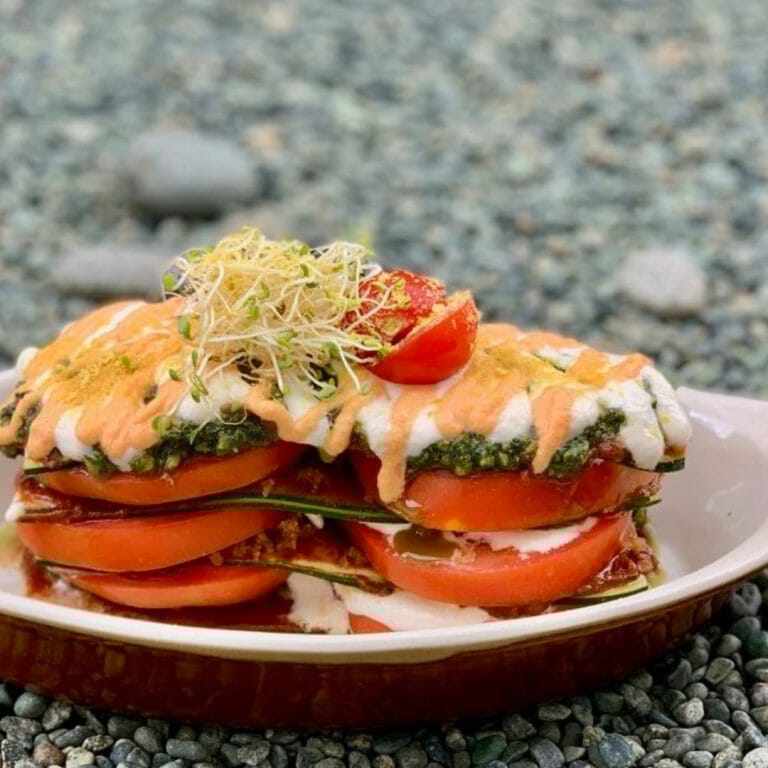 ---
---
#3 – Original Sin
Introduction:
Original Sin, established in 1997, was the first Mediterranean Vegetarian restaurant in Singapore and stands ever strong after 22 years.
Located in the Holland Village neighbourhood, at Chip Bee Gardens, is reminiscent of the charming restaurants tucked away in the quiet corners of the Mediterranean.
Dining at Original Sin is all about guilt-free, healthy dishes that allow for a light, filling, and yet an indulgent meal, that keep's one's health in check. Focusing on bringing the flavours of the, Greek, Italian, and Middle Eastern cuisines, Original Sin vows to take their diners on a gastronomic journey through the Mediterranean!
The wine list boasts of World class wines from various small batch and renowned wine producers
Menu Items:
Mezza Platter (Price $27)
Bosco Misto (Price $32)
Spinach, Feta and Tofu Burger (Price $28)
O.S. Burger (Price $28)
Location: 01-62 Jln Merah Saga, Chip Bee Gardens, Blk 43, Singapore 278115
Contact: 6475 5605
Website: Website Link Here
---
_

Read Also:

Top 10 Best Vegetarian Restaurants in Singapore

_
---
#4 – Real Food
Introduction:
Real Food is self-run by a team of passionate and stubborn individuals who believe that we are what we eat.
Menu Items:
Baguette (v) (Price $4.20)
Chocolate Cranberry (V) (Price $6.40/ $12.80)
Pumpkin Soft Loaves (V,S,N) (Price $4/ $8)
Brioche (Price $4.50/ $9)
Location: 181 Orchard Road #02-16 Orchard Central Singapore 238896
Contact: +65 9138 0141
Website: Website Link Here
---
#5 – Joie Restaurant
Introduction:
Located on the rooftop garden of Orchard Central, Joie (pronounced 'joy') Restaurant, presents a refreshing concept that specialises in modern meatless cuisine. Influenced by the new wave dining trend in Europe and Taiwan that focuses on uplifting and innovative natural fare prepared with the freshest vegetables, fruits and herbs, JOIE looks to conjure the same fervour in Singapore.
Chefs of Joie have been developing this concept for the past few years. In line with famous set menu concept, its unique presentation and creativity, and application of many uncommon ingredients, diners can choose from an elaborate six-course lunch or seven-course dinner consisting of contemporary dishes with Japanese-European sensibilities and flavours. Guests will be challenged to put aside their misconceptions about meatless cuisine with their refined and original creations.
Surrounded by Orchard Central's serene rooftop garden, Joie is a sanctuary above the bustle of the busy Orchard shopping district, affording sweeping views of nearby Somerset and Orchard Road.

Upon entering the restaurant via the escalator from the 11th floor, guests are greeted by a luminous dining room with light streaming in from its floor to ceiling windows.

Bronze and grey overtones dot the space with a contemporary chic ambience from the bronze light fixtures and the grey tiled floor. Seat along the plush leather-quilted banquette, luxurious velvet armchairs or at no additional cost, one of the five private rooms which seats four to sixteen people.
Menu Items:
Lunch Menu 4 Course $38++ | 5 Course $50++
Dinner Menu 6 Course $78++ | $88++
Medialuna Cabernet Sauvignon Merlot 2020 (Price $14/ $58)
Location: 181 Orchard Road #12-01 Orchard Central Singapore 238896
Contact: +65 9663 0901
Website: Website Link Here
---
---
#6 – Cultivate Cafe
Introduction:
Cultivate Cafe is a plant-based, gmo-free, gluten-free vegan restaurant and believes that pure food is the key ingredient to cultivate your soul.
They endeavour to provide exceptional and flavourful dishes made from the finest organic ingredients sourced locally and globally from small & family farms.
Cultivate is here to serve, inform and inspire a cultural shift towards plant based intelligence, through creativity and deliciousness. Offering high vibration foods that embrace balance with beauty, wellness and wisdom and love to nurture our personal and planetary ecosystems.
Menu Items:
Classic Hummus with Za'atar & Orang oil (Price $20)
Leek & Roasted Pumpkin Tart (Price $28)
Organic Potato Mixed Vegetable Tagine (Price $30)
Soba Noodles with Broccoli (Price $30)
Location: within Maxwell Reserve, Autograph Collection, 2 Cook St, 078857
Contact: +65 8866 0159
Website: Website Link Here
---
#7 – Sunny Choice
Introduction:
Sunnychoice is a vegetarian and vegan friendly cafe and healthy option store.
A family business founded in 2007 by 5 sisters.
They believe in living healthily and the need to choose, use and eat right. They help provide this experience by sourcing the region for healthier, better quality and natural ingredients, bringing the natural goodness for you to enjoy.
Their experience over the years have also helped them in introducing better wellness products to our patrons. They believe in supplementing our plant-based diet with natural occurring nutrient.
In the store, you can receive helpful information on different kinds of health products for different needs.
Here, you can experience the goodness and convenience of both shopping and dining under one roof.
Menu Items:
Thunder Tea Rice (Price $10)
Rendang Lion's Mane Mushroom Rice (Price $10)
Mushroom Tofu Rice (Price $9)
Spaghetti Tofu Nugget (Price $10)
Location: Upper Bukit Timah Rd, #434, Singapore 678060
Contact: 6892 2383
Website: Website Link Here
---
#8 – VeganBurg
Introduction:
VeganBurg, the world's first 100% plant-based burger joint was founded on October 10, 2010. A global plant-based revolution while inspiring a worldwide change.
They used to think that a plant-based diet is impossible. They've always respected people's diet choices. Compelled by their love and respect for Mother Earth, as well as a desire for a healthier lifestyle,
they decided to do something radical. Since then, they never looked back.
They're committed to making the most amazing burgers. They break the stereotype of burgers and push the envelope on what a plant-based burger could look, feel and taste like.
In short, we rock with burgers and more!
Menu Items:
Chii Krab Burger (Price $13.90)
Avo Beets Burger (Price $14.90)
Shroom Burg (Price $11.90)
Cracked Mayo Burger (Price $9.90)
Location: 44 Jln Eunos, Singapore 419502
Contact: +65 6844 6868
Website: Website Link Here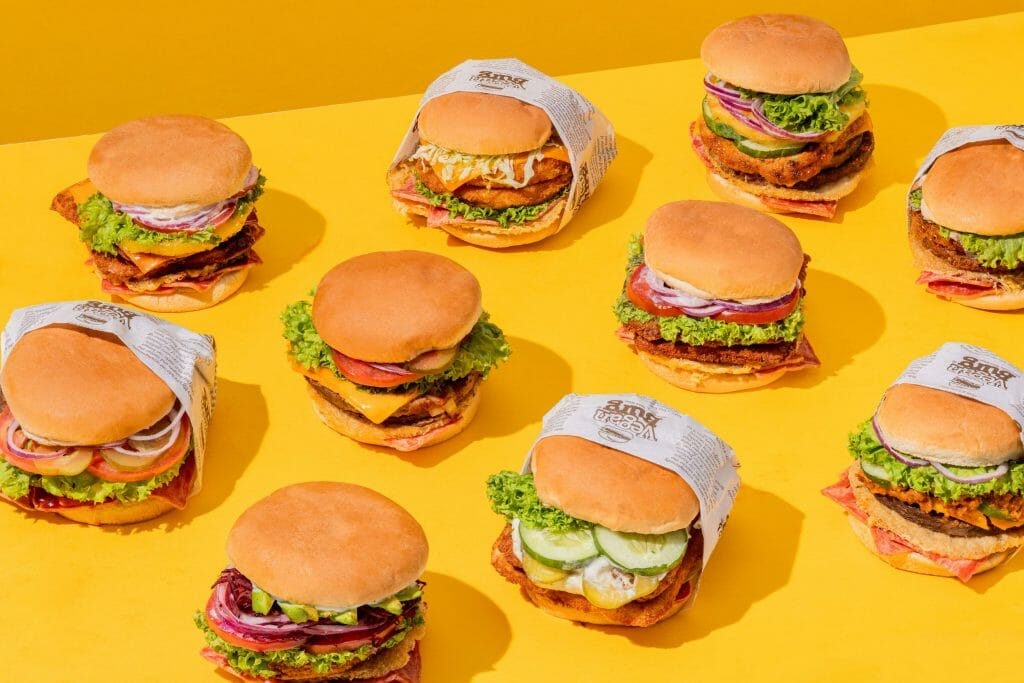 ---
#9 – NomVnom
Introduction:
Established in February 2015, nomVnom strives to provide mouth-watering modern vegan fast food like burgers, pizzas, pastas, udon and rice dishes that are innovative and appealing to both vegans and non-vegans alike.
Every effort is made to ensure the quality and freshness of our food and beverages served at nomVnom.
In the grand scheme of things, our goal is to play our part in the sustainability movement and help Mother Earth and the animals, by keeping the world spinning through promoting plant-based fast food.
Menu Items:
Lion's Mane Truffle (Price $10.90)
Truffled Muhrom Pasta (Price $12.50)
Spinach Linguine (Price $11.90)
Shacha ion's Mane Udon (Price $10.90)
Location: 18 Tai Seng St, B1-02, Singapore 539775
Contact: +65 6384 9678
Website: Website Link Here
---
#10 – Green Dot
Introduction:
Greendot is an asian-fusion meat free fast casual concept. It was founded in 2011 with the intention of making healthy meat free meals convenient, accessible and affordable to the mass.
They hold a common belief that everyone can make a positive difference to the world by simply consciously choosing what they eat. Just by going meat free once or twice a week, we can take a step towards making a positive impact on ourselves, our community and the environment.
Greendot hopes to modernize and revolutionize the vegetarian industry by providing a green, healthier and convenient alternative for their customers as compared to convention fast food. They repackaged traditional vegetarian cuisine into a green fast casual concept, hoping to popularize the vegetarian cuisine amongst youths and ladies, and most importantly, encourage more non-vegetarians to go meat-free.
Menu Items:
Signature Lion Mane Mushroom Rendang with Turmeric Rice Bento Set (Price $11.90)
Crispy Beancurd Skin w Sesame Rice Bento (Price $10.90)
Angelica Herbal Trio Mushroom with Brown Rice Bento Set (Price $9.90)
Rendang Lion Mane Mushroom Wrap (Price $7.50)
Location: 60 Paya Lebar Rd, #02-15 Paya Lebar Square, Singapore 409051
Contact: +65 6702 2221
Website: Website Link Here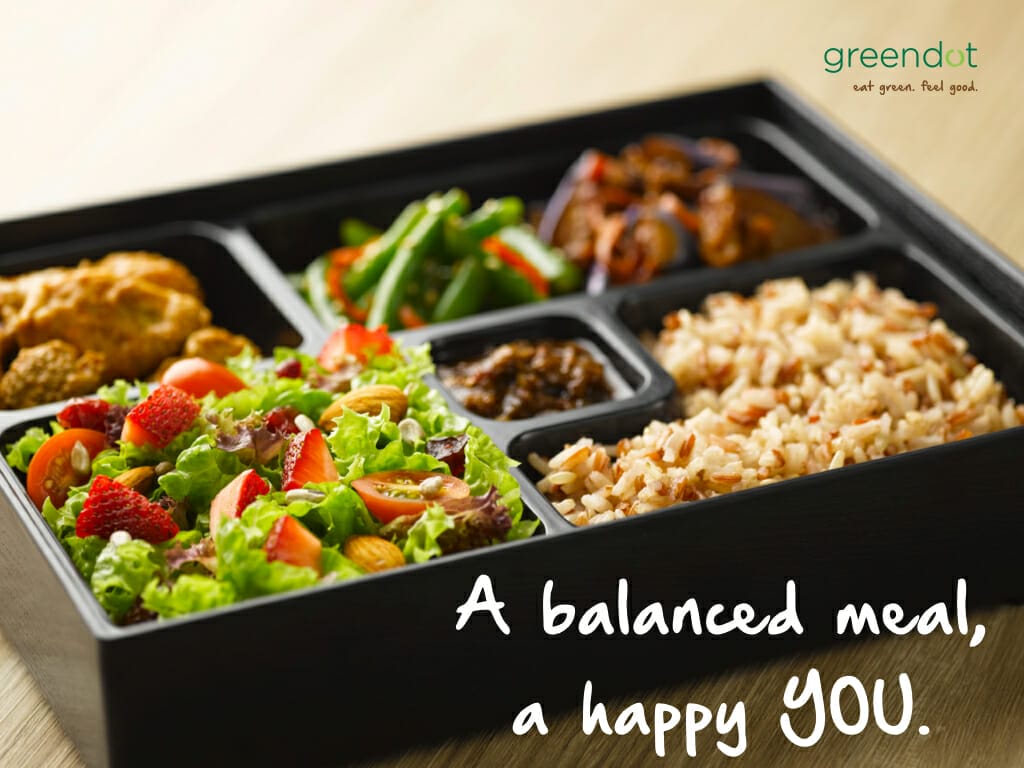 ---
Have a Place to Recommend?
Your contribution is valuable to us! Are there any outstanding businesses that you believe should be added to our list? If so, please send your recommendations to us at [email protected]. Tropika Club will review your suggestions and update the list accordingly. Thank you for your help in making our list of businesses as comprehensive and accurate as possible.
---
Meanwhile, Check out Tropika Club's Ecosystem of Websites

Tropika Club Magazine – Tropika Club Magazine is a Singapore-based publication that features articles on a wide range of topics with a focus on local businesses and content for the region. The magazine emphasizes supporting local businesses through its #SupportLocal initiative, which includes coverage of everything from neighborhood hawker stalls to aesthetic clinics in town. In addition to highlighting local businesses, Tropika Club Magazine also covers a variety of local content, including beauty, lifestyle, places, eats, and what's on in Singapore and the Asia Pacific region.
Tropika Club Deals – Tropika Club Deals is a leading online deals and voucher shopping site in Singapore, offering amazing discounts on beauty, wellness, and fitness products and services. It's the perfect platform for customers who want to discover the best deals without having to commit to a specific appointment date and time. These deals are available at major beauty stores, facial salons, hair salons, and other brands in Singapore, with no minimum spend required. Choose from guaranteed discounted deals in the categories of hairstyling, hair removal, facial & aesthetics, body slimming, brows & lashes, nails & makeup, massage & spa or fitness & wellness. Tropika Club Deals is also ideal for customers who want to buy vouchers as gifts or to use for the future. So whether you're looking to save money on your next haircut or want to treat yourself to a relaxing massage, Tropika Club Deals has got you covered with the best voucher and coupon deals in Singapore!