Top 10 Best Zichar in Singapore
Zichar, or called as Tze Char, it's a Hokkien term used to represent a Chinese food stall which gives a wide variation of normal and reasonable dishes which surmised home-prepared dinners. Tropika Club aggregated rankings or "ranking of rankings" compared from the following sources to further ascertain the final rankings. This is further refined using the TripAdvisor rankings to decide between the position in case there is a tie. Read on to find out where are the Top 10 Best Zichar in Singapore.
No Time to Read? Here's a Snappy Summary of This Article
The article highlights the top 10 best Zichar restaurants in Singapore, providing readers with a curated list of places to explore.
Each restaurant on the list offers a unique dining experience, showcasing a diverse range of flavors and culinary styles in Singaporean Zichar cuisine.
The featured restaurants are praised for their delicious and authentic dishes, prepared with high-quality ingredients and skillful cooking techniques.
The article includes brief descriptions of the standout dishes and specialties at each restaurant, giving readers an idea of what to expect and helping them make informed choices.
The selected Zichar restaurants are known for their welcoming ambience and friendly service, ensuring a pleasant dining experience for visitors.
The list serves as a valuable resource for both locals and tourists seeking to explore the vibrant Zichar food scene in Singapore and discover new culinary delights.
---
1. Two Chefs Eating Place
Introduction: Two Chefs Eating Place offers some of the best Chinese cuisine in Commonwealth Crescent, serving a tantalising collection of dishes that are suitable for catching up with friends and colleagues. From Butter Pork Ribs to Salad Prawn Ball, its extensive menu is reflective of the restaurant's efforts to cater to every palate. Two Chefs Eating Place is also a good venue for large groups as they do have a very reasonable price.
Offerings: Indulge in their mouth-watering dishes such as Garlic and Chili Cockles, Cereal Prawns, Golden Mushrooms Beancurd, Fried Salted Egg Sotong, Sliced Fish Hor fun With Bean Sprouts and Drunken Prawns.
Location: 116 CommonwealthCres, #01-129, Singapore 140116
Contact: +65 6472 5361
---
2. New Ubin Seafood
Introduction: With the acquisition of Pulau Ubin by the Singapore government in 1992, New Ubin Seafood moved to the mainland, where we have been situated in several locations over the years (the most well known of which were the coffee shop at Commonwealth, Keppel Marina, Punggol Marina and finally the outlet at the junction of 6th Avenue / Bukit Timah Road), and Sin Ming Industrial Estate. The tze char kitchen can now be found nestled in the heartland of Tampines. We also set up a restaurant in the heart of the city in the iconic CHIJMES building and first-ever restaurant in a hotel within Ramada by Wyndham Singapore at Zhongshan Park. At each outlet, they continue their tradition of serving their customers sumptuous and authentic Singaporean cuisine in a casual, family-friendly environment.
Offerings: New Ubin Seafood was one of the must-try Zi Char places in Singapore. The breath of its variety – even Masala Chicken, which reflects our unique Singapore culture. You won't find just the typical zichar dishes, but US Ribeye, Chocolate Alexander, Fish Roe Masala, BBQ Baby Back Ribs, Satay Foie Gras, and BBQ Pork Collar among the top-selling dishes. Must try Fried Rice, Chilli Crab, Crispy Pork Knuckles, Boss Style Bee Hoon, Great Shovel Nose Ray, and Hei Chor.
Location: 30 Victoria Street #02-01B/C, 187996
Contact: +65 9740 6870
Website: https://newubinseafood.com/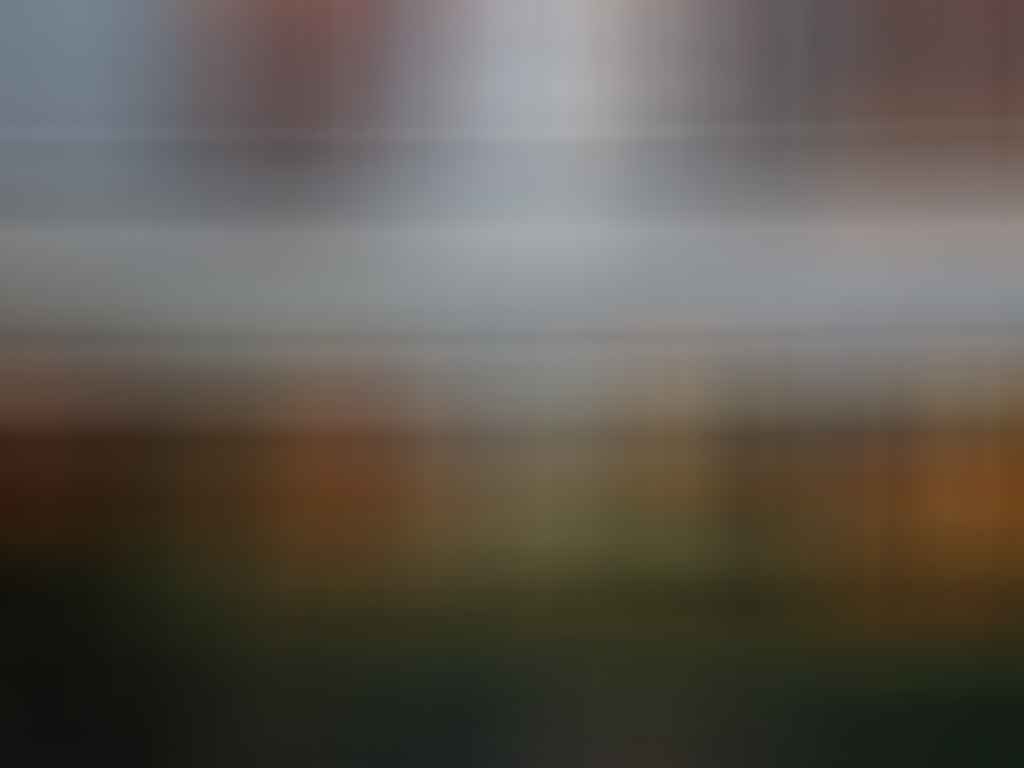 ---
---
3. Kok Sen Restaurant
Introduction: Kok Sen Restaurant 國成球記菜社 on 30 Keong Saik Road has consistently been one of my favourite zichar places in Singapore. Bring on the Big Prawn Bee Hoon and Claypot Yong Tau Foo. With a history of more than 37 years, it is known to serve different-from-usual wok-fried zichar, with some dishes unique to this restaurant. It has also been constantly listed in the Singapore Michelin Guide with a Bib Gourmand. The regulars know the restaurant as "Kau Kee" – the name of the founder, while "Kok Sen" is his son. It is currently helmed by the third generation in the family. Before being listed in the Singapore Michelin Bib Gourmand Guide, it was already very popular with locals. Ever since it was recognised by Michelin, queues and waiting times have gotten longer.
Offerings: The signature dishes include Big Prawns Horfun, Big Prawns Bee Hoon Soup, Crispy Noodles with Shrimp Omelette, Kung Pao Frogs Stir-Fried with Dried Chilli, Cereal Butter Squid, Sambal Kangkong, Black Pepper Beef, and Thai Style Fried Rice.
Location: 30 Keong Saik Rd., Singapore 089137
Contact: +65 6223 2005
Website: https://danielfooddiary.com/2017/06/18/koksenrestaurant/
---
4. JB Ah Meng
Introduction: Popular Singapore zichar restaurant JB Ah Meng, during the peak-dinner time, it is still like a 'war-zone' and EVERY staff has that hurried, kancheong look. JB Ah Meng originated from Singapore and has nothing to do with Singapore's favourite orangutan. Accordingly, the chefs from JB Ah Meng are from across the causeway and cook in feisty Malaysian style with wok-hei. The eatery was listed under the Singapore Michelin Bib Gourmand Guide 2016 – even the Ang Moh inspectors take pleasure.
Offerings: JB Ah Meng has several 'star' signature dishes – JB San Lou Meehoon, White Pepper Crab, Salted Egg Prawn Roll, Fried Fish Head, and 3 Delicacy Beancurd. I heard a statement that "If JB Ah Meng's White Pepper Crab is 2nd best nobody will claim to be the 1st."
Location: 534 Geylang Road Lor 30 Singapore 388353
Contact: +65 6741 2418
---
5. Keng Eng Kee Seafood 瓊榮記海鲜
Introduction: Their forefathers, Low Peck Yah and Koh Yok Jong came to Singapore from Hainan Island, China in the 1950s. Equipped with authentic Hainanese cooking skills, they were determined to use their skills to wok up delectable local delights to the Chinese community. The loving couple started by selling Hainanese Chicken Rice in a small coffeeshop located at Old Havelock Road. Using the freshest ingredients combined with excellent culinary skills, the food suited the palate of the local community and soon, their business expanded. As their business prospers, the couple expanded their business to open another hawker stall selling local "zichar" in the 1970s, along Old Havelock Road. With this "zichar" stall, came along the romance of the couples' eldest daughter, Koh Liang Hong, and their employed chef, Liew Choy. Liang Hong was given a task to manage the "zichar" stall as her parents were occupied with the other stall. Through the tough time spend together managing the "zichar" business, love blossoms between Liang Hong and Liew Choy and eventually, they got married. Over the years, their forefathers inculcated in their descendant's good values such as diligence, hard work and commitment through managing their small business. Liew Choy acquired the authentic culinary skills of the old couple. Through many years of cooking experience and experimenting with local palates, he had mastered a unique culinary style of his own.
Offerings: The signature dishes of Keng Eng Kee Seafood zichar restaurant – the coffee pork ribs. Many people consider this the "must try" dish at Keng Eng Kee. This version of pork ribs, always a classic at zichar restaurants, was delightful in so many ways. The portion was generous and the meat to bone ratio was very high. The pork tasted good and was well cooked (no porky taste or chewy bits).
Location: 124 Bukit Merah Lane 1, #01-136, Singapore 150124
Contact: +65 6272 1038
Website: http://www.kek.com.sg/index.html
---
6. Siang Hee Seafood
Introduction: Siang Hee Seafood is a humble food stall that offers a delightful dining experience with their menu featuring delicious Chinese cuisine at affordable prices. They serve up one of the best seafood and Zi Char dishes using only the freshest ingredients. Located at Serangoon Garden Market & Food Centre and just a few minutes away from Serangoon MRT Station, Siang Hee Seafood is a great place where family and friends can share and enjoy delectable dishes in a comfortable and relaxed setting.
Offerings: This famous ZiChar that has been featured a lot on media. The first recommended dish, Deep Fried Trotters was superb and easily surpassed the one from Simpang Bedok. The skin was crispy but not hard–could even chew the entire bone. The meat remained moist and not too dry. Items to look forward to including Coffee Crabs, Coffee Pork Ribs, Pork Knuckles, Prawn Paste Chicken, and Pumpkin Prawn. The pumpkin prawns is a must-order dish at this popular zichar stall at Serangoon Gardens Market.
Location: 49A Serangoon Garden Way, Singapore 555945
Contact: +65 9736 4067
Website: https://www.burpple.com/89-zion-rd-siang-hee-seafood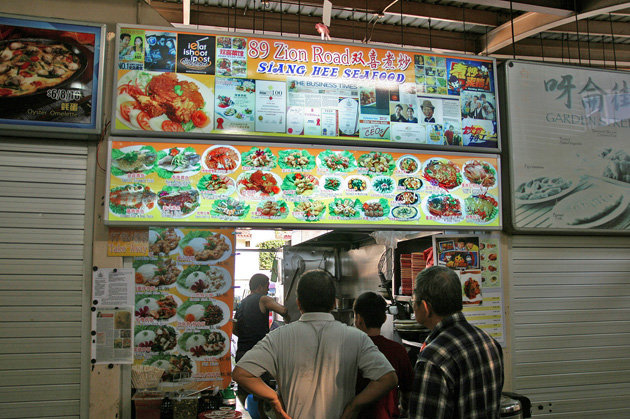 ---
---
7. 21 Seafood
Introduction: At 21 Seafood, getting quality crabs for an affordable price is no issue at all — for just $25, patrons of this unheralded coffeeshop stall in Kovan can get a steaming plate of three delicious Sri-Lankan crabs cooked in the sauce of your choice. Aside from crabs, they also serve some pretty decent zichar dishes that you can pair with the signature crustaceans.
Offerings: There were at least 16 different cooking styles available on the menu, including Black Pepper and Cereal Oats. Unlike most chilli crab sauces that can get quite jelak after a while, this was surprisingly light and not so much on the heavier side. Either way, this will always be a classic crab flavour that I'm sure none of us locals can resist. And of course, we couldn't do without the fried Mantou Buns, which are always essential when having chilli crab. These came toasting hot, with a fluffy interior underneath a delightfully crisp exterior.
Location: 212 Hougang Street 21, Singapore 530212
Contact: +65 6343 0771
---
---
8. Por Kee Eating House
Introduction: A traditional Chinese eatery as quaint as Tiong Bahru, Por Kee Eating House is one of the best zichar places on the island. Pork ribs, tofu, steamed fish, hand-made flat noodles, chilli crabs, and buttered prawns taste so good that make the eatery an attraction around the area. This old-school Chinese home-style eating place is where you could proudly take your grandparents and relatives for a weekend dinner.
Offerings: A wide selection of Cantonese dishes: Lotus Root Soup, Cereal Prawns, Fried Beef Hor Fun, and Homemade Beancurd are just some of the delicious offers on its menu. The heavy usage of sauces and oil gives most of the dishes a rich taste. Signature Homemade Beancurd: Por Kee's signature beancurd is particularly commendable for its balanced taste and texture; crispy on the outside, soft and silky on the inside. Served with mushrooms in a flavourful sauce infused with wok-hei, this beancurd is a dish to die for. Champagne Pork Ribs: This pork rib dish is available in both solo and group portions. Expect to be wowed by the faint Champagne after-taste. The bone-in cuts may sometimes come with fats, but the thick savoury sauce could be too tempting for you not to try it anyway. For this reason, it is one of the best-selling signature dishes at Por Kee.
Location: 69 Seng Poh Ln, #01-02, Singapore 160069
Contact: +65 6221 0582
Website: https://porkee.business.site/
---
9. Diamond Kitchen
Introduction: Diamond Kitchen is a Chinese seafood restaurant providing tasty live seafood, coupled with a mouthwatering array of Chinese cuisine – generally Cantonese, but with a tinge of Teochew and other cooking styles. We pride ourselves on serving up dishes in a delicious homecooked style for the entire family, in a cosy, comfortable ambience.
Offerings: Gan Xiang sauce originated from Malaysia and is prepared by deep-frying Hae Bee Hiam (dried shrimp), Curry Powder, Lemongrass, Dried Chilli, Taucheo (fermented soybean paste) and many other delectable spices. Gan Xiang Crab (seasonal price) is excellent with a smoky aroma.
Location: 87 Science Park Dr, #01-01, Singapore 118260
Contact: +65 6464 0410
Website: https://www.diamondkitchen.com.sg/
---
---
10. Yong Kee Seafood Restaurant
Introduction: Yong Kee Seafood Restaurant offers some of the best Chinese cuisines in Singapore, serving a tantalising collection of dishes that are suitable for family gatherings and large groups. From Bee Hoon to Thai-style Pork Knuckle its extensive menu is reflective of the restaurant's efforts to cater to every palate. This restaurant is located in Shing Boon Hwa Food Centre along Jalan Besar. Come and try out their delicious dishes with your friends!
Offerings: Indulge in their mouth-watering dishes such as Burnt Bee Hoon, Crispy Pork Belly, Sambal Kangkong, Fish Slice Bittergourd, Shrimp Paste Chicken, Cereal Squid, Crispy Vermicelli Bee Hoon, Char Tar Bee Hoon, Crispy Chao Da Bee Hoon and Seafood Tofu.
Location: 43 Jln Besar, Singapore 208804
Contact: +65 6396 5390
Website: https://thebondingtool.com/2014/01/07/yong-kee-seafood-restaurant-%E8%8D%A3%E8%AE%B0%E6%B5%B7%E9%B2%9C%E7%81%AB%E9%94%85%E8%8F%9C%E9%A6%86-43-jalan-besar/
---
11. Mellben Signature
Introduction: Mellben Signature offers some of the best Chinese Cuisine serving a tantalising collection of dishes that are suitable for family gatherings, large groups, catching up with friends and colleagues. From Butter Crab to Chilli Crab its extensive menu is reflective of the restaurant's efforts to cater to every palate. This restaurant is located in Hdb-central Area along Tanjong Pagar Plaza. Come and try out their delicious dishes with your friends and family!
Offerings: The highlight for Mellben is the Claypot Crab Beehoon Soup. The milky soup probably has evaporated milk added to it for a lift in flavour and creaminess. I could also taste the essence of the crustacean infused into the soup as well as being absorbed by the thick bee hoon. This is worth going back for second helping or maybe third. You can also request to add more soup and beehoon for a small cost. Indulge in their mouth-watering dishes such as Crab Bee Hoon, Crab Noodle, Salted Egg Pork Rib, Scallop Broccoli, Salted Egg Crabs and Claypot Crab Bee Hoon Soup.
Location: 7 Tanjong Pagar Plaza, #01-105, Singapore 081007
Contact: +65 6220 5512
---
12. Ka-Soh Restaurant
Introduction: Intertwined with Swee Kee Eating House's history, Ka-Soh is a house-hold name in Singapore. Founded by Tang Tat Cheong in 1995, the brand came to be from the nickname which regular customers gave to Swee Kee Eating House. Presently, Ka-Soh has since established footprints in Malaysia and Indonesia, with Ka-Soh Restaurant in Outram being awarded as Singapore Michelin Guide's Bib Gourmand restaurant in 2016.
Offerings: Their fish head bee hoon is still made the traditional way where fish bones are boiled till the stock is milky, slices of fresh snakehead fish and bee hoon are added and finally the creamy soup is anointed with a splash of Chinese wine before it is served. The thin layer of collagen that forms on the surface is a telltale sign that milkiness comes from collagen and not from evaporated milk!
Location: 2 College Rd, Singapore 169850
Contact: +65 6473 6686
Website: https://ka-soh.com.sg/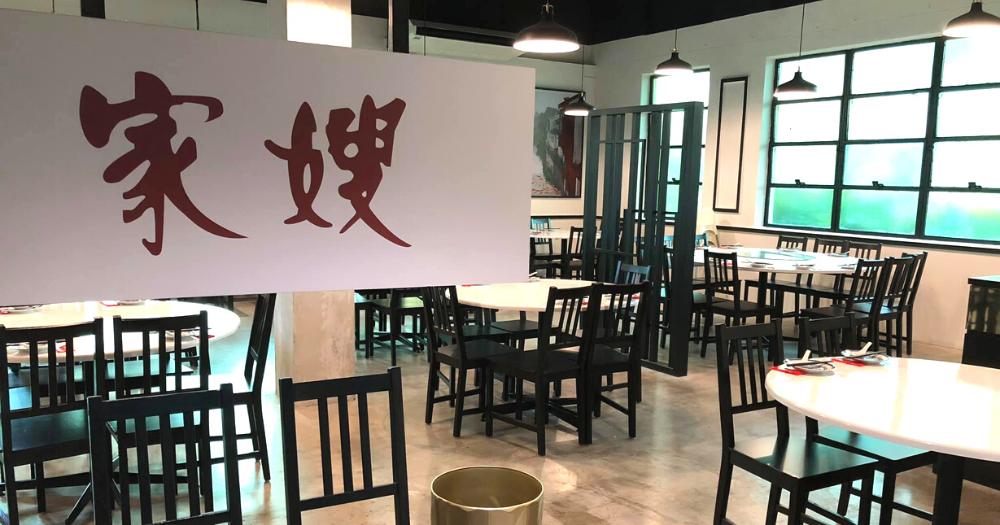 ---
13. Long Ji Zi Char
Introduction: Long Ji Zi Char offers some of the best Chinese cuisines in Singapore, serving a tantalizing collection of dishes that are suitable for group gatherings and casual dining. It presents a variety of dishes, so there is something for everyone on the menu. Located along Outram Road, Long Ji Zi Char is only a few minutes away from Outram Park MRT station.
Offerings: The star dish of Long Ji is unquestionably the Crab Bee Hoon Its appeal is partly the robustly appealing gravy, cooked with crabs, cabbage and oyster sauce with a peppery aroma. Plus point, no MSG or chicken powder is used in the stock. Beehoon and gravy are in light brown. That is because Chef would fry the vermicelli till almost to a point of getting burnt. Full of wok hei.That would require perfect timing and skills.
Location: 253 Outram Rd, Singapore 169049
Contact: +65 9790 5682
Website: http://longjizichar.getz.co/
---
14. Sik Bao Sin (Desmond's Creation)
Introduction: The Place Located along the main Geylang thoroughfare, Sik Bao Sin has been a long-time zichar establishment, with surprisingly only 13 dishes on its menu. Also commonly referred to as Desmond's Creation, about Chef Desmond Chia's name, the restaurant is set in a humble setting with basic furnishings. For the first time this year, the restaurant gets the nod from the French Michelin inspectors and is included in the Michelin Bib Gourmand Restaurants establishments for the Michelin Guide Singapore 2018. With limited seats, the restaurant does not take reservation for parties smaller than 8 persons, so be prepared for a short queue during the peak hours. You will be warned while your orders are being taken on the waiting time for food, with 45 to 90 minutes of waiting time expected during peak hours. Don't arrive feeling very hungry, that's our humble advice.
Offerings: The Food With only 13 dishes, deciding what to order was harder than expected. While not spoilt by choices, there was an impetus to try all 13 items. Most intriguing of all, 10 of the 13 items are listed as all-time favourites of the restaurant, with 4 being named as the main stars, namely the Steamed Fish Head, Steamed Pork with Salted Fish, Ginger Chicken and Tofu Prawns.
Location: 592 Geylang Rd, Lor 36 Geylang, Singapore 389531
Contact: +65 6744 3757
Website: https://www.facebook.com/Sik-Bao-Sin-Eating-House-653473831353641/
---
15. Dai Lou (大佬)
Introduction: Fusing "Zi Char Fare" & a Chill they Bar, Dai Lou is a Canto inspired themed restaurant & bar. Situated in Punggol Marina Country Club it overlooks the entire marina waterway with picturesque views of the daily setting Sun. The tranquil and eclectic setting sets the perfect ambience for a "Makan session" with family, friends and loved ones. The Signature Dishes include "Dai Lou's Money Bag" & "Knuckle Duster"! In the mood for a little fun? Cheap booze and fun happen at Dai Lou too!
Offerings: One of the popular dishes at Dai Lou is his famous Knuckle Duster, which is a chunk of succulent pork knuckle steamed meticulously for five hours and then coated in a tasty Thai-style sauce. The Thai style pork knuckles carried a hot taste of chilli and mild sweetness that catered to the taste buds of Singaporeans. The spicy level was no job, it gave a hot sensation after finishing the mouthful and you would want to reach for your drinks after that. For people who love spicy food, this is the dish for you. One of their signature dishes – Honey Pork Cubes. Die die must try. The pork cubes were well marinated with honey milk, giving it a sweet and savoury taste that satisfied people taste buds. Every cube tasted so delicious and perfect.
Location: #01-0R, Marina Country Club, 11 Northshore Dr, 828670
Contact: +65 6920 7494
Conclusion
Now, let's dive into the list of the top 10 best Zichar places in Singapore according to Tropika Club Magazine. Just keep in mind that this ranking is based on their point of view and may vary depending on personal preferences.
JB Ah Meng: Located at Geylang Road, JB Ah Meng is known for its mouthwatering zi char dishes. Their signature dishes include the White Bee Hoon, San Lou Bee Hoon, and Salted Egg Crab. The vibrant atmosphere and delicious food make it a must-visit for Zichar enthusiasts.
Keng Eng Kee Seafood: Situated in Alexandra Village Food Centre, Keng Eng Kee Seafood offers a wide variety of zi char dishes. Their specialty includes Moonlight Hor Fun, Coffee Pork Ribs, and Har Cheong Gai (prawn paste chicken). The quality and flavors of their dishes are top-notch.
New Ubin Seafood: With outlets in Hillview and Tampines, New Ubin Seafood has gained popularity for its unique Zichar creations. Their USDA Black Angus Ribeye Beef with Heart Attack Fried Rice is a crowd favorite. The restaurant also offers a rustic and cozy ambience for a delightful dining experience.
Kok Sen Restaurant: Tucked away in Keong Saik Road, Kok Sen Restaurant has been serving traditional Zichar dishes for over 50 years. Their Big Prawn Hor Fun, Claypot Yong Tau Foo, and Moonlight Hor Fun are some of the dishes that keep customers coming back for more.
Sin Huat Eating House: Located along Geylang Road, Sin Huat Eating House is known for its Chili Crab and Butter Crab. The restaurant has a no-frills setting but serves up some of the most delectable zi char dishes in town. It's definitely worth a visit for seafood lovers.
Lian He Ben Ji Claypot Rice: If you're in the mood for some hearty claypot rice, head over to Lian He Ben Ji Claypot Rice at Chinatown Complex. Their claypot rice is cooked to perfection, with a crispy layer of rice at the bottom. It's a satisfying and comforting dish that you shouldn't miss.
Two Chefs Eating Place: Two Chefs Eating Place has multiple outlets across Singapore, and their unique take on Zichar has garnered a loyal following. Their Butter Pork Ribs, Marmite Chicken, and Coffee Pork Ribs are highly recommended. Prepare to indulge in some flavorful and innovative dishes here.
Uncle Leong Seafood: With several branches in Singapore, Uncle Leong Seafood is a go-to place for seafood lovers. Their Chili Crab and Cereal Prawn are among the crowd favorites. The restaurant offers a lively and bustling environment, perfect for enjoying a zi char feast with family and friends.
Shi Wei Da: Situated in Bedok, Shi Wei Da offers a wide array of zi char dishes at affordable prices. From Salted Egg Sotong to Curry Fish Head, their menu has something for everyone. The generous portions and delicious flavors make it a popular spot for casual dining.
Tze Char King: Tze Char King in Hougang is a hidden gem that serves up quality zi char dishes. Their Clay
Frequently Asked Questions (FAQ)
Q: What is Zichar?
A: Zichar, also known as "Tze Char," refers to a style of Chinese cuisine commonly found in Singapore. It involves stir-frying a variety of dishes, often featuring fresh ingredients, bold flavors, and wok hei (breath of the wok).
Q: How were the top 10 Zichar restaurants in Singapore selected?
A: The top 10 Zichar restaurants in Singapore were carefully curated based on their reputation, customer reviews, quality of dishes, ambience, and overall dining experience. The selection process considered a diverse range of factors to ensure the inclusion of the best establishments.
Q: Can you provide some examples of signature dishes in Zichar cuisine?
A: While Zichar cuisine primarily focuses on seafood, meat, and poultry dishes, some of the listed restaurants offer vegetarian options. However, it is advisable to check with the individual restaurants beforehand to ensure they can accommodate specific dietary preferences.
Q: Are reservations required at these Zichar restaurants?
A: Reservations are recommended, especially during peak dining hours or for larger groups, to secure a table at the listed Zichar restaurants. It is advisable to contact the restaurants directly or make reservations through their respective websites or reservation platforms.
Q: Are these Zichar restaurants halal-certified?
A: While some of the listed Zichar restaurants may have halal-certified options, it is important to note that not all of them are halal-certified. It is advisable for Muslim diners to inquire about the availability of halal dishes or seek out specific halal-certified establishments in Singapore.
Q: Do these Zichar restaurants offer delivery or takeaway services?
A: Yes, many of the listed Zichar restaurants in Singapore offer delivery and/or takeaway services. You can enjoy their delectable dishes in the comfort of your own home by placing an order through their websites or popular food delivery platforms.
---
Have a Place to Recommend?
Your contribution is valuable to us! Are there any outstanding businesses that you believe should be added to our list? If so, please send your recommendations to us at [email protected]. Tropika Club will review your suggestions and update the list accordingly. Thank you for your help in making our list of businesses as comprehensive and accurate as possible.
---
Meanwhile, Check out Tropika Club's Ecosystem of Websites
Tropika Club Magazine – Tropika Club Magazine is a Singapore-based publication that features articles on a wide range of topics with a focus on local businesses and content for the region. The magazine emphasizes supporting local businesses through its #SupportLocal initiative, which includes coverage of everything from neighborhood hawker stalls to aesthetic clinics in town. In addition to highlighting local businesses, Tropika Club Magazine also covers a variety of local content, including beauty, lifestyle, places, eats, and what's on in Singapore and the Asia Pacific region.
Tropika Club Deals – Tropika Club Deals is a leading online deals and voucher shopping site in Singapore, offering amazing discounts on beauty, wellness, and fitness products and services. It's the perfect platform for customers who want to discover the best deals without having to commit to a specific appointment date and time. These deals are available at major beauty stores, facial salons, hair salons, and other brands in Singapore, with no minimum spend required. Choose from guaranteed discounted deals in the categories of hairstyling, hair removal, facial & aesthetics, body slimming, brows & lashes, nails & makeup, massage & spa or fitness & wellness. Tropika Club Deals is also ideal for customers who want to buy vouchers as gifts or to use for the future. So whether you're looking to save money on your next haircut or want to treat yourself to a relaxing massage, Tropika Club Deals has got you covered with the best voucher and coupon deals in Singapore!