Top 10 Facial Services In Eastern Singapore
Have your face pampered in one of the top picks facial salon in the East of Singapore.
Looking for the perfect spa treat to revitalise your skin? As the expert says it, good skin starts with clean skin. A facial is essentially a multi-step skin treatment that is one of the best ways to take care of your skin. A facial cleanses, exfoliates, and nourishes the skin, promoting a clear, well-hydrated complexion and can help your skin look younger. Today, The Tropika Club Team has rounded up the Top 10 Facial Services in the Eastern region of Singapore (this includes Bedok, Tampines and Pasir Ris areas) that will help you to find that perfect place. Read on!
No Time to Read? Here's a Snappy Summary of This Article
Tranquil Retreat: Indulge in a peaceful atmosphere at The Tranquil Retreat, offering a range of facial services to rejuvenate your skin and provide a soothing experience in Eastern Singapore.
Skincare Sanctuary: Pamper yourself at Skincare Sanctuary, where professional therapists provide top-notch facial treatments using premium products to nourish and revitalize your skin.
Blissful Beauty: Experience blissful relaxation at Blissful Beauty, known for their customized facials tailored to address your specific skin concerns, leaving you feeling refreshed and renewed.
Serene Spa: Unwind and escape the hustle and bustle of daily life at Serene Spa, where skilled estheticians offer facial services using gentle techniques and luxurious products for a tranquil experience.
Rejuvenation Haven: Discover a haven of rejuvenation at Rejuvenation Haven, where their team of experienced therapists combines advanced facial treatments with relaxing massages to promote skin health and wellbeing.
Divine Skincare: Treat yourself to a divine skincare experience at Divine Skincare, known for their innovative facial techniques and high-quality products that leave your skin radiant and glowing.
---
---
1. Tanubhi Beauty Care
Introduction: They are not going to tell you fancy stories about them. The punchline is: they are here to do business. Being in the beauty industry for 12 years and counting, they were running their own parlor in New Delhi before coming to Singapore 6 years back. They have served many clients and have taken up assignments for India bridal make-ups. One thing they can ensure you is the service they render and they trust that you will be satisfied with their professional and quality service. They have brought in the concept of integrated beauty service which is a combination of both Indian and western beauty style and patterns. Give them a chance to show their skills and they can guarantee that you will not be going elsewhere but them.
The Treatment: Facial, Eyebrow Threading, Ear Candle Treatment, Bleaching, Eyelash Extension/Perming, Eyebrow Threading, Eyebrow Tinting
Check them out at:
Location: Blk 631, Bedok Reservoir Rd, #01-906, Singapore 470631
Hotline: +65 8385 3886
Website: https://www.tanubhi.com/
2. Ex Beauty (Tampines Central)
Introduction: To most women, having perfect delicate face skin is the most powerful satisfaction ever! Ex Beauty takes the initiative to deliver you the greatest skin care services. Their 4 main services target at face, body, eyes and neck, as well as skin tag milia seed which helps to maintain your natural beauty. They promise you, they will give you confidence! Be sure to get more professional advice from their friendly skincare specialist. Hurry up, take care of your skin today by booking an appointment with them via online or by phone booking.
The Treatment:
Deep Cleansing Facial: Deep cleansing facial will allow deeper cleansing of dirt and toxins leaving skin revitalised and healthy. It also makes the skin susceptible to fight off any future breakouts. With the usage of cool sonic therapy, it leaves skin moisturized, soothed and relaxed. Suitable for all skin types.
Aqua Marine Facial: This treatment is based on natural, lavish moisturizing properties with energizing qualities of marine plankton to rehydrate, stimulate, re-mineralize and leaves the skin visibly softer and smooth. Aqua Moisturising penetrates fully into deeper skin layer and provide full absorption, ensuring long-lasting moisturizing result. Specially recommended for fragile, delicate, sensitive and aging skin.
Pure Oxygenating Facial: Oxygenating facial deliver a special serum with low molecular weight of hyaluronic acid into the skin. The main ingredient of opulence help uneven skin tone look brighter and more luminous. The Natural botanical ingredients is safe for all age and skin types.
Pure Snow White Facial: A whitening program that will tone out the skin color texture, resulting in the overall radiance of the skin. At the end of the facial, you will achieve a balanced skin tone colour.
Check them out at
---
3. Faith Beaute
Introduction: A cozy home beauty salon specializing in facial, body firming and slimming treatments. Partnering with an international skincare brand from Poland- NOREL by Dr Wilsz, experience their customized facial treatments which include skin consultation, extraction and customized ampoule.
The Treatment:
Essential Hydrating Treatment: Essential Hydrating Treatment is ideal for those who face dehydration as well as a combination (oily T-zone) skin. Customized serum and ampoule will work deeper into the skin, high frequency works on comedones and breakouts.
Premium Skin Rejuv Treatment: This 5-in-1 treatment consist of deep cleansing using hydro peeling electrode, ultrasonic electrode to penetrate the active ingredients into the skin, multipolar RF for lifting and firming, icy skin repairing to shrink pores as well as the hydro oxygen jet spray. Skin feels deeply cleansed and hydrated, restoring its own radiance!
Essential Acne Treatment: Essential Acne Treatment is ideal for those who face clogged pores and excess sebum with huge acne! Targeted areas are the chin, cheeks and forehead. Customized serum and ampoule will work deeper into the skin. High frequency will help in anti-inflammation.
Bio-oxy Treatment: An oxygenating treatment which works on comedones, enlarged pores, acne marks and irregular skin tone. It also helps to reduce the appearance of pigmentation and dark spots. Specific serum and ampoule work deeper into the skin and also to balance the skins PH. Skin will restore back its own radiance!
Check them out at:
---
---
4. Journey Beauty Brow Work
Introduction: Journey Beauty Brow Work has provided skin care solutions to their numerous customers with skin problems effectively through professional consultations and customized treatment solutions. They are also specialized in Eyelash extensions, Eyebrow embroidery and Eyeliner embroidery.
The Treatment:
Slimming Facial: Slimming facial is an effective non-invasive treatment that helps to contour your face shape without surgery. Our proven face-slimming treatment is a quick and easy procedure that effectively slims down your face, giving you the desirable V-shaped face.
Gua Sha Facial: Gua Sha Facial is a traditional Chinese method of rejuvenating the skin that facilitates lymphatic drainage, unblocks the blockages and results in tightened skin and improved blood circulation
Oxyg Facial: Oxygen Facial helps to nourish your skin and promote collagen growth into your skin to thoroughly cleanse and improve circulation. Your skin will look radiant and refresh after the treatment.
Check them out at:
Location: Blk 915, Tampines Street 91, Singapore 520915
Hotline: +65 9096 7798
---
5. Avone Beauty Secrets (Century Square Mall)
Introduction: Avone Beauty Secrets – Avone Beauty Secrets (ABS) is the only Beauty and Embroidery Faceworks Chain in Singapore to receive recognition from the prestigious International Beauty And Health General Union of Korea. They have been recognized for their revolutionary Embroidery Techniques which are the results of extensive research together with the International Semi-Permanent Association in Korea. Each unique embroidery technique uses different (Korean Manufactured) specialized embroidery needle blades specifically designed to enhance the delivered techniques giving amazing results.
The ever-popular ABS 6V Korean Virtual Brows Embroidery has won the hearts of Beauty editors, judges and readers. They are honored to receive the Singapore Women's Weekly Spa Award 2016 & 2017 for having the Best Korean Brows Embroidery.
Taking Brows Embroidery to the very next level – they are excited to introduce their latest breakthrough in Eyebrow Embroidery – ABS 9V Ultimate Virtual Brows Embroidery. This revolutionary technique is absolutely gentle yet powerful. Delivers incredibly natural results with many significant breakthroughs and benefits. It has got the most popular E-magazine Daily Vanity Beauty editors' attention to find out more about it and has recently won the Harper Bazaar's Spa Award 2018 & 2019 for Best Brows Construction and Singapore Women Weekly 2018 & 2019 Spa Award for Best Korean Brows Embroidery.
They have been in the Beauty and Embroidery Faceworks business for about 18 years and they are proud to be one of the leading Professional Beauty & Embroidery FaceWorks Chain in Singapore. Everyone at ABS strives to do their best at areas in which they are good at and they take pride in their profession.
They are fully accredited members of the International Semi-Permanent Association in Korea and the Singapore Beauty and Wellness Association (SWAS). They believe in delivering a total experience to their precious customers – they get to be pampered with reliable and trusted services by top-notch professionals in a comfortable and cozy ambiance, enjoying high-end treatments at very affordable prices. Most importantly, they strive to achieve the desired results. Currently, they have 10 outlets located islandwide so be totally relaxed and pampered from the time you step in and end your session feeling beautiful, refreshed and pampered.
The Treatment:
Korean Nano-Tech BB Radiance Treatment: A revolutionary aesthetics facial treatment that helps to brighten dull skin complexion instantly, smoothen uneven skin texture, minimizes enlarged pores, reduce the appearance of lines & wrinkles and helps boost hydration for supple and dewy-looking skin.
AVONE AMPOULE REJUVENATING FACIAL SPA: A comprehensive facial specially customized to treat your skin types and a perfect introduction to our ampoule treatment abundant with the most beneficial anti-oxidants and active ingredients to rejuvenate your skin. Feel refreshed and relaxed as your skin is drenched in ultimate pure bliss.
AVONE 100% COLLAGEN FACIAL SPA: Our 100% Collagen Facial Spa is our top-of-the-range treatment during which the collagen molecules penetrate deep into your skin. Our 100% Collagen Treatment is easily absorbed and helps boost the skin's collagen synthesis for firmer, smoother and more radiant skin. In just one treatment you will definitely feel the difference.
HydroPLUS Treatment: A very effective intensive technique in rejuvenating one's skin collagen production. Glow with natural radiance from the very first treatment, you will notice your skin tone more even and brightened to a soft dewy glow. Employing intensive ultrasound waves to enable Pure Nano Collagen Molecules to penetrate deep into the dermis layer. This will activate more collagen production and help one to build a healthy dermis foundation. With regular treatments, your skin elasticity and moisture level will improve greatly resulting in diminished wrinkles and open pores less visible. The main active elements are Pure Nano Collagen and Hyaluronic Acid.
AVONE OXY FACIAL SPA: An Ultimate Treatment that deeply hydrates with anti-aging minerals that prove to help stimulate collagen production, superficial circulation, energizing and oxygenating your skin. It awakens your skin's original functions to stimulate cellular regeneration for spectacular long-lasting results.
Check them out at:
Location: 2 Tampines Central 5, #02-11 Century Square, Singapore 529509
Hotline: +65 6260 1817
Website: https://www.avone.sg/
---
---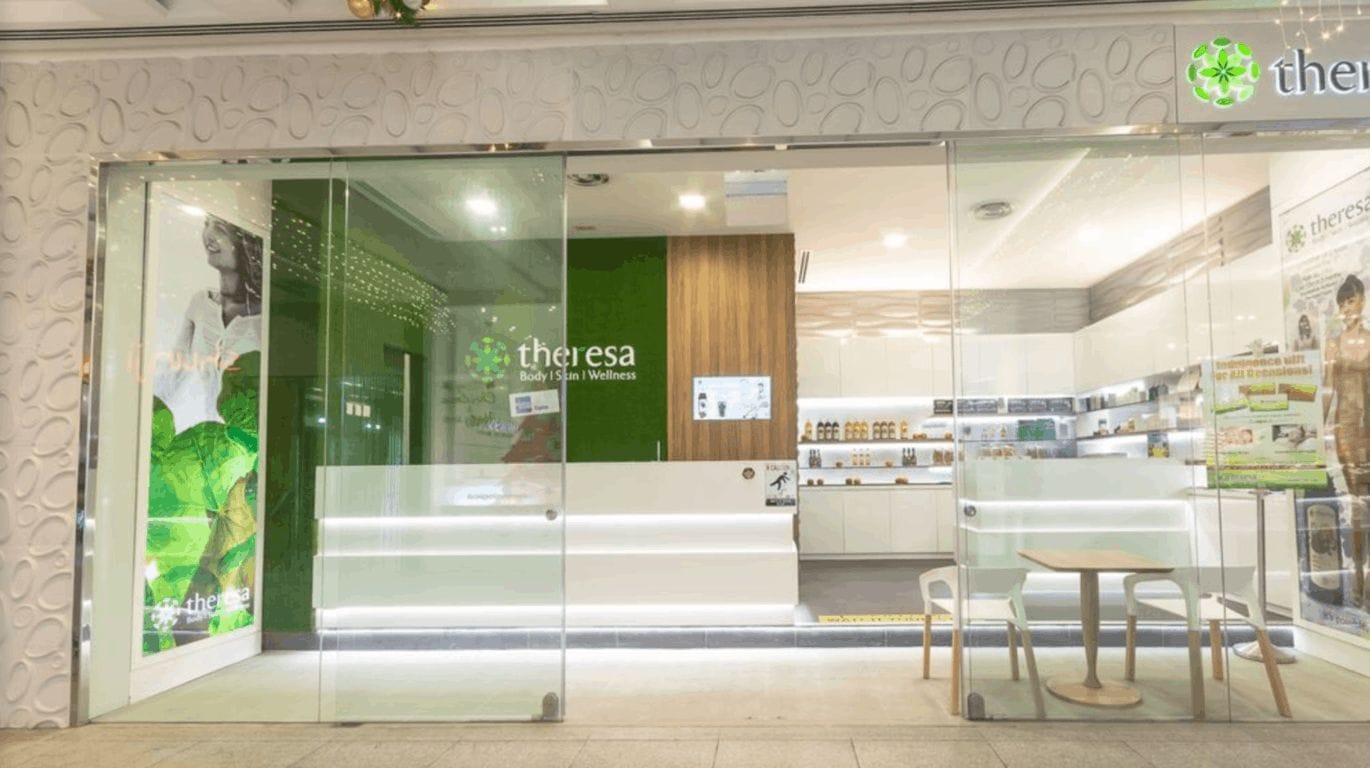 6. Theresa Body Skin Wellness (Tampines 1 Mall)
Introduction: Established in 1987, Theresa Beauty started out in Ang Mo Kio with its first outlet and expanded to other outlets island-wide. Theresa Body Skin Wellness started with humble beginnings and through their team of experienced aestheticians, they have established the brand as a household name with the support of their loyal customers and team members.
At Theresa, they see every customer as a seed of potential beauty. Seeds come together to form the petals of a blooming flower, exemplifying Theresa's mission to help customers develop a fabulous shape by unveiling the potential beauty within them.
The Treatment:
SygmaLIFT HIFU Facelift: SygmaLIFT HIFU is the latest HIFU (High-Intensity Focused Ultrasound) technology designed to enhance non-surgical facelifts. The facelift transformation process is pain-free, injection-free & surgical-free. Utilising the innovative Tri-Micro Focal Ultrasound, the SygmaLIFT HIFU can target 3 depth under the skin to regenerate collagen production. Used in conjunction with the cold laser, it can promote more effective healing & tissue repair, stimulate collagen production, and melt the facial fats to lift and tighten skin.
Skin booster水光针: Popularly known as 水光针, this treatment is the most requested in all of Korea's aesthetic clinics as it's the breakthrough innovation from Asia that instantly quenches & hydrates skin. Skin boosters will replenish the nutrients that our quenching skin loses over time with aging- Hyaluronic being penetrated underneath the skin, retaining moisture for a longer period of time and stimulate collagen formation from the Hyaluronic Acid.
Thavma Therapy Facial: Thavma Therapy erases expression lines without the use of the surgical intervention. With its cutting-edge technology EFFECTOX™, a cocktail of peptides and new generation active ingredients that inhibits the mechanism that is responsible for the creation of expression lines and wrinkles, meaning when you laugh, frown, smile and squint -­ the lines don't crease up as much. EFFECTOX™ allows your skin to reduce muscle contractions, hydrate and glow, as well as lift and tighten.
Check them out at:
7. Mary Chia (Our Tampines Hub)
Introduction: Mary Chia is a homegrown listed beauty & wellness brand, with 40 years of specialized expertise in the field of quality skin care & weight management for women. Their brand ethos has always been built on customer trust, combined with the intelligent use of beauty science and state-of-the-art technologies in their treatments and products. Now, more than ever, the Mary Chia brand is vibrant and dynamic, seeking ways to empower individuals to live life more confidently and in greater wellness.
The Treatment: Skin Brightening Facial: Add a glow to your complexion with this 70-min skin brightening facial. The facial deeply cleanses, sloughs off dead skin cells, and hydrates while minimizing the appearance of blemishes, acne scars, and large pores.

Hr Oxygen Facial: Rejuvenate dull and tired skin with this 1.5-hour oxygen facial. Your skin will be cleansed, exfoliated, and imbued with the healing properties of oxygen for a more radiant appearance.
Check them out at:
8. Beauty Face Salon
Introduction: They have been in this field for more than 20 years. They provide excellent Beauty related services, Manicure, and Pedicure and they carry skincare and beauty products imported from Europe.
The Treatment: Comfortel Diamond Microdermabrasion: Deeply exfoliates for instantly, soft, smoother and younger-looking skin. Diamond microdermabrasion is one of the easiest and most effective ways to fight the effects of aging. For instantly smoother skin, the Comfortel Diamond microdermabrasion facial system uses a combination of vacuum suction and diamond-encrusted tips to lightly abrade the skin surface, producing a deeply exfoliating and polishing skin treatment. With easy-to-use settings, combined with the use of high-tech skin care products, they are able to penetrate deep into their client's skin, allowing the skin to build collagen and help regenerate a youthful appearance. This technology helps to remove & exfoliate dull, dead skin cells, remove impurities, reduce fine lines, treat acne scars, reduce unwanted pigmentation, and treat wrinkles.
Check them out at:
Location: Blk 69, Bedok South Ave 3, Singapore 460069
Hotline: +65 6449 0082
9. Adonis Beauty (Bedok)
Introduction: Formally founded in 1988, Adonis has dedicated itself to focusing on tropical climate skin for the last 30 years. Using the specially formulated aura system with the origin of aerobic therapy, the flow of energy is stimulated in the human body. This ultimately results in preventing premature aging and various chronic diseases. The use of non-gmo ingredients, auras oil and origin services, combined with non-invasive skin technologies, creates highly effective results. The therapies are safe for women of all ages and even during pregnancy.
The Treatment: Auras Oxy Facial: This well-received facial from ADONIS kicks to a start by cleansing the pores and exfoliation of dead skin cells. Based on your skin needs, the expert will then layer on a multi-step skin treatment which is basically customized just for you. Next, comes the main highlight of the facial! With a state-of-the-art device, highly concentrated oxygen molecules are infused directly onto the outer layer of the skin. Packed with minerals, botanical extracts, vitamins and essential nutrients, the Auras Oxy Facial will leave you looking and feeling fresh and glowing, at all times.
Check them out at:
10. Xin Beauty
Introduction: With a name derived from the Chinese character for happiness, Xin Beauty aims to please customers by returning their skin to its original untainted state using non-invasive procedures. To that end, the beauty salon offers an array of services including hair removal treatments, collagen facial treatments, and eye and neck lifting using natural skin care products and machine procedures.
The Treatment: Pigmentation and Age-spot Treatment: This Bio-active treatment is a totally new and unique treatment from Germany that effectively clears your skin from the inside out. The treatment products used contain Bio, a special ingredient which conditions the skin to shed its damaged layer, renewing the skin with new cells. It can easily get rid of pigment, freckles, age spots, scars & marks. You will have virtually new skin, smooth and baby-soft, just like when you were younger. What's more, It is highly moisturizing to combat the appearance of visible fine lines and is suitable for all skin types.

Signature Revitalising Facial: Let yourself unwind as impurities from your skin is removed through cleansing, exfoliation, extraction, and more.
Check them out at:
Location: Blk 218, Bedok North Street 1, #01-25, Bedok Town Centre, Singapore 460218
Hotline: +65 6245 0138
Conclusion
Beauty is known for their customized facials tailored to your specific skin concerns, leaving you feeling refreshed and renewed. Serene Spa is a perfect escape from the hustle and bustle of daily life, offering gentle facial techniques and luxurious products for a tranquil experience. Rejuvenation Haven combines advanced facial treatments with relaxing massages to promote skin health and well-being. Divine Skincare is renowned for their innovative techniques and high-quality products that leave your skin radiant and glowing.. Eastern Singapore is home to some amazing facial services that offer a soothing and rejuvenating experience. Whether you're looking for a tranquil retreat, a skincare sanctuary, or a blissful beauty haven, there are plenty of options to choose from. These top 10 facial services in Eastern Singapore are known for their professional therapists, premium products, and personalized treatments. Each establishment has its own unique approach, ensuring that you'll find the perfect fit for your skincare needs.
Frequently Asked Questions (FAQ)
Q: How do I book a facial service at the mentioned establishments in Eastern Singapore?
A: To book a facial service at any of the mentioned establishments, you can visit their respective websites or call their contact numbers. Many of them offer online booking options for added convenience. Make sure to check their availability and schedule an appointment in advance.
Q: What should I expect during a facial service?
A: During a facial service, you can expect to undergo a thorough skin analysis by a professional esthetician. They will cleanse, exfoliate, and nourish your skin using various techniques and high-quality products. Some establishments may also offer additional treatments such as extractions, masks, and massages to enhance the overall experience and benefits.
Q: How long does a typical facial session last?
A: The duration of a facial session can vary depending on the establishment and the specific treatment chosen. On average, a facial session can last anywhere from 60 minutes to 90 minutes. However, some establishments may offer shorter or longer sessions to accommodate different needs and preferences.
Q: Are facial services suitable for all skin types?
A: Yes, the facial services mentioned in the blog post are generally suitable for all skin types. The professional therapists at these establishments are trained to customize the treatments based on individual skin concerns and conditions. Whether you have oily, dry, sensitive, or combination skin, they will tailor the facial to address your specific needs and ensure the best results.
Q: Are the products used in the facial services safe and of high quality?
A: Absolutely. The establishments featured in the blog post are known for their use of premium and high-quality skincare products. They prioritize the safety and effectiveness of the products they use, ensuring that they meet the highest standards. Many of these establishments also offer organic or natural product options for those with specific preferences or sensitivities.
Q: Can men also benefit from these facial services?
A: Yes, these facial services are not limited to any specific gender. Men can certainly benefit from these services as well. Skincare is essential for everyone, regardless of gender, and these establishments welcome and cater to both men and women.
Q: Are there any promotions or discounts available for the facial services?
A: It's always a good idea to check the websites or social media pages of the mentioned establishments for any ongoing promotions or discounts. They often run special offers, packages, or loyalty programs to provide value and savings to their customers. Be sure to take advantage of these opportunities and get the best deals for your facial services.
---
---
Have a Place to Recommend?
We need your help! Do you know any other noteworthy eating places that deserves to be added to this list? If so, do write to us via our email at [email protected]. Tropika Club will do a review of your recommendations and update the list accordingly.
---
Meanwhile, check out Tropika Club's Ecosystem of Websites

Tropika Club Magazine – Tropika Club Magazine crafts articles on all things Singapore, but with a greater emphasis on local businesses based on our #SupportLocalSG initiative. We check out and feature local businesses of all categories, ranging from your neighbourhood hawker stalls to the aesthetic clinics in town. We also cover local content ranging from beauty, lifestyle, places, eats and what's on in SIngapore. Our Top 10 rankings include local food and service establishments based in different regions in Singapore.
Tropika Club Deals – Search for the best voucher and coupon deals. Tropika Club Deals is ideal for customers who want to discover the best deals without having to commit to a specific appointment date and time. Choose from guaranteed discounted deals in the categories of hairstyling, hair removal, facial & aesthetics, body slimming, brows & lashes, nails & makeup, massage & spa or fitness & wellness. Customers can also buy vouchers as gifts or to use for the future.